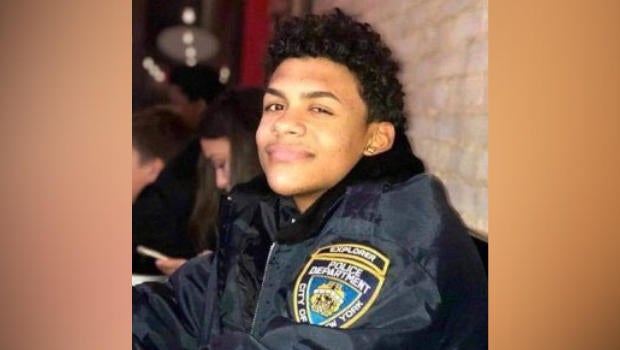 Justice For Junior: NY proposes legislation to require small businesses to be safe havens for minors
Teenager Lesandro "Junior" Guzman-Feliz was killed in the Bronx last month by alleged members of a gang and the story shook the country. New legislation introduced Tuesday wants to ensure a case like this never happens again.
Police said a group of men, allegedly members of the Trinintarios gang, attacked 15-year-old Guzman-Feliz, who dreamed of becoming a cop, outside a bodega on June 20. In security footage, the teen can be seen running into the deli to hide from his attackers. Video shows the suspects enter the bodega and dragging the victim out onto the street. The video then shows a man with what appears to be a large knife.
After the attack, Guzman-Feliz ran back into the bodega. Surveillance footage appears to show a man pointing to the door and telling the bleeding boy to leave. The bodega owner Modesto Cruz has denied this, telling ABC's New York affiliate that he was pointing to a local hospital a block away, because the police were taking too long to arrive. Police confirmed that two 911 calls were made from inside the deli.
After the murder, lawmakers want to be sure small businesses are a safe haven for minors who may be under attack or seeking help. New York State Senator Luis Sepúlveda and Assemblyman Victor Pichardo announced the proposed Safe Havens for Endangered Children legislations, also called "Junior's Law," and seek to put the sentiment on the legal books.
The legislation was announced at a press conference in front of the bodega where the teen was killed.
"While the bodega owner where the incident occurred DID try to help and did call 911 twice, according to police," Sepúlveda said at the conference, "We want to make sure that any business owner or their employees who encounter a situation involving a minor who has been abused or may be in danger has a duty to try to help."
A second piece of legislation would require small businesses to have first aid kits on hand, in case of emergencies. "We need to ensure that businesses are equipped to help those who are injured to save lives," Senator Sepulveda said.
If passed, the new legislation would also change the education laws to establish safe walking home zones-- local chambers of commerce would construct these pathways to and from schools.
The slain teen's father Lissandro Guzman is behind the lawmakers, he said in a statement in Spanish."I feel very content and with all my heart I hope the bill that carries my son's name get's passed so it can prevent situations like this from happening again and so we can create more security for our beloved children," Guzman said.
Thanks for reading CBS NEWS.
Create your free account or log in
for more features.