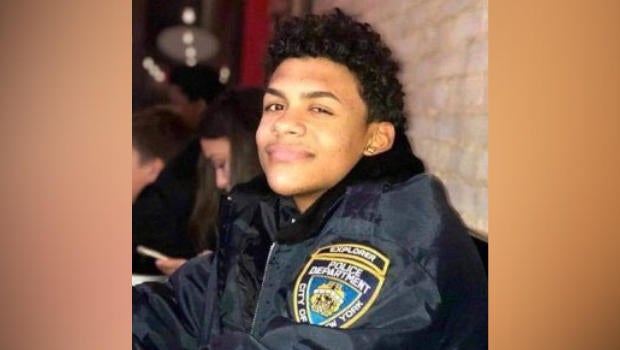 New surveillance video shows slain Bronx teen tried to hide in deli before attack
Hundreds of people attended a vigil Tuesday night for a New York City teen, allegedly hacked to death by gang members. New surveillance video shows 15-year-old Lesandro Guzman-Feliz trying to hide behind a deli counter before the attack. When he returns, he is bleeding and appears to be told to leave.
According to the NYPD, the deli's employees did call 911 for help and police have now made another arrest in the Guzman-Feliz case. They are looking for the public's help in tracking down Trinitarios gang members, as the violence still has many in this community fearful.
Fifteen-year-old Brianna Gaskin was friends with Guzman-Feliz. His murder has shaken her sense of security in the Bronx.
"When I saw those videos, I was speechless. I just started crying and crying," she said. "It's just scary, it really is scary to go outside and know that you're not safe in your community."
New York Mayor Bill de Blasio was among the crowds of mourners at a memorial Tuesday evening outside the funeral home handling services for Guzman-Feliz. Many in the community want officials to take more action on gang violence.
"I have grandchildren and it's really sad. It's really sad that it had to take a tragedy to bring a community together," one woman said.
The NYPD is trying to calm those fears. Police say eight suspected gang members have been charged so far and more arrests are expected. The six men picked up in New Jersey will be brought back to New York on Wednesday after waving extradition.
To help locate other gang members who may have been involved in Guzman-Feliz's murder, police posted new video showing a 14-year-old boy being beaten and stabbed by more than a dozen young men in the middle of the Bronx parkway in broad daylight. Many of the attackers are believed to be the Trinitarios. Police arrested one man allegedly involved in this attack and are hoping the community will identify more.
"We will not tolerate thugs on the streets of the Bronx, whether it's Trinitarios or any other gang involved in behavior of this sort," Chief of Detectives Dermot Shea said.
The NYPD said the information they received from the community through tips, phone calls, and online was invaluable to the arrests they've made so far. Police also say there appear to be links between the Guzman-Feliz attack and the attack on the teen on the highway.
Thanks for reading CBS NEWS.
Create your free account or log in
for more features.