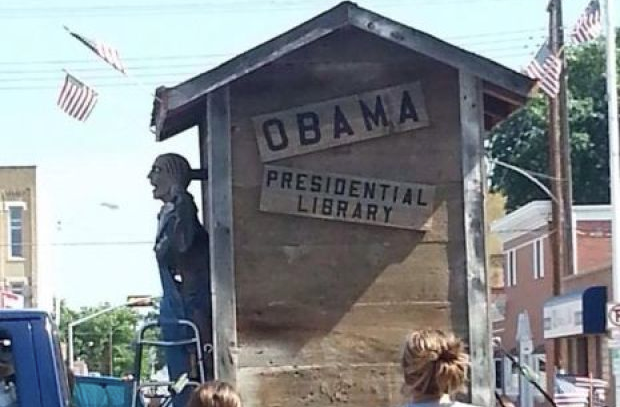 July 4 parade float mocking Obama draws accusations of racism
A Fourth of July parade float in Nebraska that showed a dummy standing outside an outhouse labeled "Obama Presidential Library" is drawing cries of racism from local residents and the Nebraska Democratic Party.
The float, in the annual Independence Day parade in Norfolk, Neb., was affixed to trailer being towed behind a blue pickup truck. The dummy was clad in overalls, standing by a walker next to the outhouse.
The pickup truck and the float did not identify a sponsor, according to the Omaha World-Herald.
In a statement, the Nebraska Democratic Party called the float one of the "worst shows of racism and disrespect for the presidency that Nebraska has ever seen," according to the World-Herald.
Glory Kathurima, a black woman living in Norfolk, attended the parade with her nine year-old daughter. She told CBS News Omaha affiliate KMTV she was outraged by the float and disgusted that her daughter witnessed it.
"I'm ashamed, I'm appalled," she said. "You see people laughing and pointing at it, smiling, looking positive about it. I immediately felt sick to my stomach...I knew what that meant, and I knew there was no sort of political statement being made by an image like that."
Norfolk City Councilman Dick Pfeil told the World-Herald that the city "doesn't condone" the float.
But one of the parade's organizers, Rick Konopasek, told the Lincoln Journal-Star the float was intended to be no more offensive than a political cartoon. He said the outhouse was the most popular float in the parade, and that it earned an "honorable mention" from three judges.
"It's obvious the majority of the community liked it," Konopasek said. "So should we deny the 95 percent of those that liked it their rights, just for the 5 percent of people who are upset?"
Thanks for reading CBS NEWS.
Create your free account or log in
for more features.