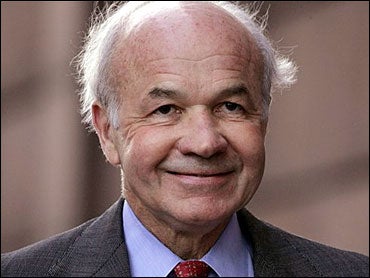 Judge Vacates Kenneth Lay Conviction
A federal judge Tuesday vacated the conviction of Enron's late founder Kenneth Lay, wiping out a jury's verdict that he committed fraud and conspiracy in one of the biggest corporate frauds in U.S. history.
Lay was convicted of 10 counts of fraud, conspiracy and lying to banks in two separate cases on May 25. Enron's collapse in 2001 wiped out thousands of jobs, more than $60 billion in market value and more than $2 billion in pension plans.
Lay died of heart disease July 5 while vacationing with his wife, Linda, in Aspen, Colo.
U.S. District Judge Sim Lake, in a ruling Tuesday, agreed with Lay's lawyers that his death required erasing his convictions. They cited a 2004 ruling from the 5th U.S. Circuit Court of Appeals that found that a defendant's death pending appeal extinguished his entire case because he hadn't had a full opportunity to challenge the conviction and the government shouldn't be able to punish a dead defendant or his estate.
Tuesday's ruling thwarts the government's bid to seek $43.5 million in ill-gotten gains prosecutors allege he pocketed by participating in Enron's fraud. The government could still pursue those gains in civil court, but they would have to compete with other litigants, if any, also pursuing Lay's estate.
Prosecutors asked Lake to delay this ruling until Monday, the scheduled sentencing date, so Congress can consider legislation from the Justice Department that changes current federal law regarding the abatement of criminal convictions. Congress recessed for the elections without considering the legislation.
"Certain provisions of the (legislation) would be directly relevant to the situation presented by defendant Lay's death," prosecutors Sean Berkowitz and John Hueston wrote in their motion. "For example ... the (legislation) provides that the death of a defendant charged with a criminal offense shall not be the basis for abating or otherwise invalidating either a verdict returned or the underlying indictment."
Enron crumbled into bankruptcy proceedings in December 2001.
Lay's co-defendant, former Enron chief executive Jeffrey Skilling, is scheduled to be sentenced on Monday.
Thanks for reading CBS NEWS.
Create your free account or log in
for more features.