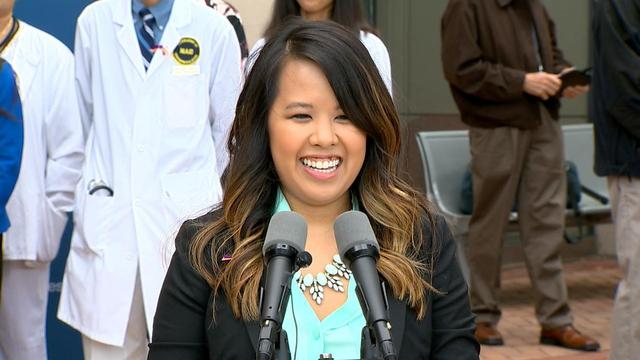 Judge holds workers comp claim of nurse infected with Ebola
DALLAS -- A Texas district judge on Monday put on hold a hospital operator's efforts to seek a worker's compensation claim for a nurse who contracted Ebola while caring for the first U.S. patient to succumb to the deadly disease.
State District Judge Martin Hoffman issued a temporary restraining order in the case after a brief hearing and will schedule a full hearing within two weeks, the Dallas Morning News reported.
Nurse Nina Pham's lawyers say Texas Health Resources' pursuit of a worker's compensation claim is meant to quash Pham's lawsuit against the company.
Pham, who remains employed at Texas Health Presbyterian Dallas but has not returned to work, seeks unspecified damages in her lawsuit. She alleges the company failed to provide training and proper protective gear while she cared for Ebola patient Thomas Eric Duncan, who died in October. Pham continues to have health issues related to the disease and the experimental drugs administered during her treatment, the newspaper reported.
The lawsuit, filed in March, also alleges that the hospital released information about her to the public without her permission.
Texas Health Resources has said it followed procedure and acted responsibly to protect its employees.
No date has been set for the full hearing, during which witnesses will likely be called, the newspaper reported.
At issue is whether Hoffman's court or the court that would hear the worker's compensation claim has jurisdiction. The worker's compensation court would have to determine whether Pham was an employee of the hospital, the parent company or both.
Texas Health Resources' attorneys said that not all nurses at the hospital were employees of the parent company.
A second nurse, Amber Vinson, also contracted Ebola while caring for Duncan, and also recovered.
Thanks for reading CBS NEWS.
Create your free account or log in
for more features.