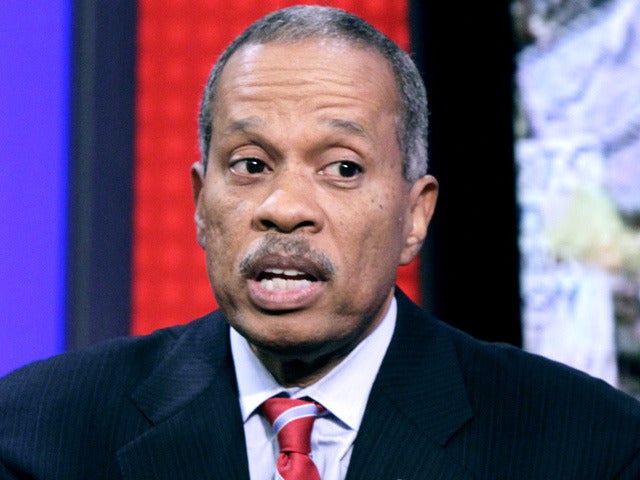 Juan Williams Firing Leads Palin, Huckabee to Call for Defunding NPR
Republicans Sarah Palin and Mike Huckabee are calling for NPR to be stripped of public funding in response to the termination of contributor Juan Williams, who was firedfrom the radio station on Wednesday in response to remarks he made about Muslims on Fox News earlier this week.
"At a time when our country is dangerously in debt and looking for areas of federal spending to cut, I think we've found a good candidate for defunding. National Public Radio is a public institution that directly or indirectly exists because the taxpayers fund it," Sarah Palin wrote in a post on her Facebook wall on Thursday. "And what do we, the taxpayers, get for this? We get to witness Juan Williams being fired from NPR for merely speaking frankly about the very real threat this country faces from radical Islam."

"We have to have an honest discussion about the jihadist threat," she continued.
Former Republican presidential candidate Mike Huckabee also called for governmental defunding of NPR, condemning the decision to fire Williams as "censorship."
"While I have often enjoyed appearing on NPR programs and have been treated fairly and objectively, I will no longer accept interview requests from NPR as long as they are going to practice a form of censorship, and since NPR is funded with public funds, it IS a form of censorship," Huckabee said in a statement released on Thursday. "It is time for the taxpayers to start making cuts to federal spending, and I encourage the new Congress to start with NPR."
The controversy arose after Williams, a longtime senior news analyst for National Public Radio, remarked during an appearance on Fox News (for whom he is also a contributor) that he gets "nervous" when he sees Muslims on his airplane flights.
"I think, look, political correctness can lead to some kind of paralysis where you don't address reality," Williams said to Bill O'Reilly during the Monday appearance.
Williams continued: "I mean, look, Bill, I'm not a bigot. You know the kind of books I've written about the civil rights movement in this country. But when I get on the plane, I got to tell you, if I see people who are in Muslim garb and I think, you know, they are identifying themselves first and foremost as Muslims, I get worried. I get nervous."
Today, Williams spoke out about his termination on Fox News, saying the decision to fire him had been made before anyone from NPR spoke with him, and that he was denied the chance to defend his comments in a face-to-face meeting.
He said he was asked what he had "meant to say" in a phone call with Ellen Weiss, NPR's Senior Vice President for News.
Juan Williams Fired by NPR Over Muslim Comments
Juan Williams: I Meant What I Said on O'Reilly
Juan Williams and NPR: Does National Public Radio Take Taxpayer Dollars?
"I said 'I said what I meant to say' which is that it's an honest experience in an airport when I see people who are in Muslim garb who identify themselves first and foremost as Muslims, I do a double take, I have a moment of anxiety or fear given what happened on 9/11. That's just the reality," Williams recounted.
Williams said Weiss then suggested he had crossed the line and made a bigoted statement, that his contract had been terminated, and that there was "nothing he could say" that would change her mind or reverse NPR's decision.
NPR CEO Vivian Schiller sent out a statement on Thursday stating that "Juan's comments on Fox violated our standards as well as our values and offended many in doing so."
"Like other news organizations, NPR expects its journalists to steer clear of situations that might call its impartiality into question. NPR's ethics code explains the rule this way: 'In appearing on TV or other media including electronic Web-based forums, NPR journalists should not express views they would not air in their role as an NPR journalist. They should not participate in shows electronic forums, or blogs that encourage punditry and speculation rather than fact-based analysis,'" Schiller wrote.
In an interview with Access Atlanta's Rodney Ho on Thursday, Schiller went on to say that Williams' statements about Muslims were not the only consideration leading to his termination. "Juan is not an employee of NPR. He's an independent contractor," she said, adding that "this has been an on-going issue" in his case.
"There have been several instances over the last couple of years where we have felt Juan has stepped over the line. He famously said last year something about Michelle Obama and Stokely Carmichael. This isn't a case of one strike and you're out," Shiller continued.
Schiller also responded to claims that firing Williams amounted to censorship since "NPR is funded with public funds."
"There's a misperception about federal funding and public radio," Schiller said. "NPR gets no allocation from CPB. Zero." CPB is the Corporation for Public Broadcasting, a semi-private non-profit corporation that promotes public broadcasting through federal funding
Schiller continued: "We are a private 501(c)3. We've had journalists call up and ask what department of the government we report to. That's laughable. Have you listened to our shows? We do apply for competitive grants from the likes of the Ford Foundation and the Knight Foundation. As a result, some money from CPB does come to us when we win grants. Depending on the year, it represents just one to three percent of our total budget."
"There's so much misinformation on the blogosphere, it's nuts," Schiller added.
---
Lucy Madison is a political reporter for CBSNews.com. You can read more of her posts here. Follow Hotsheet on
Thanks for reading CBS NEWS.
Create your free account or log in
for more features.