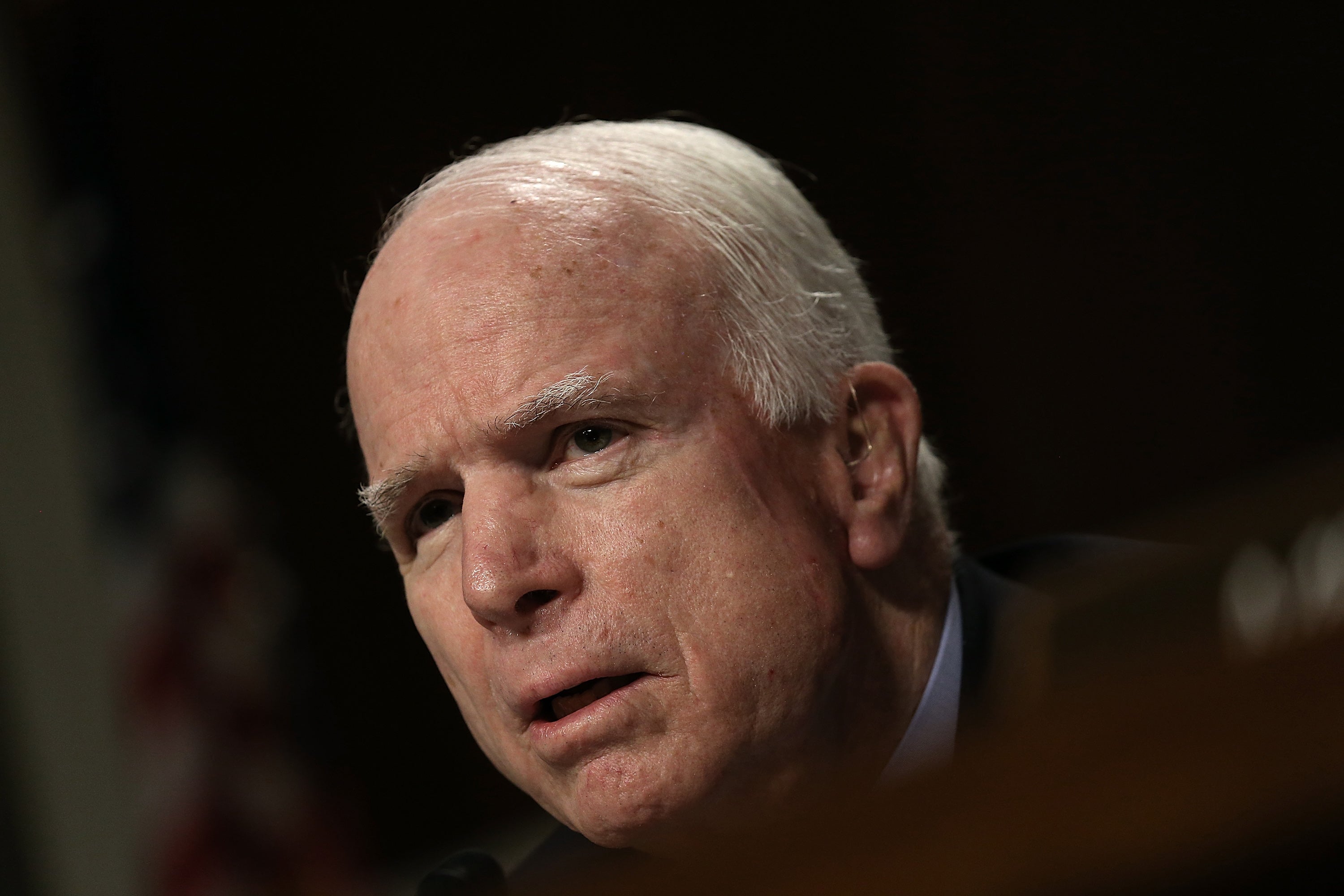 John McCain may be in "race of my life" because of Donald Trump
Republican Sen. John McCain is worried that Donald Trump will affect his reelection chances in Arizona, revealing his concerns during a closed-door meeting with donors last month, according to a recording of the event obtained by Politico earlier this week.
"I do not take my primary opponent lightly," McCain said in the recording, published online Thursday. "But have no doubt that if it is Donald Trump at the top of the ticket, here in Arizona -- with over 30 percent of the vote being the Hispanic vote -- I have no doubt that this may be the race of my life."
"People are angry," McCain continued. "They're upset. They feel that there's this disconnect and all of that and frankly there's an element of nativism in it as well, as you know."
The Arizona senator, who joined other party elders earlier this year in vocal opposition against Trump's controversial comments, ticked off a series of the billionaire's offenses against the Hispanic community, including Trump's proposals to build a wall along the U.S.-Mexico border and his charge that illegal immigrants were "rapists" and murders.
Last year, Trump and McCain had a public spat when McCain said of Trump that he had "fired up the crazies" at a Phoenix rally. Shortly afterward, Trump said of McCain that he wasn't a war hero, then allowing that he was a war hero just because "he was captured," adding "I like people that weren't captured."
McCain, a two-time presidential contender, isn't the only one who could be feeling the down-ballot effects of Trump come November.
In Arizona -- where about a fifth of eligible voters are Hispanic, according to 2014 data from Pew Research Center -- McCain is widely considered safe against his Democratic opponent, Rep. Ann Kirkpatrick.
But other Republican-held Senate seats, especially in states where the deck is stacked with a sizeable Hispanic electorate, could be vulnerable to party switches. The Cook Political Report's latest Senate race ratings, for example, lists Florida and Illinois as toss-ups. In Florida, Latinos make up nearly 15 percent of the state's registered voters, while in Illinois, about 10 percent of eligible Illinois voters are Hispanic.
McCain noted the prevalence of anti-Trump rhetoric among Hispanics both in Arizona and around the country.
"If you listen to or watch Hispanic media in the state and in the country, you will see that it is all anti-Trump," McCain said at his Arizona fundraiser. "The Hispanic community is roused and angry in a way that I've never seen in 30 years."
"And so," he admitted, "this is going to be a tough campaign for me."
Thanks for reading CBS NEWS.
Create your free account or log in
for more features.