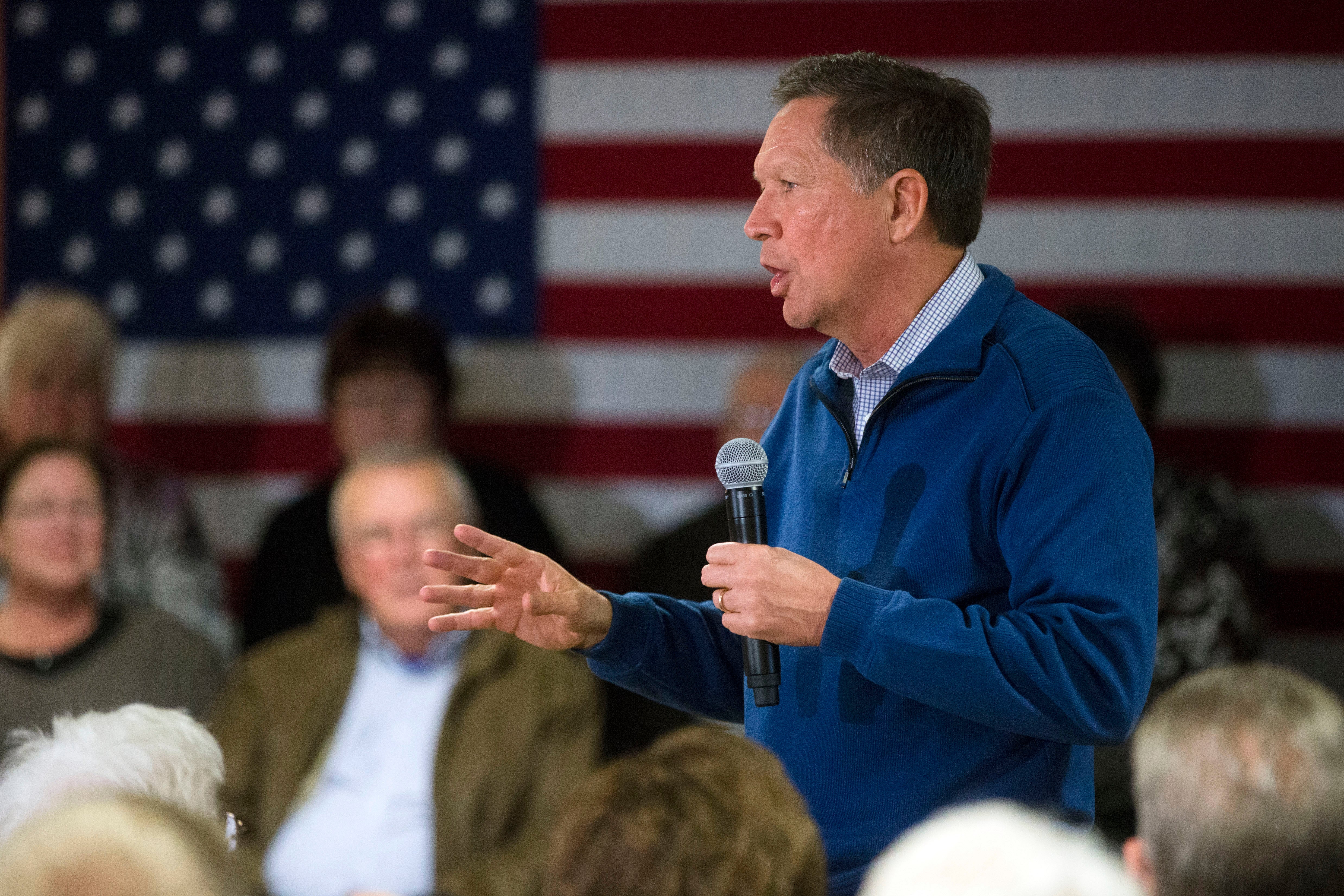 John Kasich catches a break in New Hampshire
MANCHESTER, N.H. -- John Kasich is staking his entire campaign on New Hampshire and perhaps for the first time this election cycle, he had the entire Granite State political world to himself this weekend - and was loving it.
Camped out there, Kasich waltzed his way through his 82nd, 83rd, 84th, 85th, and 86th town halls in the state Saturday and Sunday. While New Jersey Gov. Chris Christie and Former Florida Gov. Jeb Bush -- two Republican governors also focused on surpassing expectations in New Hampshire -- were rolling the dice on Iowa, Kasich seized the moment to cement his status as the true candidate of the New Hampshire establishment.
The Ohio governor is within sight of a second-place finish in New Hampshire, behind Donald Trump, competing with Cruz for second place and just slightly ahead of Bush, and Florida Sen. Marco Rubio.
Getting a three day head start in the "other" first in the nation voting state, Kasich made five stops in which he spoke highly and frequently of his recent endorsement by The New York Times.
Perhaps the first Republican to hug and kiss an endorsement from that newspaper, Kasich thanked it repeatedly and honed in on one sentence in particular. "And Mr. Kasich is no moderate," the editorial read. "As governor, he's gone after public-sector unions, fought to limit abortion rights and opposed same-sex marriage."
Kasich also received the endorsement of the Boston Globe and "seven out of eight newspapers in New Hampshire," per his own count. He emphasized the endorsements to voters with the same empathetic finesse he weaves into other centrist pitches that can be unpopular with conservatives.
"Then sir, yesterday, I got endorsed by The New York Times," Kasich told a crowd during a town hall in Salem on Sunday.
"A couple days ago, I was in my room, and I thought about all of this and I cried," he continued. "It's amazing to come from where I came from and have these wonderful things said about me."
Speaking to reporters after his Salem event, Kasich repeated that it "was a lovely editorial where they said, 'Kasich's certainly not a moderate but he knows how to get things done and bring people together.' I like that."
One reporter tweeted that Christie's camp did not even accept a meeting with the paper's editorial team that serves as a popular punching bag for Republicans on the trail.
The New Jersey governor's team later circulated an email with the subhead: "The New York Times' Endorsement Further Proves That John Kasich Is A Liberal's Idea Of What A Good Republican Should Look Like." And earlier this week, America Future Fund, a conservative Super PAC, released an ad branding Kasich as "an Obama Republican," after highlighting his support of Common Core, Medicaid expansion and tax increases.
When he wasn't being asked about The New York Times, the self-proclaimed "Prince of Light and Hope," who has pitched himself as an optimistic consensus builder determined to keep his moral high ground by running a positive campaign, was questioned about his campaign's own dabblings in negative approaches.
On Friday in Manchester, the Bush and Kasich New Hampshire teams clashed after the Kasich campaign gathered for a news conference outside Bush's Manchester office, with Kasich's team protesting it called the pro-Bush Super PAC's mud-slinging campaign tactics, holding up signs that read, "Stop Lying Jeb."
Kasich seems to have a reserve of venom for Bush and Right to Rise, veering from a discussion in Plymouth earlier in January about the heroin epidemic to note that, "Jeb, Mr. 'I-play-on-the-high-ground' -- he's bringing his negativity and his trash."
Literature that Kasich staffers pass around to voters at town halls features a page that reads, "Jeb Bush Can't Buy Momentum Like This."
In Keene Saturday, Kasich told reporters he'd stick to his positive message, but defended his campaign's attacks.
"You want to come after me, O.K., well, we're not going to sit back and take it," he said.
"I'm a McKees Rocks boy -- you know -- if you come into our town and beat us in football, you know, we'll break all the windows on your bus. That's just the way it works."
In response to yet another attack ad running in Iowa from the same pro-Bush Super PAC -- a state from which Kasich has been glaringly absent -- Kasich gleefully told reporters he was "surprised to see that they were worried about me in Iowa."
"Well, they got like a hundred and ten million dollars," Kasich said. "They've spent $40 or $50 million trying to sell Jeb in a positive way -- that didn't work. So now he's playing whack-a-mole. And he's just beating everybody that pops up. So I was totally amused to find out that I've spent $140,000 in Iowa and he's spent $40 million and they're beating me up in Iowa. Fantastic."
One name strikingly absent from Kasich's conversations over the weekend: Donald Trump.
Kasich is attempting to thread together a coalition of the same elusive voters the businessman is after: independents. The difference between the "independent" voters Kasich and Trump are attempting to woo, however, is seen in their differences on ideological voters. Trump is aiming for the non- ideological voters, while Kasich is attracting independents who "care about politics and don't like polarization but actually have a politically ideology that is pretty well developed," Dante Scala, a political science professor from the University of New Hampshire, told CBS News in an interview.
Kasich has taken to telling audiences there are three lanes -- "the establishment lane, the anti-establishment lane, and then there's the Kasich Lane," going so far as to call himself an "independent guy" during a stop in Keene on Saturday.
"The Republican Party is my vehicle, but it has never been my master," he told the crowd.
However many of the voters in Bow on Sunday were still deciding among the three Republican governors.
Sarah O'Reilly, a Republican leaning Independent from Bow told CBS News that it's going to take the upcoming Republican debate and a lot of "prayer" for her to decide between Kasich, Bush and Christie.
"It's really hard, I wish I could say," O'Reilly said, before adding that an upswing in polling doesn't hurt. "When you think of someone in the lower tier and you then think, oh they can't win. It's discouraging. But with Kasich being kind of in 2nd in New Hampshire, it's good. I don't want to be like that though, I want to vote for who I'm going to vote for without the sway of polls."
Thanks for reading CBS NEWS.
Create your free account or log in
for more features.