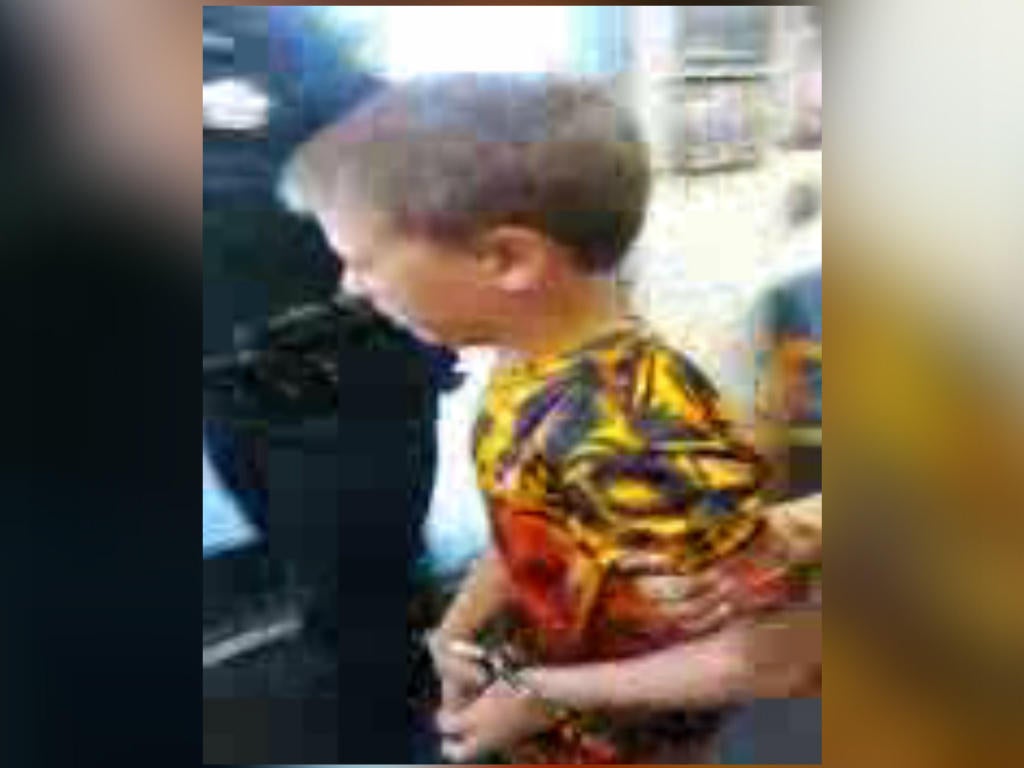 Disturbing video shows 10-year-old with autism arrested at school
A video clip posted online by a Florida mother shows the moment her 10-year-old son with autism was handcuffed, placed into a police car and taken from school.
In the shaky cellphone footage obtained by CBS News, Luanne Haygood can be heard asking two school resource officers, "Does a child not have the same rights as an adult?"
"I was extremely angry," Haygood told CBS Miami last week. "I felt like this was a power play. I felt like this was a this is what you get. You can't do anything about it. We're going to arrest your son if he can't abide by the rules," she said.
The sheriff's office said John Benjamin Haygood was arrested April 12 for felony battery on a school board authority. He spent time in juvenile detention.
His mother said this stems from when he kicked a paraprofessional at Okeechobee Alternative Academy in December 2016. The altercation allegedly left the teacher with scratches and other marks, CBS affiliate WPEC-TV reported.
"He didn't feel good with a paraprofessional. He told me that and I told him you got to go back to school. He said, 'I don't want to go back to school. I don't like him. I don't like him. He hurts me,'" she said.
John's mother does not deny her son's troubled history in school, but says his autism is responsible for his behavior.
In October, John was expelled from school and forced to complete work from home.
But last Wednesday, when he reported back to school for the first time in five months for state testing, things didn't go as planned. A school resource officer recognized him and confirmed he still had an outstanding warrant for the assault, WPEC reported.
"I asked, 'Are you going to arrest him right now?' She said, 'Yes ma'am, we have to,'" Haygood said.
"It was horrible," John told WPEC. "I didn't know what was going on."
WPEC reported that John said he was only fed one meal during his time behind bars.
"To go and have him arrested on school grounds in front of other students, in front of personnel, during school hours, they could've come to my house at any time to tell me what was going on," she said.
His mother is fed up calling out the school district for not providing the right resources to handle a child like John.
"If I let my emotions go, I'm going to lose it. I'm going to cry, cuss, rant and rave. Nobody will listen to me. 'Oh, that's the crazy lady' or whatever," she said. "I want something done. I want other kids to not have to go through this."
"Now, maybe something will be changed," Haygood told WPEC. "Now, maybe somebody will believe me and other parents when we say our kids are being mistreated."
John has an upcoming court date in May.
The Okeechobee County school district issued a statement to WPEC:
It has been district procedure to invite students in to take the Florida Standards Assessment. The district would not invite someone to one of our campuses for the sole purpose to arrest.

The district routinely assists students by providing services from our board certified behavioral analyst, licensed mental health counselors, school social workers, and psychologists. As a team, these individuals develop interventions, conduct assessments, and offer support both at school and in the home in order to assist students and families.

The district is unable to provide specific information as to both current and past incidents regarding this or any other student due to educational laws and rules. It is our hope that we can continue to work with all families to help their students improve both behaviorally and academically.
Thanks for reading CBS NEWS.
Create your free account or log in
for more features.