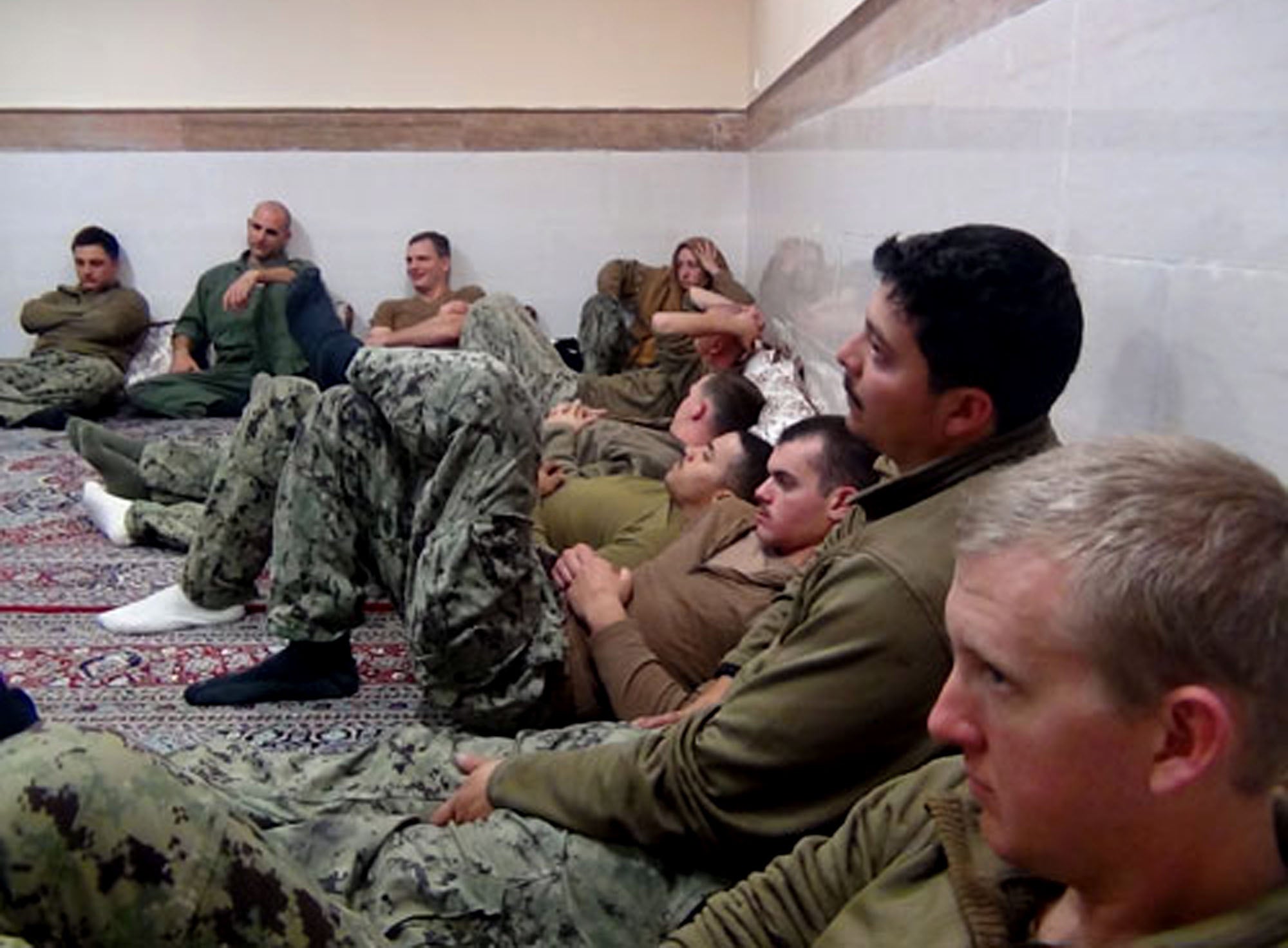 Biden: Iran didn't want or get apology for boats incident
After Iran released 10 U.S. Navy sailors from custody early Wednesday morning, some media outlets reported that the U.S. had issued an apology to Tehran in order to secure the sailors' freedom. But Vice President Joe Biden told CBS News that there was "no apology" given.
"When you have a problem with the boat, (do) you apologize the boat had a problem? No," Biden said in an interview with "CBS This Morning" on Wednesday. "And there was no looking for any apology. This was just standard nautical practice."
While there was no official apology issued, Iran state television showed footage showing one U.S. sailor apologizing, calling the incident a "mistake."
The vice president explained that the "the Iranians picked up both boats -- as we have picked up Iranian boats that needed to be rescued." Iranian officials then "realized they were there in distress and said they would release them, and released them -- like ordinary nations would do."
He added that situations like the capture of the two U.S. Navy boats were exactly "why it's important to have channels open" with the Middle East power. That sentiment was echoed by Iranian Foreign Minister Javad Zarif, who tweeted Wednesday a message about the importance of diplomacy and "respect."
With the Iran nuclear deal on the line, other U.S. officials also seemed to take a distinctively conciliatory tone in discussing the incident.
Defense chief Ash Carter issued a statement thanking Secretary of State John Kerry "for his diplomatic engagement with Iran to secure our sailors' swift return."
"Around the world, the U.S. Navy routinely provides assistance to foreign sailors in distress, and we appreciate the timely way in which this situation was resolved," Carter said.
In a speech at the National Defense University in Washington Wednesday morning, Kerry thanked Iranian authorities for their cooperation and quick response.
"All indications suggest or tell us that our sailors were well taken care of, provided with blankets and food and assisted with their return to the fleet earlier today," Kerry said, "and I think we can all imagine how a similar situation might have played out three or four years ago, and in fact it is clear that today this kind of issue was able to be peacefully resolved and officially resolved, and that is a testament to the critical role that diplomacy plays in keeping our country safe, secure and strong."
U.S. officials were quick to assure the nation Tuesday, as the circumstances of the U.S. sailors' detention unfolded, that Iran had indicated the boats' crews and the vessels themselves would be returned quickly.
Iran is expected to satisfy the terms of last summer's landmark nuclear deal within a matter of days. Once the International Atomic Energy Agency, the U.N.'s nuclear watchdog agency, independently confirms that Iran has rolled back its program in line with the terms of the agreement, the U.S. and its allies will have to suspend a raft of oil and financial sanctions against Tehran. The economic sanctions have crippled Iran's economy for years.
Biden also weighed in on the Democratic primary race, discussing a comment he made this week that front-runner Hillary Clinton was "relatively new" to the issue of income inequality.
He defended his comments, saying the context of his quote was "reshaped" in the reporting.
"Hillary has been secretary of state for almost five years before she ran for office," the vice president said Wednesday, pointing out that her focus before then had also been national security issues. However, he called income inequality Sanders' "wheelhouse," adding that "Bernie has has been doing the same speech for the last 30 years" and "literally he's never changed his position."
He added that some of Clinton's policies on the middle class are "very, very proactive" and that "she's moving in the right direction."
Just hours after President Obama's final State of the Union address, Biden also defended the president's speech.
He named America "by far and away the healthiest economy" and said that there was "no question, no question we are the most respected, powerful nation in the world," referencing a much-criticized claim from the president Tuesday night.
Biden acknowledged, however, that there was "understandable frustration" with domestic problems like income disparity and wage stagnation.
Of the president's announcement that Biden would lead a new initiative to fight for a cancer cure, the vice president said that various researchers "need someone to sort of be an organizer."
"We are so close to so many potential cures," he added. Biden's son, Beau, died of brain cancer last May.
Thanks for reading CBS NEWS.
Create your free account or log in
for more features.