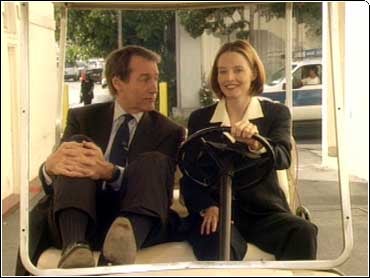 Jodie Foster, Reluctant Star
Jodie Foster has worked in television and films for 34 of her 37 years, growing up on back lots and movie stages. Her acting debut - if you can call it acting at 3 years old - was in the now classic Coppertone commercial, which led to television roles on Gunsmoke and My Three Sons.
But as Foster's acting career flourished, she learned to jealously guard her personal life to survive the attention that came with stardom. 60 Minutes II Correspondent Charlie Rose profiles Foster.
---
"I wish that I could live my life without knowing what it was to be famous," says Foster. "It's the one...regret that I have. It definitely changes how I see the world."

She says anonymity would give her "a real connection with people."

Foster never had the opportunity to live a life of anonymity, and this unassuming queen of the silver screen says being in the spotlight has its ups and downs.

"It makes you completely different being in the public your whole life," she says. "You decide to be an actor at 22 or 23 years old. Usually the personality is, 'I want you to notice me....And I want to sit in the front row, and I want pictures to be taken of me, and I want people to talk about how I look.'"

"But when you've been in the business your entire life," Foster continues, "you safeguard your life....People always try to take it away from you....You don't live as much because you are a little more guarded about life."

Foster grew up in the Hollywood hills with her mother, two older sisters and a brother. Their father was not part of the family, and Foster was the family breadwinner. Her closest friend was her mother; their bond was well known on the Hollywood scene.

Andy Warhol even made mention of it in his diaries, saying the relationship between Foster and her mother was like a marriage in which the actress was the father.

"It probably looked like in some ways that I took care of the family," she says. "Or that I assumed responsibility for it. And that was part of my personality."

Foster never had a relationship with her father, as he had walked out on the family before she was born.

"I've never known him," she says. "That's why I never talk about him because he hasn't been a part of my life. So it would be kind of like giving credit to somebody who wasn't around."

But when 12-year-old Foster was asked what would happen if her mother married again, the subject of "fathers" was very much an issue.

"I would never want to have a father figure," she said at the time. "I might want a brother figure or something like that. If my mom got married, it would be OK but he couldn't live in my house. We'd have to get another house because I don't like the idea."

Her mother has not since remarried. Instead, she dedicated her life to managing Fosters career. At first, she was against the idea of her daugter playing a young prostitute in Martin Scorsese's film Taxi Driver.

"I remember her yelling to Scorsese and saying, 'Look, I think you're crazy. I don't think that she's the right person to play it. Look at her!' And she brought me in, in my uniform,...my little blue blazer and my white Peter Pan collar," Foster remembers.

"And [Scorcese] said...'That's sort of part of what I'm looking for,'" Foster says. "So I'm really glad that...I went ahead with it."

Foster had never taken formal acting lessons. Robert De Niro introduced her to the craft as she spent a week improvising and rehearsing.

"He took me under his wing...and...taught me how to build a character, which nobody had ever taken the time to even tell me about," says Foster. "I thought acting was just sort of showing up and knowing your lines."

That performance brought Foster's first Oscar nomination. Taxi Driver made Foster a major movie star at 13 years old. Despite her fame, Foster was savvy enough to know most child stars fade into oblivion when they grow up. Hence, she was thrilled to be accepted at an Ivy League university.

"The whole point was to get as far away from home as I could," she says. "Far away from the film business and...just to go to a completely different atmosphere that was really academic.The great thing was arriving at Yale and feeling like I was the dumbest person there and they had made a huge mistake!"

But her anonymity didn't last long. In 1981, John Hinckley shot President Reagan and several others including press secretary Jim Brady. Hinckley claimed he did it to impress the object of his obsession: Jodie Foster. For almost 20 years, she adamantly refused to discuss it publicly.

"I don't like to dwell on it too much," Foster explains. "I never wanted to be the actress who was remembered for that event. Because it didn't have anything to do with me. I was kind of a hapless bystander. But...what a scarring, strange moment in history for me, to be 17 years old, 18 years old, and to be caught up in a drama like that."

"I had talked myself into thinking that maybe I was a little anonymou, and that I was like everybody else, and that nobody was watching me," Foster continues. "Then of course came the glare of all the cameras,...trying to find me, and hiding places, and press conferences and paparazzis....It was a really hard time for somebody who was 18."

Privately Foster thought that somehow she was to blame for the incident. "If there is an opportunity to feel guilty, I'll find it," she says, laughing.

While she admits her life was hurt and altered following the shooting, Foster says that was nothing compared to how Brady's life changed.

"Whatever bad moments that I had certainly could never compare to that family," she says. "But it definitely influenced my future and how I thought about my work...and how I wanted to shape my career."

"A part of me just didn't want to be a movie star," Foster continues. "Its just being a celebrity for celebrity's sake. And that was something I didn't want to do. I knew I didn't want to do that, because...that was the worst part of my job.That's the part I wanted to avoid. And...if I was going to be an actor, then I wanted...to be doing it for the right reasons."

The right reason turned out to be her first Oscar-winning performance in the The Accused, based on a true story about a rape.

"It was a very difficult shoot," she remembers. "Probably the most difficult shoot of my life. The subject matter was hard and I was very young. Even when I saw the film, I found my performance so unlike me, and so...jarring, and kind of...over the top and unsettled."

But even winning the Academy Award for Best Actress for her role in The Accused was not enough to put her insecurities to rest.

"I thought it was a big fluke," she says, laughing. "The same way when I walked on the campus at Yale, I thought everybody would find out, and then they'd take the Oscar back."

She won a second Oscar for her next screen role as the vulnerable FBI agent Clarice Starling in Silence of the Lambs.

"That's probably the motivation for me playing the characters that I play, is that I get to...survive things that I don't believe I would survive in my own life," Foster explains. "I don't think of myself as a particularly brave person...so that's my little secret,...why I play the courageous, unconventional characters that I play, because I'm...way too scared to be that in my own life."

A recent film, Anna and the King, is a dramatic version of the classic musical, The King and I, and shows a softer, gentler side of Foster: an indication that her choice of movie roles may be changing.

With Anna and the King, Foster reportedly became one of the highest paid actresses in Hollywood. She reportedly made $15 million with the film.

"I made $60 in a garage sale last week," she says, laughing. "Nobody reports on that!"

Foster says the mot creative production of her life is her son Charlie. She is guarded about everything surrounding him. She will not publicly identify Charlie's father or discuss how she became pregnant. And she won't allow photographs with her son. But Foster did have to confront the issue of a father figure again, this time from the perspective of motherhood.

"Well, every person is different. And every set of experiences is different. And Charlie's experience in life can be very different than mine," Foster explains.

"But I don't think that there's any one perfect way to raise a family and that there's any one perfect style of family. I think that all of us are different and that we all come with a different bag of tricks," she says.

She says she has never been more at peace, working on just one film a year, leaving time for her son Charlie and a normal life.

"What's happened to me in the later years is I have become really selfish...because I never was when I was younger," she says. "Now I've really learned that life comes first."

Thanks for reading CBS NEWS.
Create your free account or log in
for more features.