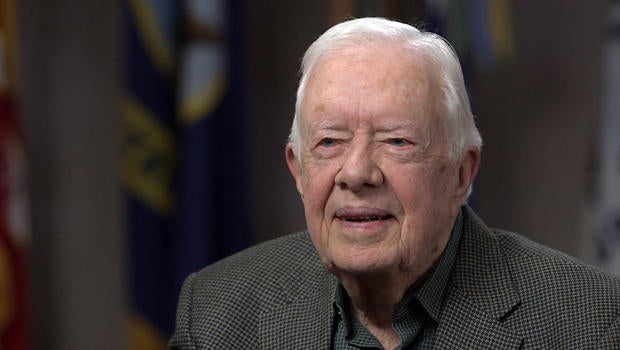 Jimmy Carter on his journey of "Faith"
At age 93, former President Jimmy Carter has been out of office for more than 37 years -- plenty of time to reflect on his life, his mortality, and on his religious faith ... reflections he recently shared with Jane Pauley:
You don't often see crowds lining up for Sunday School lessons, but not many churches have a U.S. president doing the teaching.
Former President Jimmy Carter came to Maranatha Baptist Church in 1981, on the very first Sunday after he left the White House. He teaches whenever he can, and when he does, the crowd comes from far and wide.
Back in 2015, when word came that melanoma had spread to his liver and then his brain, it looked like the end. But when Pauley met President Carter at his library in Atlanta this month, he seemed fit as ever. Thanks to a new immunotherapy treatment, his cancer hasn't come back.
It's an unexpected new chapter for a man who was ready to die -- and had already said his goodbyes.
"You started getting ready," Pauley said.
"Well, I was ready, 'cause I thought I was gonna be living for maybe two more weeks," Mr. Carter said. "So, I told all my staff here goodbye, I told all my children in the Atlanta area goodbye. And so I was prepared for it."
"You looked astonishingly prepared for it."
"Well, I was. I was," he said. "I was surprised at how easily I took it. You know, just acknowledged that I had a few days to live."
And maybe that's because he has so little left undone.
In 1976, for a nation weary of Vietnam and Watergate, Jimmy Carter was a breath of fresh air -- a relative unknown who won the White House on a promise of honesty. "I would not tell a lie, I would not mislead the American people," he said.
The highs were breathtaking -- improved relations with China, and a landmark peace accord between Israel and Egypt.
But President Carter also struggled with a hostile Congress, a sputtering economy, and a calamity overseas, in 1979, when Iranian militants seized the U.S. Embassy in Tehran and took 52 Americans hostage -- only to release them after 444 days -- moments after Mr. Carter left office on Inauguration Day, 1981.
In his 32nd book, "Faith: A Journey for All" (published by Simon & Schuster, a CBS company), President Carter writes that the hostage crisis stretched his own faith to the limit.
Pauley asked, "During the Iran hostage crisis, you have said that you prayed more that year."
"I did."
"And ultimately your prayers were answered, the hostages were safely released. But not under your watch."
"Well, that's not exactly right. That morning at 10:00 all the hostages were in a plane, ready to take off from Tehran. But the Ayatollah Khomeini didn't let them take off until five minutes after I went out of office. So, you know, it's an equivocal answer."
"What difference does it make? Your prayers were answered."
"It doesn't matter," Mr. Carter said. "That's the happiest moment, I think, of my life, when I was still on the reviewing stand and the Secret Service came and told me the hostages were in the air, on their way to freedom."
And if history says his presidency fell short, Mr. Carter's second act has been all glory: through the Carter Center, he's helped wipe out debilitating tropical diseases like guinea worm, and traveled the world as an advocate for human rights.
Pauley said, "You are the first one-term president since Hoover not to be reelected, which, you know, history has a way of marking that as a failed presidency."
"Yes," he said.
"Yes?"
"I've realized that. I realize that, you know, not getting reelected is considered to be a failure. But I have found, since leaving the White House, that I've had a very gratifying and, I think, productive life, with the Carter Center. You know, we've been able to monitor 107 different troubled elections that may not have gone well had we not been there."
For his efforts, Carter was awarded the Nobel Peace Prize in 2002.
His statesmanship seems especially relevant now: he was the first U.S. president to travel to North Korea. "Just this week, I had a representative from the White House who came down and gave me an update on the latest developments with North Korea," Mr. Carter said. "I have had some criticisms of some of the public statements that President Trump has made about 'fire and brimstone' and that sort of thing being utilized. But I think that he's reacted quite well to the latest potential innovations from North Korea that wants to have talks."
"If President Trump wanted to send you to North Korea, you'd go?" she asked.
"I would, if he asked me to."
The constant in President Carter's life is his wife of 71 years, Rosalynn, who recently underwent intestinal surgery made more all the more risky by her advanced age. He'd been serene in the face of his own mortality -- but he says the prospect of losing her terrified him.
"I was much more concerned, and I prayed all night," he said. "And the doctor who was going to do the surgery knew how old Rosalynn was, and said, 'Mr. President, if she was 60 years old, I would tell you not to worry. But she's 90 and been acting like 60, but when she gets on the operating table she's gonna be 90. So, real concerned about it. But we'll do the best we can.' So, she came in and told me at 5:00 that Rosalynn was gonna live.
"That was a happy day," he said.
And now, with Rosalynn on the mend and his cancer scare behind him, Mr. Carter says he'll take things a bit easier -- for whatever time he has left.
Pauley asked, "How do you assess the life you've lived?"
"First of all, I would say fortunate, blessed," he said. "I've had an almost perfect wife. I've got a large and growing family. I'm perfectly at ease in just spending the final years of my life, whatever they might be, or the final months, whatever, in Plains, Georgia, more close to home."
Pauley then asked the former president to complete the phrase: "Jimmy Carter was a ________ man."
"Well, I would say as far as public service is concerned, I was a champion of peace and human rights. I sought to carve out for myself a productive and I hope useful and certainly a gratifying life. I've been very lucky."

EDITOR'S NOTE: An earlier version of this story stated that Mr. Carter was the only U.S. President to visit North Korea; President Bill Clinton actually visited Pyongyang in 2009.

For more info:

Story produced by John D'Amelio.
Thanks for reading CBS NEWS.
Create your free account or log in
for more features.