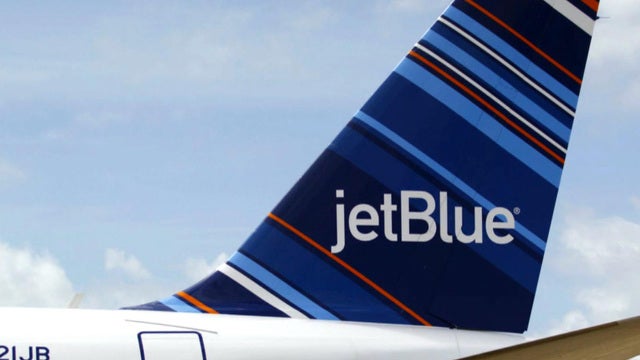 JetBlue refuses to apologize for removing family of five from flight
A New York mother of three says her family was removed from a JetBlue flight from Florida because her one-year-old kicked another passenger's seat.
Despite the threat of a social media backlash, JetBlue has publicly denounced the family's claims.
For an industry subject to the highest degrees of public scrutiny, the message being sent is clear – that the customer is not always right, reports CBS News correspondent Kris Van Cleave.
Mandy Ifrah's cell phone was recording when a ground agent informed her that JetBlue was removing her family of five from the flight.
The airline denies Ifrah's account that it was because her one-year-old kicked another person's seat, saying the family was removed "after a verbal altercation that included physical threats and profanities against a nearby customer."
This is the latest example of airlines pushing back, rather than backing down to customer complaints.
Last week, when Ann Coulter launched a Twitter war with Delta over a reassigned seat, the airline shot back with: "Your insults about our other customers and employees are unacceptable and unnecessary."
And in May, JetBlue denied it kicked a family off a plane over a birthday cake.
The airline said the family "cursed and yelled at the crew."
JetBlue CEO Robin Hayes defended his employees on "CBS This Morning" back in May.
"It was not about the birthday cake. The crew have to maintain a great environment on board for all our customers," Hayes said of the incident.
In April, United Airlines was sharply criticized for being slow to respond to Dr. David Dao's violent removal from a plane in Chicago, an incident experts say provided airlines with a much-needed wake-up call.
"Social media has changed the way people interact with companies. It seemed like airlines were, you know, falling all over themselves to apologize for absolutely anything you know whether or not it was really entirely the airline's fault and now airlines here just over the past week or so having sort of taken that back somewhat and said 'You know what?' he customer's not always right,'" said Seth Kaplan, managing partner of Airline Weekly.
United's CEO announced yesterday the airline will revamp its social media team to respond faster to prevent and resolve disputes.
That comes as airline complaints in May jumped nearly 57 percent compared with 2016.
Thanks for reading CBS NEWS.
Create your free account or log in
for more features.