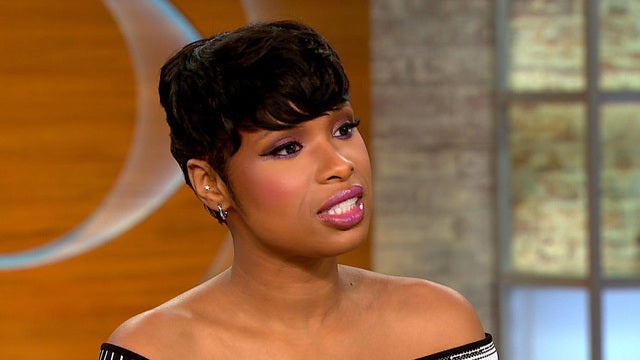 Jennifer Hudson on successful career, new HBO movie and family
Just months before taking the stage in Hollywood as a contestant on season three of "American Idol" in 2004, Jennifer Hudson was entertaining audiences on Disney cruise ships - an experience that she says gave her the confidence to audition for the singing competition, reports "CBS This Morning" co-host Gayle King.
The show that sparked her successful career aired its final episode on April 7th.
"I hate to see it go," Hudson told "CBS This Morning."
Hudson - a crowd favorite - finished seventh, but casting directors saw something the "Idol" voters missed.
"I just feel like in everything there is a lesson and it leads you to greater things and because of 'Idol,' I'm here talking to you guys," Hudson said. "Obviously, when you're eliminated, you feel like at least for a split second it's over, but then I was like, 'no, it's not. I am walking away with my gift and no one can take that away from me,' and I knew something is in store... I said something is in store, something will happen. I'm just going to have to sing my way to it."
And she did just that. In 2006, she made her film debut in "Dreamgirls." Her performance as Effie White earned her a Golden Globe and an Oscar.
Hudson released her Grammy-winning debut album two years later, and Billboard proclaimed: "All hail the new diva."
The show business spotlight has suited Jennifer Hudson just fine. She's receiving praise for her debut on Broadway in "The Color Purple." The New York Times calls her "enchanting."
And now, she's starring in the upcoming HBO movie, "Confirmation," about Clarence Thomas' Supreme Court nomination hearings.
Just 10 years old when the scandal exploded, Hudson said she learned about it only when she took on the role as Angela Wright, a former employee of Thomas who had accused the judge of sexual harassment, but never garnered the attention that Anita Hill did.
Hudson said she was completely blown away by the story.
"It was definitely a story worth being told and I was happy to be able to do that... to give her a voice and to be heard," Hudson said.
With the launch of this project, Hudson is soon closing another. So far, she said she has never missed a show of "The Colored People" because she did not want to "miss a beat" and does not believe in "sick days."
"Each audience is completely different, they bring something new and each time we do it, there's something else to learn," Hudson said.
While she said she loves the Broadway experience, she recently announced she would be leaving the production next month, explaining that "everything is all in timing."
But thanks to the Broadway gig, fans may be able to hear her in a new album, soon.
"Coming off of such a creative stage and the style of music that it brings - even in a show like 'The Colored Purple' -- it kind of channels things in your inner artistry," Hudson said. "So I want to see how I have grown as an artist and as a performer. And that's why I wanted to come to Broadway -- to learn."
Hudson also vowed that she would "definitely" make a return to the theater stage in the future.
In addition to all this, Hudson is also the mom of seven-year-old David. She shared the story behind a recent Instagram picture of her son, after he had finally gotten the haircut he wanted.
Hudson has also been engaged to her beau, David Otunga, for eight years, but did not reveal any intention of tying the knot soon.
Thanks for reading CBS NEWS.
Create your free account or log in
for more features.