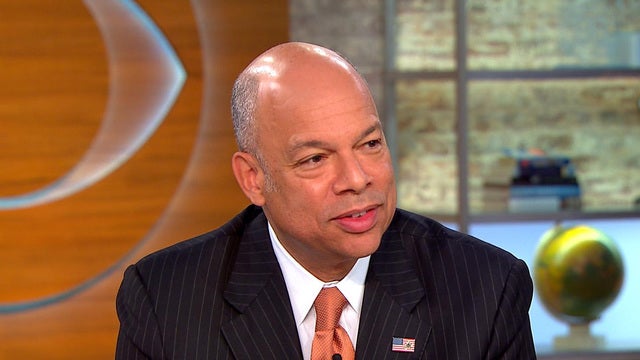 Jeh Johnson: We all need to invest in "E-ZPass of airports"
As the TSA struggles to fix the airport security gridlock, airlines are jumping in to help.
Atlanta's Hartsfield-Jackson airport is experimenting with a new system to expedite the process with new automated security lanes, which Homeland Security Secretary Jeh Johnson describes as "the E-ZPass of airports."
"We've talked about innovation lines and innovation lanes in Atlanta airport. We think that's a good thing that we all need to invest in," Johnson told "CBS This Morning" Friday.
Johnson has also "asked the airlines to consider" eliminating checked-baggage fees, which earned airlines over $3.8 billion in 2015. But the real issue lies in under-staffing. Some airlines are having their own employees help TSA officials with non-security aspects at checkpoints.
Johnson is working with Congress to bring on more transportation security officers. He said 768 new screeners will be added by mid-June, but the union representing TSA workers said that is still not enough, calling for 6,000 more.
"I just yesterday sent to Congress a request for what we refer to as a 'reprogramming,' so we can convert 2,700 TSOs from part-time to full-time, which would enable to screen people a lot faster," Johnson said,
Johnson said that nationwide 90 percent of travelers experience an average of a 30-minute wait or less - longer in busier airports such as in Chicago, Los Angeles and Newark. But he said that becoming a TSA PreCheck member would help cut the wait down to an average of five minutes or less.
In addition to the lack of resources, Johnson also attributed the long delays to tightened security procedures in airlines.
"Well, a year ago, we focused and rededicated ourselves to aviation security based on world events, based on the findings of our inspector general, which really was significant," Johnson said. "Couple that with the fact that we've seen record numbers of air travelers and that has led to longer, unexpected wait times at some of the nation's busiest airports."
An estimated 2.6 million travelers are flying over the Memorial Day Weekend, and airlines could expect an all-time high of fliers this summer. But Johnson said that even "in the face of increased travel volume, we are not going to compromise aviation security."
"We're going to keep passengers moving this weekend, but we're also going to keep them safe," Johnson said. "That's the principal responsibility of TSA."
For those flying this holiday weekend, Johnson advised some "short-term fixes" that could offer some relief.
"First of all, pack carefully, think about the prohibited items, limit the size of your carry-on to what the airlines expect... and plan to get to the airport around two hours early," he said.
Thanks for reading CBS NEWS.
Create your free account or log in
for more features.