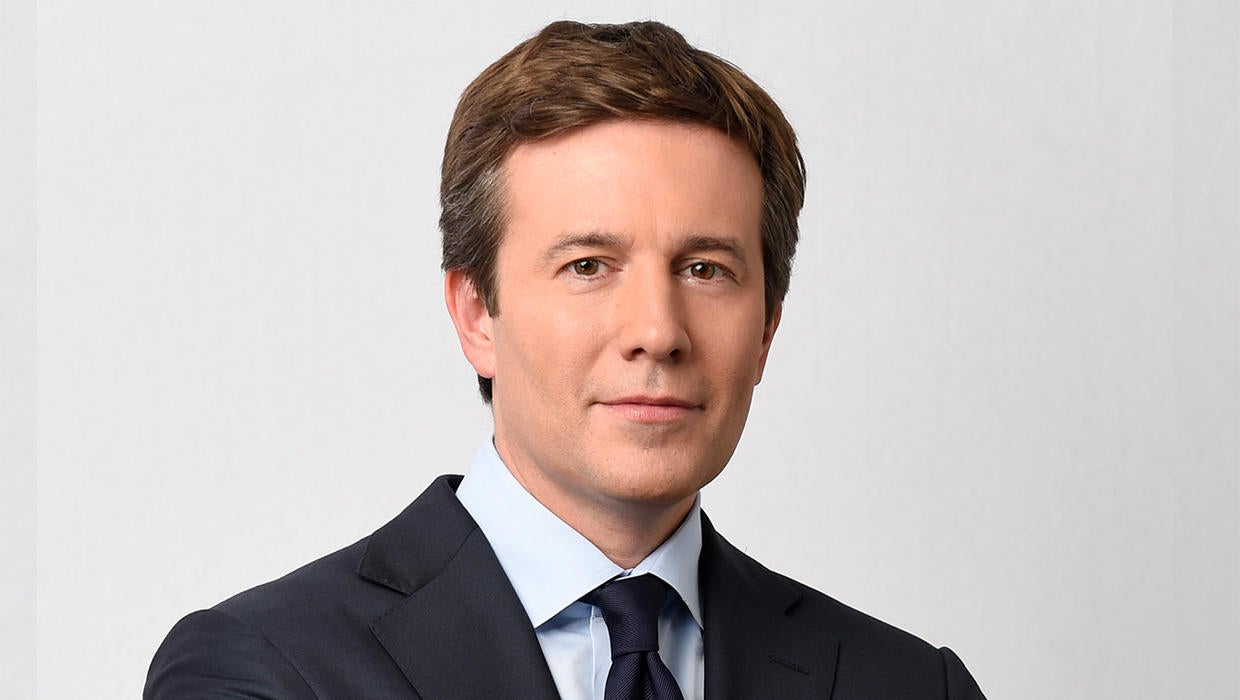 Jeff Glor named anchor of CBS Evening News
Emmy-award winning CBS News correspondent Jeff Glor has been named anchor of the CBS Evening News, the network's flagship evening news broadcast, it was announced today by CBS News President David Rhodes.
Glor has reported across the globe for virtually all CBS News broadcasts and digital platforms in his 10 years with the network. He has anchored numerous breaking news stories, including most recently in the field for Hurricane Irma and in the studio for the Las Vegas shootings.
Glor was a lead anchor on CBSN, CBS' 24/7 streaming news service, during its critical launch period. As CBSN continues to grow, Glor will maintain a prominent presence on the digital streaming channel.
"Jeff is a thoughtful, probing journalist with the versatility to anchor in any circumstance -- from daily reporting to the most significant events of our time," Rhodes said in a statement. "In his more than 10 years at CBS News, Jeff has earned the trust of viewers and his colleagues. He represents the best journalistic values and traditions that will carry the Evening News into a digital future."
"CBS News has an extraordinary history that is meaningful to so many," Glor said. "I am beyond grateful to continue to play a role in its future."
Anthony Mason, who served as interim anchor of the broadcast in recent months, will continue in his role as CBS News senior national correspondent and co-host of "CBS This Morning: Saturday."
"Anthony is a vital part of our CBS News anchor team and we thank him for stepping up during this important transition," said Rhodes. "We are so grateful to continue to have Anthony's contribution particularly to 'CBS Sunday Morning' but to all our other broadcasts and platforms as well."
"CBS Evening News with Jeff Glor" will launch later this year and feature regular contributions from a core team of correspondents. The program will continue to be produced by CBS News executive editor and CBS Evening News executive producer Steve Capus.
Glor, 42, joined CBS News in 2007 as a correspondent based in New York. Glor covered some of the biggest breaking news stories of the last decade, including the shootings at Sandy Hook, the Boston Marathon bombings, and the landfall of Superstorm Sandy. He won an Emmy in 2011 for a "CBS Sunday Morning" story.
Glor has traveled around the world to bring original reporting to CBS News viewers. Recently, Glor reported from Alaska on permafrost degradation and was in Jackson, Wyoming, for the first solar eclipse visible coast to coast since 1918. He also reported on how NASA engineers are working to bring supersonic travel back to commercial aviation with lower sonic booms.
As a correspondent for "CBS This Morning" and "60 Minutes Sports," Glor filed reports recently from Greenland, Newfoundland, Alaska, Africa and Ireland, to name a few. For the CBS Evening News, Glor's ongoing series of reports on the recall crisis at General Motors and Takata sent him across the U.S. to find survivors, stories and information that were kept hidden from the public for years.
Thanks for reading CBS NEWS.
Create your free account or log in
for more features.