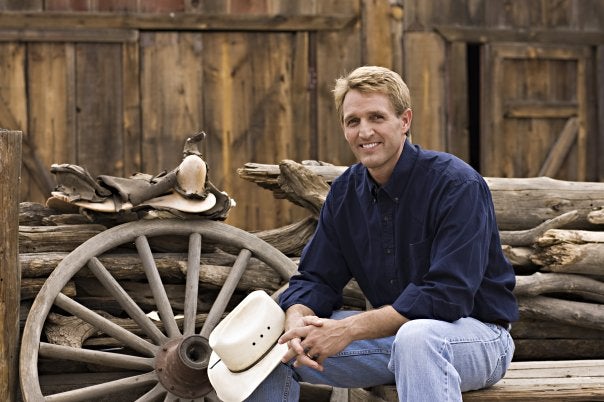 Jeff Flake Announces Senate Bid
Six-term Republican Rep. Jeff Flake of Arizona announced Monday that he will run for Senate following the decision by Republican Sen. Jon Kyl to retire.
"The country is facing a fiscal crisis, and the United States Senate is at the center of the debate about how to bring federal spending under control," Flake said in a statement. "Senator Jon Kyl has given all of the eventual candidates in this race an excellent model of how to best serve Arizona and the country. He's set the bar extremely high, and I'll do my best to meet that standard."
The conservative group the Club for Growth endorsed Flake Monday, making Flake the first candidate the influential conservative group has backed in 2012. In 2010, the Club for Growth played an influential role in electing Tea Party-backed senators like Mike Lee of Utah and Marco Rubio of Florida.
In a statement, Club President Chris Chocola commended Flake for opposing Obama administration policies such as the stimulus package.
"But what's really impressive about Jeff is that he had the guts to strongly oppose the worst policies of the Bush Administration and of the previous Republican Congress, like earmarks, bailouts, and the prescription drug entitlement," he said. "That's the kind of courage in the fight for freedom and limited government we need in the U.S. Senate."
In announcing his Senate bid at a Phoenix hotel, Flake said his priorities included balancing the federal budget, improving border security and working on transportation and water policy issues, the Arizona Republic reports. Though he supports broader immgration reform, Flake said border security "needs to be the focus."
Flake could face Republican primary challengers; Arizona Rep. Trent Franks and former Rep. J.D. Hayworth are among those considering a run, as the Hill reports.
The field is also open on the Democratic side. Before she was seriously wounded in a mass shooting last month, Rep. Gabrielle Giffords (D-Ariz.) was considered a potential 2012 Senate candidate, according to the Arizona Republic. There is now speculation over whether Giffords will seek the seat even as she recovers from her injuries.
Thanks for reading CBS NEWS.
Create your free account or log in
for more features.