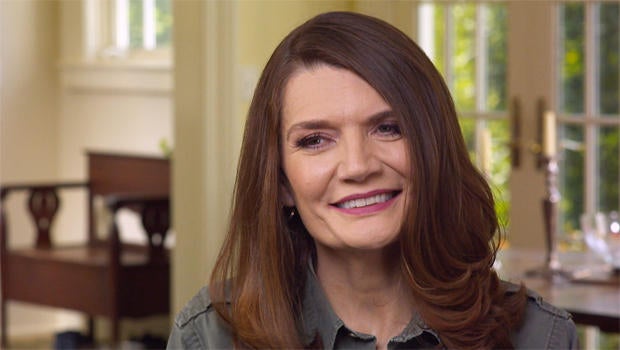 Jeannette Walls on writing "The Glass Castle"
A new movie, "The Glass Castle," is based on a memoir that touched millions of readers. Martha Teichner reports:
The last time Jeannette Walls was here was right after her inspiring, best-selling memoir, "The Glass Castle," came out in 2005. "The house is gone, the foundations are gone. I can see the remnants of what used to be the stairs, but I found some things," she said. "I'm pretty sure that this was my mom's art supplies."
It was how she overcame the poverty, the chaos of her childhood, here on a hillside above Welch, a struggling coal mining town in southern West Virginia, that the book (and now a film based on it) portrays.
"I will never forget it. I tried!" Walls laughed. "I tried and it didn't work. So you remember, not out of anger, but out of gratitude, that you can start at a place like that and make your way out."
In spite of her parents, and because of them.
"My father, Rex, was one of the most charismatic human beings I've ever known, and also one of the most brilliant. He was also a desperate alcoholic," said Walls.
"My mother, Rose Mary, is also brilliant, creative, and I don't think has a maternal bone in her body."
Played in the movie by Naomi Watts, Rose Mary Walls preferred painting to tending her four children, or working.
Rex Walls, played by Woody Harrelson, couldn't keep a job, but dreamed big, of building a fabulous, solar-powered Glass Castle.
Jeannette was a true believer, until the foundation she helped dig became a garbage pit. "I didn't have indoor plumbing. I'd go to school dirty. I didn't have lunches."
"And you literally went through the garbage to forage food?" Teichner asked.
"Yes. Once I became the editor of the school newspaper, I had a key to the school, and I went to the school cafeteria and just took the food they threw away."
She put together the school paper at the offices of the Welch Daily News. The experience was transformative. "It was the portal out for me," she said. "It was the time and place that I realized I had a future."
When Walls was 17, she ran away to New York City, and talked herself into the prestigious Barnard College. She graduated with honors, and then went to work at New York magazine. "It was such a life-changer," she said, "because it wasn't just part of the real world, it was the big time."
Her job, ironically, was society gossip columnist.
"I just thought, if they knew who I was, the game would be up. I was this white trash kid reporting on the world's most famous, powerful people."
She had a fancy address on Park Avenue, and was silent about her background. But by then, her parents had shown up in New York City and were living as squatters in a derelict building. They appeared in a 1989 documentary, "How to Squash a Squat."
"I was going to some fabulous party," Walls recalled, "and my taxi got stuck in traffic, and I looked out the window and I saw a homeless woman rooting through the garbage, and I realized it was my mother. And I was so mortified that I ducked down, and I hid."
That story opens "The Glass Castle." The book has sold more than six million copies.
In the movie version, opening August 11, Academy Award-winner Brie Larson is the grown-up Jeannette.
Larson said, "I've learned a lot from her. Being open about who you are in your story, the book has sparked people to reflect on their own life, to come to terms with their past."
As Jeannette Walls has done. These days, she lives with her husband, John Taylor, also a writer, on their 200-acre farm in Virginia. She built a small house for her mother, who at 83 still paints, and makes no apologies for the way she raised her children.
"They had a more interesting life," Rose Mary said. "They had experiences nobody else had, so why in the world complain?"
Rex Walls died in 1994. His plans for the Glass Castle have long since been lost. But Jeannette Walls no longer minds that it was only ever a dream.
"In another way, though, I feel that it kind of has been built," Walls said. "Because it was never really about the Glass Castle. It was more just a home, a place where you belong."
And, she added, "I've got that, and more."

For more info:
Thanks for reading CBS NEWS.
Create your free account or log in
for more features.