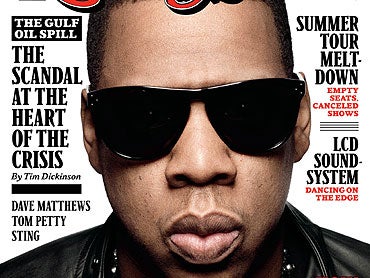 Jay-Z Opens Up to Rolling Stone On Career, Beyonce and Life
NEW YORK (CBS) When rapper Jay-Z bought a black-and-white Laurie Simmons photograph depicting "a noirishly lit pistol with a pair of women's legs emerging from the handle," for his 8,000-square-foot Tribeca penthouse, his, wife, Beyonce, sent it back.

She replaced it "with a similar Simmons piece, only depicting a perfume bottle instead of a gun."

Though notoriously private about his life with Beyonce, Jay-Z let down his guard, telling this and other anecdotes in a wide-ranging interview with Rolling Stone magazine that covered his music life, his music love (Beyonce) and his return to the top of the charts. It's in the magazine's June 24 issue, which hits newsstands Friday.

The 40-year-old "Empire State Of Mind" rapper is aware he's an "elder statesman" in the world of hip hop, saying that just being considered relevant at such an advanced age, compared to newer acts, is an achievement in itself.

"For me, to be able to compete at Lil' Wayne's level at my age" the rapper tells Rolling Stone, "that's rarefied air. It's never been done."

We're taken inside his Manhattan high-rise office and given a glimpse into the $150 million empire that this former Marcy Housing Projects resident has created.

Though he doesn't go into much detail on his relationship with R&B queen Beyonce (he has always been mum on their relations with the press) he does chat a bit about their time at Coachella and her performance with the him on his new hit "Young Forever."

Funny moments happen along the way with Jay mispronouncing actor and friend Kelsey Grammer's name at a charity auction (calling him "Chelsea Grammer") and the hilarity that ensued.

When asked whether his success is a sign that things have changed for race relations in America, Jay-Z, whose real name is Shawn Corey Carter, mentions that disparity still exists. Taking a line from neighbor Chris Rock and his stand-up bit, he points out that only four blacks (including Eddie Murphy and Mary J. Blige) live in their affluent New Jersey neighborhood - and all are superstars.

"It's changing slowly, but it's not an equal thing," he tells Rolling Stone. "I'm here because of my talent. You still have to do extraordinary things."

Jay-Z's greatest hits set "The Hits Collection Vol. 1" will be released in June.
Thanks for reading CBS NEWS.
Create your free account or log in
for more features.