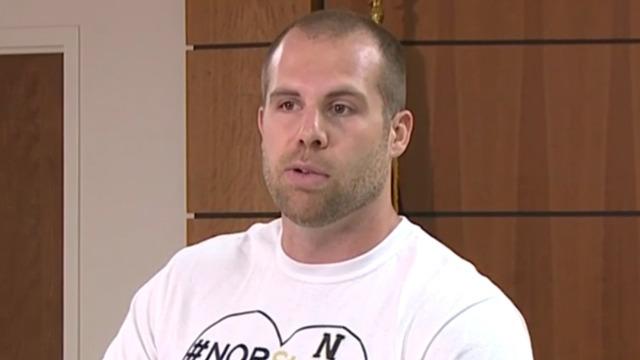 Indiana teacher who tackled gunman speaks about school shooting
NOBLESVILLE, Ind. -- A teacher who was shot while tackling and disarming a student at an Indiana school said Monday that his swift decisions "were the only acceptable actions" to save his seventh-grade classroom. Jason Seaman spoke publicly for the first time since the Noblesville shooting Friday, thanking the Indiana community for support, praising a 13-year-old who was also shot and urging everyone to think about her as she recovers.
Seaman is credited with stopping a student who entered his Noblesville West Middle School classroom with a gun. The 29-year-old teacher was shot but not seriously injured.
He described himself as "a person who isn't looking for attention" during a morning press conference.
"I want to make it clear that my actions on that day, in my mind, were the only acceptable actions I could have done given the circumstances," said Seaman, a former college football player.
"I deeply care for my students and their well-being. That is why I did what I did that day," he said.
Seaman spoke for just a few minutes and declined to answer questions from reporters.
A student, Ella Whistler, was also shot. Her family has said she is in critical but stable condition. But school principal Stacey Swan said she's improving.
"I can't say enough how proud of Ella I am and how we all should be," Seaman said. "Her courage and strength at such a young age is nothing short of remarkable, and we should all continue to keep her in our minds as she continues to recover."
Investigators said the shooter had asked to be dismissed from the class before returning with two guns. He was arrested "extremely quickly" following the shooting around 9 a.m. Friday, local police Chief Kevin Jowitt said.
Authorities didn't release the student's name or say whether he had been in trouble before but indicated he likely acted alone. Police said the student didn't appear to be injured.
Noblesville High School senior Jackson Ramsey started a GoFundMe fundraising effort for Seaman. He said his girlfriend's sister was in a classroom adjacent to the shooting.
Seaman thanked Ramsey for starting the campaign.
"I can't really fathom how someone I have not personally met would do such an act of kindness and how the Noblesville community has been so generous in their response to it," Seaman said.
The goal is to "repay a deed that cannot be repaid," Ramsey said. "He saved the lives of so many students."
The campaign had raised more than $65,000 by Monday morning.
The attack came a week after a shooting at a high school in Santa Fe, Texas, that killed eight students and two teachers, and months after the high school attack that killed 17 people in Parkland, Florida. The Florida attack inspired students there and across the country to call for more restrictions on access to guns.
Thanks for reading CBS NEWS.
Create your free account or log in
for more features.