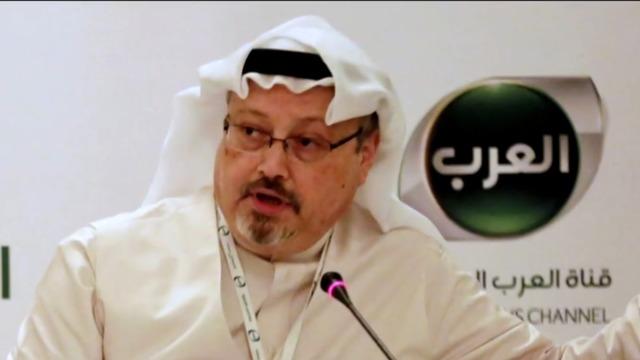 Saudi Arabia confirms Jamal Khashoggi was killed at consulate
For the first time, Saudi Arabia said Friday that journalist Jamal Khashoggi is dead. Saudi state television said an investigation found that a fight broke out at the consulate between Khashoggi and people who met him at the consulate.
The Saudi public prosecutor said 18 people have been arrested. The investigation is ongoing.
The Saudi statement indicated that Khashoggi died in a fist fight. In the past week, reports that cited Turkish officials painted a more gruesome picture: Reports said that one of Khashoggi's interrogators was an autopsy specialist with a bone saw, and that Khashoggi was ultimately dismembered. These Turkish sources said an audio recording existed, though none has been made public or provided to U.S. authorities.
Saudi state media also issued an apology: "The kingdom expresses its deep regret," said a statement in state media.
Saudi Crown Prince Mohammad bin Salman has dismissed his closest adviser Saud al-Qahtani, the Saudi press agency said. "You don't get much closer" to bin Salman, a source told CBS News' Kylie Atwood.
Intelligence chief Ahmed al-Assiri is also out, the Saudi press agency said. CBS News reported earlier Friday that Saudi officials were considering blaming al-Assiri.
Khashoggi, who was U.S.-based and wrote for The Washington Post, disappeared on Oct. 2 after going into the Saudi consulate in Istanbul. Turkish officials have said, anonymously, that Khashoggi was murdered in the consulate, by a 15-man team.
It's unclear what the U.S. response will be. President Trump said Friday that the response from the Saudi government was a "great first step." But he said the U.S. still has questions, and he said he would "prefer" if the response did not include canceling the $110 billion weapons deal between the U.S. and Saudi Arabia.
Mr. Trump said the Saudi statement that Khashoggi died in fist fight is a "theory." He said he planned to talk to Bin Salman.
White House press secretary Sarah Sanders said in a statement Friday that the Saudi "investigation into the fate of Jamal Khashoggi is progressing and that it has taken action against the suspects it has identified thus far."
"We will continue to closely follow the international investigations into this tragic incident and advocate for justice that is timely, transparent, and in accordance with all due process," the statement said. "We are saddened to hear confirmation of Mr. Khashoggi's death, and we offer our deepest condolences to his family, fiancée, and friends."
President Trump has promised "severe punishment" if the reports of Khashoggi's death were true, but Mr. Trump has also openly cautioned against actions that would risk U.S. business interests, including billions in arms sales.
U.S. lawmakers, including Republican Senator Lindsay Graham have warned of tough action. "To say that I am skeptical of the new Saudi narrative about Mr. Khashoggi is an understatement," said Graham on Twitter.
One issue will be how much blame can be placed on bin Salman, known by many as MBS. Experts have said he would have known of a plot to murder Khashoggi, given the control he has. But he has not been officially connected to the incident.
Khashoggi's last column was published Wednesday by The Washington Post. In 2017, Khashoggi, a frequent critic of bin Salman, appeared on CBSN, saying the crown prince was making a number of "power moves."
"Is it the 'Trump effect' that made Prince Mohammad bin Salman feel empowered to this impulsive behavior in foreign policy?" Khashoggi said. "It is dangerous. It is dangerous for Saudi Arabia, for the region."
This is a breaking story and will be updated.
Thanks for reading CBS NEWS.
Create your free account or log in
for more features.