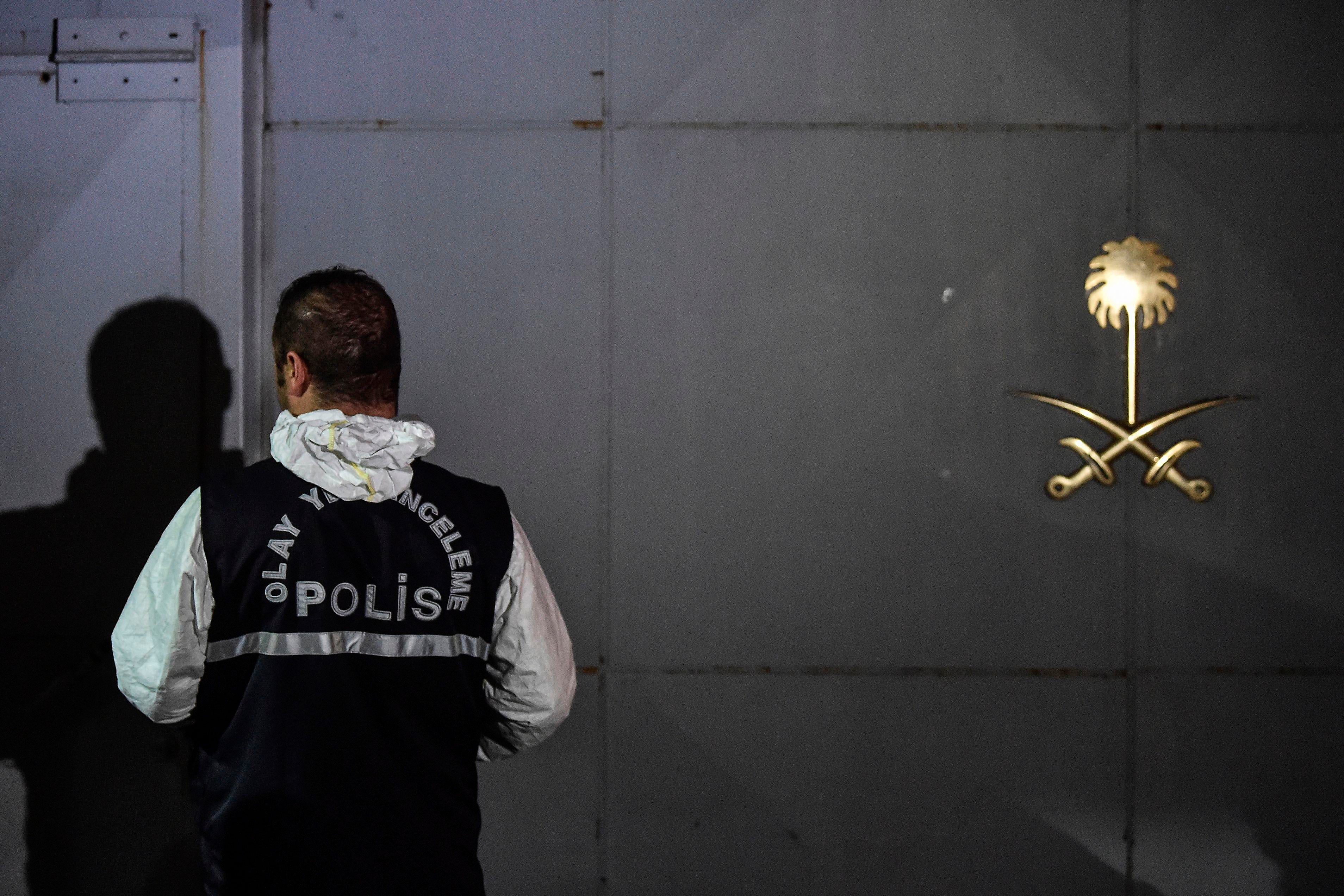 If Turkey has proof Jamal Khashoggi was killed, it's not sharing
WASHINGTON -- Secretary of State Mike Pompeo is denying a report that Turkish officials shared with him an audio recording and transcript of the alleged murder of Washington Post columnist Jamal Khashoggi, who went missing over two weeks ago after entering the Saudi consulate in Istanbul.
"I've heard no tape, I've seen no transcript," Pompeo told reporters overnight.
On Friday morning, Turkey backed up the U.S. diplomat's assertion, with Foreign Minister Mehmet Cavusoglu telling reporters in Ankara that his country had yet to share any audio evidence on the case with any other nation. He still would not confirm whether his country does in fact possess an audio or video recording of the purported murder, but reiterated Turkey's vague assertion that investigators had obtained "evidence."
Pro-government media in Turkey have released surveillance photos identifying an intelligence officer in Saudi Crown Prince Mohammed bin Salman's entourage as the mastermind of the alleged killing. Turkish officials have said, all anonymously, that Khashoggi was murdered in the Saudi consulate on Oct. 2, by a 15-man team sent by the crown prince.
Will the Saudis name a scapegoat?
As The New York Times first reported on Friday, Saudi Maj. Gen. Ahmed al-Assiri, a top intelligence official with close ties to the crown prince, could end up getting the blame for the alleged killing.
CBS News was able to confirm that Saudi officials are considering blaming al-Assiri, the Saudis' deputy head of intelligence.
However, another report on Friday suggested that the crown prince's father, King Salman, was starting to "assert control" over his kingdom's handling of the scandal. The Reuters news agency said King Salman had dispatched one of his most trusted advisers to Turkey to gather information, after a request from the crown prince to help deal with the fallout of the alleged murder.
Reuters' sources, all unnamed individuals said to be either in the royal family or close to it, said the crown prince, commonly referred to as "MBS," had managed to keep his father insulated from the international scale of the outrage over Khashoggi's disappearance initially.
But with his own senior confidants warning him that his son was increasingly being accused of orchestrating a heinous crime, Reuters quotes one source as saying, "the people around him are starting to tell him to wake up to what's happening."
White House to give Saudis "a few days"
On Thursday, Turkish police expanded their investigation to search a large forest just outside Istanbul, reportedly for the journalist's body.
As CBS News White House correspondent Weija Jiang reports, the expansion of the Turks' investigation came as President Trump moved closer to acknowledging a Saudi role in Khashoggi's disappearance.
"We should be able to get to the bottom of it fairly soon," Mr. Trump said on Thursday. As he headed out West for campaign rallies, he was asked if he believed Khashoggi was in fact dead.
"It certainly looks that way to me. It's very sad," the president said, adding that if Saudi Arabia is to blame, it will face consequences. "It'll have to be very severe. I mean it's bad, bad, stuff. But we'll see what happens."
Mr. Trump said he would wait for the results of three different investigations before drawing conclusions.
Pompeo briefed the president at the White House after a trip to Saudi Arabia and Turkey. He said Saudi officials, including the crown prince and his father King Salman, had promised a transparent probe.
"I told the president this morning that we ought to give them a few more days," Pompeo told reporters. "There are lots of stories out there about what has happened. We're just going to allow the process to move forward."
Trump appears to toughen his stance
But Jiang says the administration does seem to be toughening its stance. On Thursday, Treasury Secretary Steve Mnuchin announced he's ditching a financial summit in Riyadh.
Writing on Twitter, after meeting President Trump and Pompeo, Mnuchin said, "we have decided I will not be participating."
His withdrawal marked the first formal rebuke of the kingdom by the U.S. over the Khashoggi case, in contrast to Mr. Trump's recent comments praising Saudi Arabia as a key ally in countering Iran -- and ordering American-made weapons.
Khashoggi warned in 2017 of "impulsive" Saudi prince
Appearing on CBSN last year, Khashoggi himself warned the Trump administration's embrace of Saudi leadership could backfire, and he criticized the Saudi crown prince's behavior in foreign policy as "impulsive."
"It is dangerous, it is dangerous for Saudi Arabia, for the region," he said.
Sources tell CBS News that the results of the Saudi's own investigation will be made public by Sunday. Turkey has not said when it will release the results of its probe -- or any audio that proves Khashoggi was murdered, if it does have such a smoking-gun.
Cavusoglu, the Turkish Foreign Minister, would only say on Friday that his country would share the results of their investigation -- and their evidence, "with the world when they become fully clear, because the whole world, understandably, wants to know what happened to Khashoggi, and how it happened."
Meanwhile, human rights groups are banding together to call on the United Nations to set up an independent investigation, arguing Saudi authorities cannot be trusted to deliver credible results, because they are investigating themselves.
Thanks for reading CBS NEWS.
Create your free account or log in
for more features.