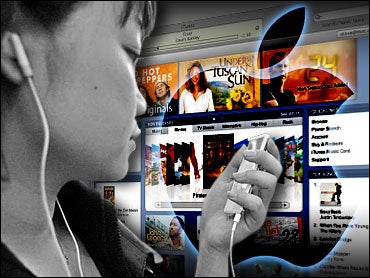 iTunes Overtakes Wal-Mart In Music Sales
Apple Inc.'s iTunes online music store vaulted past Wal-Mart Stores Inc. in February to become the top overall music retailer in the U.S., a market research firm said Thursday.
Best Buy Co. was ranked behind Wal-Mart and iTunes, with Amazon.com and Target tied for the fourth spot in January and February, according to consumer surveys conducted by The NPD Group.
The firm tabulated units sold, counting every 12 digital downloads as one CD. It did not count sales revenue, nor mobile music sales.
Cupertino, Calif.-based Apple touted the latest signs of its music retail dominance, noting it has more than 50 million customers. A survey NPD released in February covering annual sales proclaimed iTunes leapfrogged to the No. 2 ranking in 2007.
Itunes has sold more than 4 billion tracks since its launch in 2003, thanks in part to the popularity of its iPod portable music players.
The music store sold around 25 million tracks in 2003. Three years later, it surpassed the 1 billion mark, and by July, it had sold more than 3 billion tracks.
Apple's rise in the NPD survey also reflects a trend this decade of declining CD sales and rising digital music sales, which favors digital music retailers.
Amazon.com began selling music downloads last year.
Thanks for reading CBS NEWS.
Create your free account or log in
for more features.