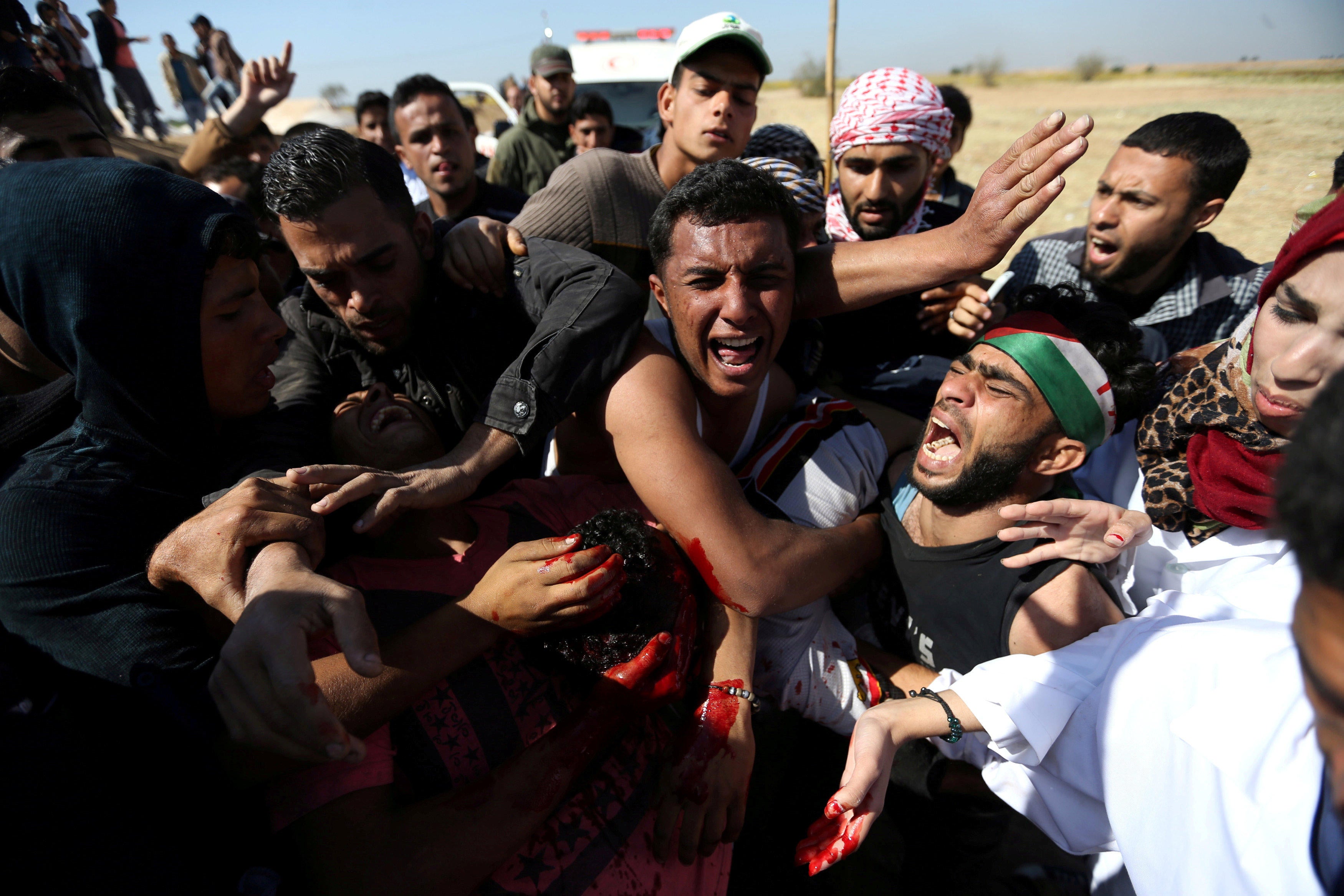 Death toll rises, Israel rejects calls for probe into Gaza violence
GAZA CITY, Gaza Strip -- The Palestinian Health Ministry says a 29-year-old Gaza man has died of injuries from Israeli army fire during last week's mass protests along the Gaza border with Israel. Separately, Israeli defense authorities confirmed that Israel is holding the bodies of two alleged Hamas members.
With Monday's death, this would raise to 18 the number of Palestinians killed by Israeli troops Friday. Palestinian health officials say more than 700 Palestinians were wounded. It was the area's deadliest violence since a war four years ago.
Friday's mass marches were largely led by Gaza's ruling Hamas group and touted as the launch of a six-week-long protest campaign against a stifling decade-old blockade of the territory. Israel and Egypt have maintained the blockade since Hamas, an Islamic militant group sworn to Israel's destruction, seized control of Gaza in 2007.
As CBS News correspondent Roxana Saberi reported, some of the protesters' anger was directed at the U.S. in addition to Israel, with photos of President Donald Trump being torn up and burned by the crowds. Mr. Trump has been seen as shifting the U.S. stance in the decades-long Middle East crisis decidedly toward's Israel since taking office, taking a hard line on even the Western-backed Palestinian leadership of Hamas rival Fatah in the West Bank.
Under Mr. Trump, the U.S. has slashed $65 million in funding to Palestinian aid programs, and his decision to move the U.S. Embassy in Israel from Tel Aviv to the disputed holy city of Jerusalem also drew mass protests, not just in Israel but across the Muslim world.
Israel rejected allegations of excessive force, saying it defended its border against what it claims is a Hamas attack under the guise of mass protests. It says troops were instructed to target "the main instigators."
Rights groups say shooting Palestinians who don't pose a threat to soldiers' lives is unlawful.
Israel's defense minister on Sunday rejected international calls for an investigation into the deadly violence, saying troops acted appropriately and fired only at Palestinian protesters who posed a threat.
Human rights groups have accused the army of using excessive force, and both the U.N. secretary-general and the European Union's foreign policy chief have urged an investigation.
In an interview, Defense Minister Avigdor Lieberman said Israel would not cooperate with a U.N. inquiry if there were one.
"From the standpoint of the Israeli soldiers, they did what had to be done," Lieberman told Israeli Army Radio. "I think that all of our troops deserve a commendation, and there won't be any inquiry."
Israel has warned that it will not allow the border to be breached. It also accuses Hamas of trying to use protests as a cover for planting explosives and staging attacks. On Saturday, Israel's military said it will target militant groups inside Gaza if the border violence drags on.
In Friday's confrontations, large crowds gathered near the fence, with smaller groups of protesters rushing forward, throwing stones and burning tires.
Israeli troops responded with live fire and rubber-coated steel pellets, while drones dropped tear gas from above. Soldiers with rifles were perched on high earthen embankments overlooking the scene.
Protests have continued since Friday but at a far smaller scale. On Sunday, one person was seriously wounded by gunfire, Palestinian medical officials said.
The military has said it responded only to violent attacks aimed at troops and the border fence.
But video from the scene showed at least a handful of incidents in which people appear to have been shot either far from the border or while they were not actively rioting.
In one video that spread on social media, a young man was fatally shot from behind while running away from the border area carrying a tire.
The Israeli military accused Hamas of releasing videos that were either incomplete, edited or "completely fabricated." It said troops had followed strict rules of engagement, and that protesters were putting themselves in "harm's way" by operating in a dangerous area.
In the case of the man with the tire, the army said the video told only part of the story, and said he was a Hamas militant who had been involved in violence just moments before he was shot. It gave no additional evidence to support the claims.
In the interview, Lieberman said those who protested peacefully were not harmed, saying claims that peaceful protesters were harmed were "lies and inventions."
"Whoever didn't get close to the fence was not shot," he said.
At least four of the dead were members of the Hamas military wing, Hamas said Saturday.
The protests are to culminate in a large border march on May 15, the 70th anniversary of Israel's founding. The date is mourned by Palestinians as their "nakba," or catastrophe, when hundreds of thousands were uprooted in the 1948 Mideast war over Israel's creation. Most of Gaza's 2 million people are descendants of Palestinian refugees.
Gaza's continued border closure has made it increasingly difficult for Hamas to govern. Life in the coastal strip has deteriorated further in recent months, with rising unemployment, grinding poverty and daily blackouts that last for hours.
Hamas has been further weakened by international isolation and financial pressure by the internationally recognized Palestinian Authority, along with three wars against Israel. It appears to be taking a gamble by using the protests to draw attention to Gaza without sparking another painful war.
Thanks for reading CBS NEWS.
Create your free account or log in
for more features.