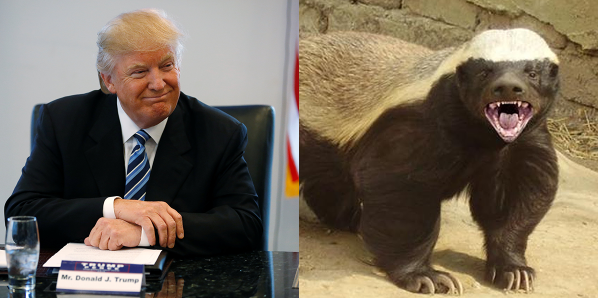 Donald Trump's campaign and the honey badger
Remember that viral video about the honey badger from 2011?
You know the one. First, the black-and-white African predator chases a jackal. Then, it follows a cobra up into a tree. Then, it ends up eating said cobra for dinner. And through it all, the sassy narration proclaims, "Honey badger don't care… It just takes what it wants."
It may get more attention beyond its 79 million internet views in the coming days as a result of the recent shakeup at the top of Donald Trump's campaign.
On Wednesday, Donald Trump named media executive Steve Bannon as his new campaign CEO. Bannon, a former Goldman Sachs investment banker and executive chairman of right-wing Breitbart News, is, like his new boss, a a controversial figure.
Bannon's tenure at Breitbart saw the news outlet transformed into a relentlessly pro-Trump machine, a directional shift that didn't sit well with all of the outlet's employees. Former Breitbart editor Ben Shapiro, for example, publicly stated in an op-ed that Bannon had "put a stake through the heart of Andrew [Breitbart]'s legacy." Several employees, including Shapiro, ended up leaving Breitbart after the website took the Trump campaign's side over Breitbart's own reporter, Michelle Fields, after she said she had been assaulted by Corey Lewandowski, who was Trump's campaign manager at the time.
What does any of this have to do with the honey badger?
Back in October, Bloomberg BusinessWeek's Josh Green wrote a prescient profile of Steve Bannon, in which he took note of Bannon's motto for Breitbart: "Honey badger don't give a s---." Bannon even had silver hip flasks made as party gifts for employees, with the Breitbart name printed above the picture of a honey badger.
If you've watched those honey-badger-don't-care videos, you know this about Mellivora capensis --it's ferocious and mean and greedy, and it goes after what it wants with an impressive fearlessness. The honey badger also has more in common with a weasel than with other badgers, and it also has an incredibly thick skin.
One of the remarkable things about those videos is watching the honey badger prey on surprising animals that are bigger or more impressive, even possibly more lethal. Because the honey badger just doesn't care.
Kind of like Steve Bannon, and like Donald Trump, who may be the closest thing we've seen to a honey badger of a candidate.
Likewise, this is a presidential campaign that's seen the GOP nominee attack his opponents with little regard to their stature or for the potential implications for his candidacy. He has called into question Sen. John McCain's status as a war hero -- a man who spent five and a half years in a Viet Cong prison camp; he's attacked the faith of a Muslim couple whose son sacrificed his life for the country. And he's even attacked the most popular pope in decades, Pope Francis. Why?
Trump might frame it as his willingness to fly in the face of political correctness. His new campaign CEO is likely just to say,"Honey badger don't give a s---."
Thanks for reading CBS NEWS.
Create your free account or log in
for more features.