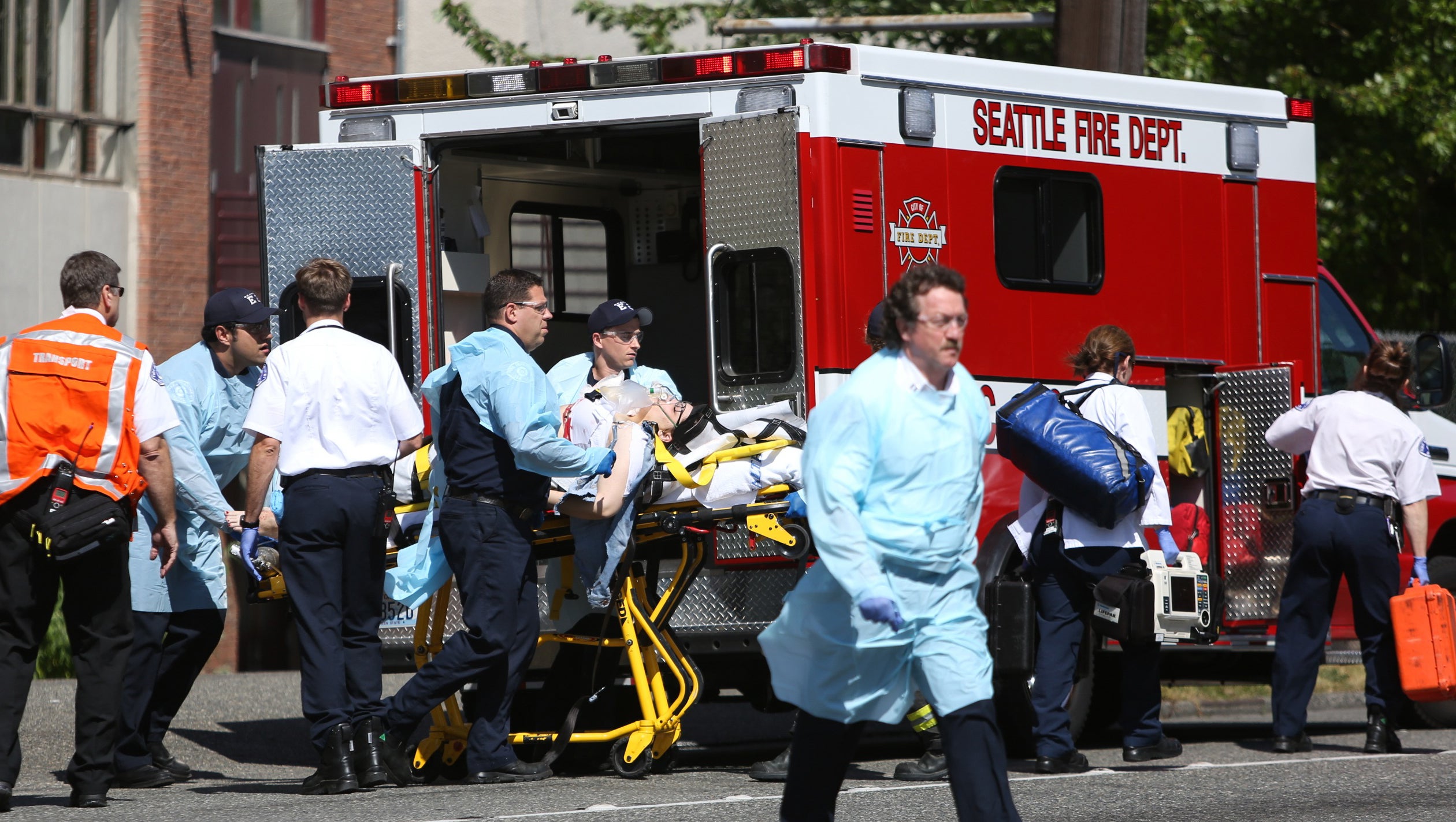 Is gun violence a public health issue?
With a recent barrage of senseless, deadly shootings in the headlines -- at a high school in Troutdale, Ore., Tuesday; a Seattle college campus last week; and UC Santa Barbara in Isla Vita, Calif., May 23 -- some experts say it's past time to start thinking about mass violence as a public health crisis.
Rather than just continuing to debate gun reform and the failings of the mental health system, they say the way to stop the cycle is to treat gun violence as a disease and involve health care workers in combatting it.
"This isn't just about school services, psychologists and mental health. It's about the need for a health-based system for preventing these and similar acts," said Gary Slutkin, founder and executive director of Cure Violence, and an epidemiologist at the University of Illinois Chicago School of Public Health.
His research has found that violent behavior often exhibits characteristics of an epidemic disease in the way it clusters and spreads. It directly impacts the health of those involved, of course, and also negatively impacts the physical and mental well-being of others who are exposed to it.
Many major medical organizations agree the health care community has an important role to play. In a policy paper published last month, the American College of Physicians stated that "firearm violence is not only a criminal justice issue but also a public health threat."
The group, which first began advocating to reduce gun violence in 1995, calls for physicians to "become more active in counseling patients about firearm safety."
It also urges doctors to join community efforts to restrict the ownership and sale of handguns -- a policy that puts it in direct conflict with the National Rifle Association and other gun rights organizations.
The journal JAMA Internal Medicine published an article in April 2013 calling for federal health agencies to tackle the issue as well. "The secretary of Health and Human Services, the Surgeon General, the director of the CDC, and the director of the CDC's National Center for Injury Prevention and Control should be allowed to protect the public health by working to reduce injuries and deaths from firearms, in the same way that they work to reduce injuries and deaths from poisonings, motor vehicle traffic accidents, and falls," the authors write.
That position, too, been opposed by gun rights advocates who believe it would amount to involving federal health officials in gun control efforts.
Earlier this week at the American Medical Association's annual meeting, a fierce debate erupted over whether the AMA's Continuing Medical Education program should offer a course on gun violence prevention. Some members support the idea of integrating medical professionals -- not only mental health workers -- into anti-violence efforts. But others worry that this may put physicians in a position of becoming social workers, which is not something there is time for in a busy emergency room or doctor's office.
Controversy has also flared around the idea of whether doctors should ask patients whether they keep guns in the home. Some doctors believe it's appropriate, just like asking about other factors, like smoking or alcohol use, that impact a patient's health.
Others consider it invasive or misguided. Dr. Paul Hsieh, co-founder of a group called Freedom and Individual Rights in Medicine, argued in Forbes that it could "compromise the integrity of the doctor-patient relationship."
A majority of -- 58 percent in an American College of Physicians study -- say they do not ask their patients about guns.
Some Republican state lawmakers have attempted to make such questions illegal. In 2011, Florida passed the Firearms Owners' Privacy Act, which would have barred a physician from inquiring with patients about gun ownership. A judge later declared the law unconstitutional.
On the community level, Gary Slutkin of Cure Violence says he believes "the health sector is activating now like it never has before" on the issue of combatting gun violence.
"City and state health departments, hospitals, community based organizations, and practitioners around the country are now stepping up and assuming their roles," he said.
Because his research has shown that violence often follows the pattern of an infectious disease, he suggests violent behavior could be controlled through public health intervention, much in the same way as educating communities about the dangers of smoking or having unprotected sex.
"We have in this country, health workers who are detecting potential events like bird flu or SARS or even HIV, measles, cases of even flu. We have health workers some of whom are hospital-based and many who are community-based who have special access to populations."
Slutkin's Cure Violence Health Model, formerly called the Chicago Ceasefire Model, currently has a presence in 20 cities and more than 60 neighborhoods in the U.S. and beyond, including New York City, Chicago, New Orleans as well as Basra, Iraq; Cape Town, South Africa; and London. Each community that adopts the model identifies members of that community who know its population, and trains them to pick up on the potential for violence and on de-escalation. These "violence interrupters" work with community health and social service workers to stop violent events -- before they start.
"They know how to detect potential events," said Slutkin of the violence interrupters. "There are pretty simple warning signs but it isn't anyone's job to pay attention."
Thanks for reading CBS NEWS.
Create your free account or log in
for more features.