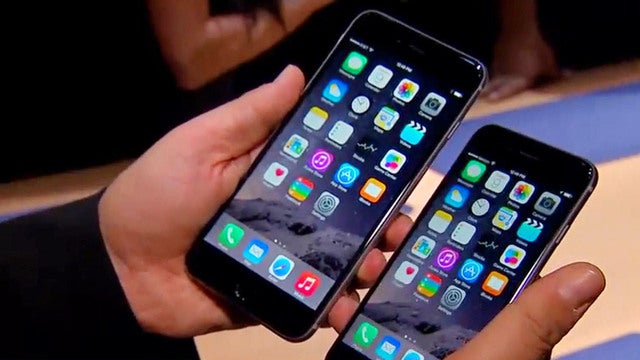 First hands-on review: iPhone 6 vs. iPhone 6 Plus
It seems that size does matter with smartphones. The new larger iPhones have already set a new Apple pre-order record, with 4 million orders placed in the first 24 hours, exceeding the initial supply.
The phones will not arrive in stores until Friday, but CNET's editors have already tested the devices and gotten a chance to compare them side by side.
"The design feels great," said CNET senior editor Scott Stein. "It's thinner than anything out there. Apple's created this hardware-software integration and an elegant phone that looks really good and it feels good."
By adding the 4.7 inch screen iPhone 6 and the 5.5 inch screen iPhone 6 Plus to its lineup, Apple is playing catch-up on size with competitors like Samsung.
"All of the company's rivals over past couple of years have been introducing phablets and even bigger screen phones in general," said CNET senior writer Shara Tibken. "So in comparison Apple's devices have looked puny."
One feature that Apple is counting on to distinguish these phones is Apple Pay, a mobile payment option that will launch in October.
"The biggest impact that this phone could make could be with Apple Pay, Apple's wireless payment system," Stein said. "That's not available yet and once that launches, we'll see whether that makes this a must-have product."
The demand for the bigger iPhone 6 Plus has been so high that some customers who pre-ordered the devices online won't receive them until early November. Besides being larger than the iPhone 6, the iPhone 6 Plus edges out the smaller model with an upgraded camera.
"Optical image stabilization, which keeps shots steady -- that camera feature is only in the iPhone 6 Plus," Stein said.
"So if you're looking for the absolute top-line device you're going to want the 6 Plus," Tibken said. "But for the mainstream user, the 6 is probably going to be enough."
For more on the new iPhones, visit CNET.
Thanks for reading CBS NEWS.
Create your free account or log in
for more features.