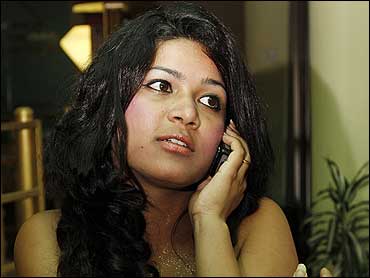 International Serial Killer Gets Engaged
Confessed French serial killer Charles Sobhraj, who was convicted and sentenced to life in prison in Nepal, is engaged and plans to marry a woman 44 years younger than he is.
Both Sobhraj, 64, and his 20-year-old Nepalese fiance, Nihita Biswas, said they are planning to get married if he is freed by Nepal's Supreme Court.
Sobhraj was convicted by a Katmandu district court in 2004 on charges of killing a Canadian tourist in Katmandu in 1975. He was arrested at a luxury Katmandu casino when he returned to Nepal in 2003.
He has filed an appeal to the Supreme Court and a decision is expected in the next few days.
"We are planning a future after his release. We know he is going to be released soon. We are going to be married under French law in France," Biswas told reporters in Katmandu on Saturday.
She said their large age gap did not matter.
"I am mature enough to decide for myself," she said. "Age does not make a difference."
The two met 2 1/2 months ago when she went to apply for a job as interpreter for his French lawyer, she said.
Biswas said she was certain the Supreme Court would free Sobhraj because of a lack of evidence against him.
Sobhraj's lawyers and jail officials said they only found out about the engagement after reading about it in local newspapers.
Sobhraj's chief lawyer earlier said their appeal to the Supreme Court claims a lack of strong evidence and incomplete court procedures.
The Frenchman has in the past admitted killing several Western tourists, and he is believed to have murdered at least 20 people in Afghanistan, India, Thailand, Turkey, Nepal, Iran and Hong Kong during the 1970s.
However, his 2004 conviction in Nepal was the first time he was found guilty in court.
Sobhraj was held for two decades in New Delhi's maximum-security Tihar prison on suspicion of theft, but was deported without charge to France in 1997. He resurfaced in September 2003 in Katmandu.
His nickname "The Serpent" stems from his reputation for being a talented disguise and escape artist.
Thanks for reading CBS NEWS.
Create your free account or log in
for more features.