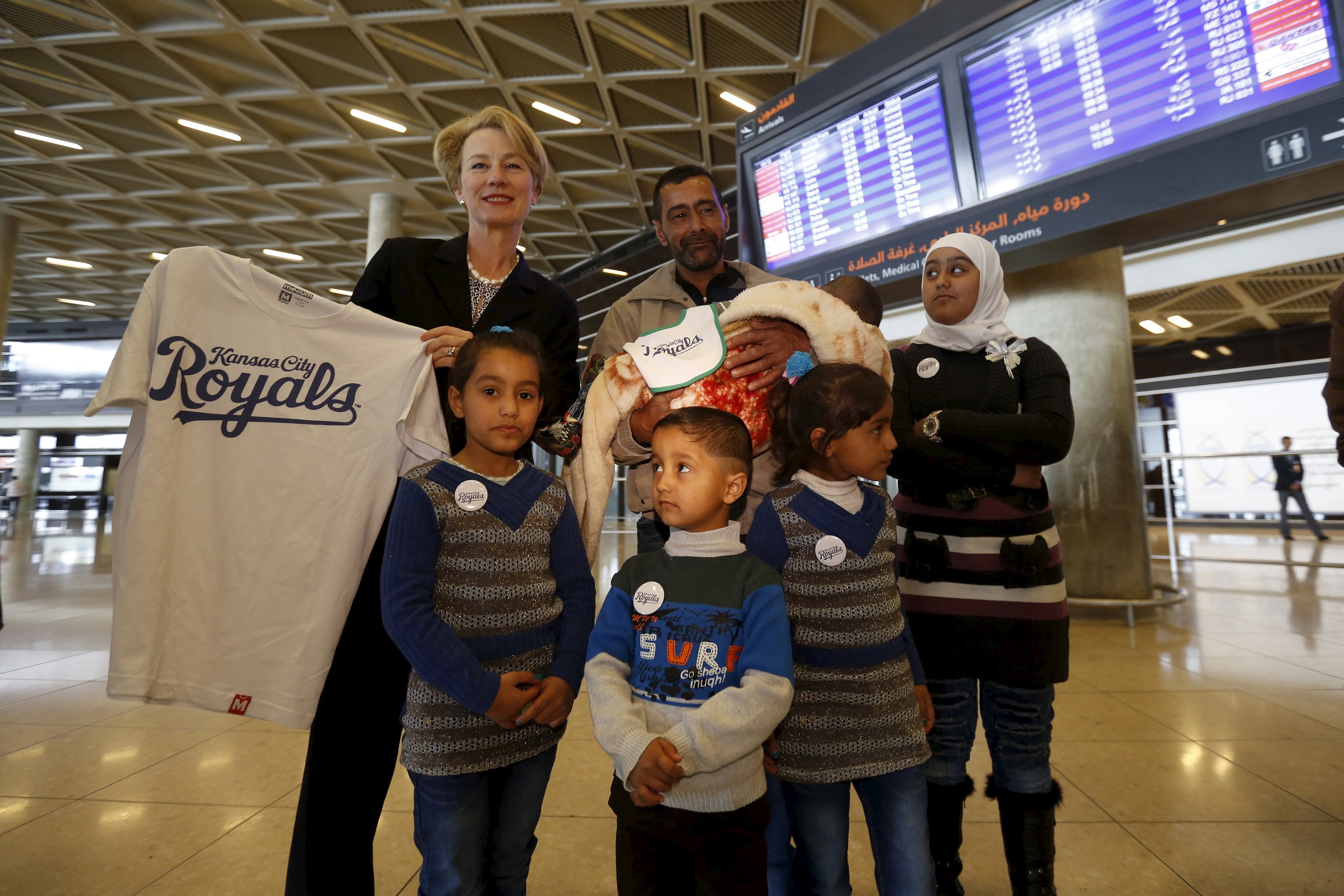 Inside the U.S. vetting system Trump wants to replace
As the Trump administration readies a new "extreme vetting" executive order that is expected to ban people from certain countries in order to give agencies time to review U.S. vetting procedures, many experts and former officials argue that the screening process is already rigorous.
The revised travel ban, to be released this week, is again expected to bar entry for people from the seven countries in the president's original order: Iraq, Iran, Syria, Somalia, Sudan, Libya and Yemen. The 9th Circuit Court of Appeals ruled earlier this month that the 90-day ban on people from those nations would not be reinstated after it was suspended by a lower court. It's unclear whether the new ban will again attempt to block all refugees from the U.S. for 120 days and block Syrian refugees indefinitely.
Unlike the first order, which prevented green-card holders from entering the U.S., the revised version will likely block people from those seven countries who want to travel to the U.S. for a temporary visit or stay. Currently, the process requires any individual from these countries to obtain a temporary visa, which is already a comprehensive multi-layered process. Here's what it takes to get into the U.S. from these countries:
Vetting process for temporary visas
An individual from Iraq who wants to visit the U.S. as a tourist, for example, first fills out an online application for a visa. Before the interview, information in the application is run against U.S. terrorism watch lists and databases. Any derogatory information would be flagged for a specially-trained State Department consular officer in a U.S. embassy or consulate in or near that person's home country who conducts the interview. For high-risk countries, the Department of Homeland Security (DHS) is involved to some extent.
During the interview, the officer tries to determine whether the person poses a terrorist or criminal threat, and also whether the person is a potential illegal immigrant. The visa applicant needs to show proof that a return ticket has been purchased, a defined place to stay in the U.S. and ties to his or her home country. Applicants are asked basic biographic questions, but also queried about their demeanor.
"We have a terrorist watch database. We have known immigration violators database. We have a criminal background check database that they have to go through. They don't just take the visa applicant's word," said Stephen W. Yale-Loehr, an immigration law professor at Cornell University's law school. "They do go through all of these computer databases to verify for themselves that it's appropriate to issue the visa to a particular individual."
If and when the person is approved for a visa, photos and fingerprints are taken. Before departing for the U.S., all air passengers coming into the U.S. are subject to information analysis by officials on the ground overseas and at the National Targeting Center in Virginia.
Once the traveler arrives at a U.S. airport, an officer with Customs and Border Protection (CBP) will have access to all of the information collected through the targeting center, will ask the person for his or her fingerprints again to match with the original set, and will ask questions again about the trip to the U.S.
Seth Stodder, a former senior DHS official on border and immigration issues in the administrations of both Presidents Obama and George W. Bush, said both presidents used "the correct approach" to stop terrorists from entering the U.S. He pointed out that 94 people have been killed by ISIS-inspired terrorists in the U.S. since 9/11, according to New America, with most of the victims being from the Orlando, San Bernardino and Fort Hood attacks.
"The system that we have constructed since 9/11 to identify potential threats coming into the country -- is it foolproof? No," Stodder said. "You're never going to have a foolproof system. You're only going to have a foolproof system if we decide to become North Korea and shut our borders."
The U.S. has built an international regime, Stodder explained, so that officials can detect people who pose a risk before they board a U.S.-bound flight overseas. CBP, for example, runs the Immigration Advisory Program, which posts personnel at various airports where they assist airline and security employees with reviewing traveler information for U.S.-bound flights. It also operates Preclearance, a progam in which more than 600 U.S. law enforcement officers are stationed at 15 airports in six countries. In 2015, those officers stopped more than 22,000 high-risk travelers and determined that 10,648 of the 16 million air travelers hoping to enter the U.S. were inadmissible, according to a Government Accountability Report (GAO) released last month.
Vetting process for refugees
The process to vet refugees, meanwhile, is the toughest for anyone coming into the country.
"They're the most carefully screened people that we allow into our borders," said Benjamin Webb, who just left DHS after serving as executive director of Customs and Border Protection's office of planning, analysis and requirements. "That's a very stringent process."
Refugees must first apply for refugee status and resettlement with the U.N. High Commission on Refugees, which collects initial documentation and biographic information, which is then transferred to a State Department-funded Resettlement Support Center. Afterwards, the center conducts an in-depth interview with the applicant, enters the documentation into a State Department system, and then cross-references and verifies data, and sends the information needed for a background check to other U.S. agencies.
From there, five entities -- the National Counterterrorism Center, FBI, DHS, Defense Department and the State Department -- screen the applicant using data from the centers. The screening process includes checks for security threats such as connections to bad actors and any past criminal or immigration violations.
Syrian refugees receive even more scrutiny with an additional enhanced review. The results from the screening process are then returned to DHS and State and trained DHS officers review them, conduct an in-person interview in the host country and collect biometric data. Applicants also must complete a class about American culture and undergo a medical screening once they're approved by DHS. Before the refugee arrives in the U.S., CBP and TSA conduct additional screening.
Webb finds it difficult to imagine what measures could be taken to make the vetting any more rigorous.
"I don't know what extreme vetting's supposed to be. I mean, are you going to waterboard them or something?" said Webb. "They have to follow a strict protocol. They're monitored for two years. That would be the least efficient way for a terrorist to get into the United States."
Improvements that could be made
Neither Mr. Trump nor anyone in the administration has gone into detail about what "extreme vetting" would entail. The State Department, which is responsible for issuing visas and conducting interviews, is not revealing its plans.
"Since the review of screening procedures is ongoing, we will not be able to speculate about any possible changes to the system in the future," a State Department official told CBS News.
Amy Pope, who just left the White House as Obama's deputy Homeland Security adviser, also feels that the current vetting processes in place are already extreme. She explained that the Obama administration even tried experimenting with adding in new layers to the vetting process, but she said they didn't actually increase the efficacy of the vetting. If she were still in her previous position, she said she would focus more on strengthening the Visa Waiver Program, which allows citizens from 38 countries -- mostly in Europe -- to travel to the U.S. without a visa unless they are also citizens of Iraq, Iran, Syria or Sudan.
"That, for me, is the key as opposed to the seven countries," Pope said. "What we were moving toward with the visa waiver countries is making sure that they're consistently reporting lost and stolen passports to INTERPOL, for example, that they are screening travelers against known suspected terrorist watchlists, which we share with them and that they are reporting on encounters that they have with people who might show up on watchlists."
There's a "pretty significant number of foreign terrorist fighters who are going to visa-waiver countries and potentially traveling to Syria, Iraq and other places," she added.
Belgium, France and Germany -- where attacks have occurred -- are among the countries in the Visa Waiver Program. All 38 countries have entered into bilateral agreements with the U.S. to report and share information about stolen or lost passports, share watchlist information or criminal history and enhance law enforcement cooperation. A GAO report released last June, however, found that some countries had not been sharing information directly with the Terrorist Screening Center as they should have.
Toward the end of the Obama administration, the U.S. also began asking refugee applicants for their social media handles as part of the screening process. While some think sifting through that information could be another tool to vet people, others suggest it could be a waste of time and difficult to decipher.
"I think it would be very difficult to find anyone who would be willing to disclose a bad social media account to the U.S. Therefore, it's unlikely that they would help sort of collect much information on the bad guys," said Betsy Cooper, who served as attorney adviser to the deputy general counsel at DHS and a policy counselor in the office of policy.
Still, she does believe the screening process could be strengthened, and in particular, the underlying information that goes into the vetting process. For example, U.S. personnel evaluating visa applications are hampered by insufficient information sharing between all of the government agency databases during each stage of the visa process. This is a technical problem, rather than an unwillingness to share the information, though. Cooper suggested working with Silicon Valley and the private sector to solve the problem of interoperability among the databases.
"DHS has a database, State has a database -- all these different groups have databases, and they do interface to some degree, but why not, given the modern power of computers, check all of those databases at every stage of the process in order to ensure that no new information has come out," she said.
The challenge for the Trump administration will be whether it can make meaningful changes to an already-stringent vetting process without making it implausible to come to the U.S.
"There's a balancing act that the United States has to have in terms of making sure that we do have adequate screening," said Yale-Loehr, "But at not such high a cost that either nobody comes to the United States or it's too astronomically expensive to go through all of the vetting possible."
Thanks for reading CBS NEWS.
Create your free account or log in
for more features.