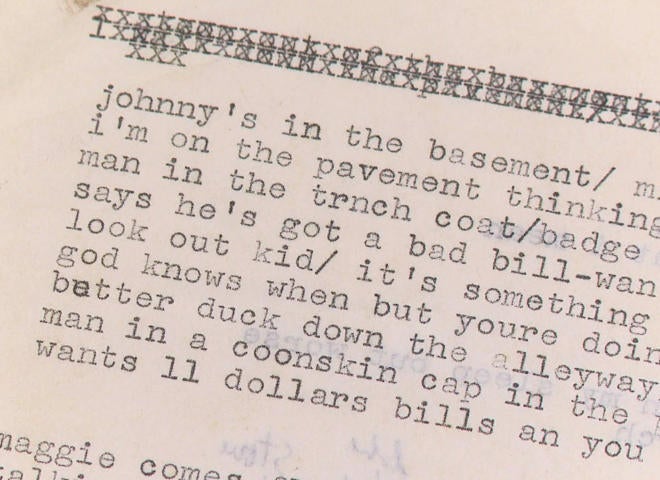 Inside the Bob Dylan Archive
Patti Smith sang Bob Dylan's "A Hard Rain's A-Gonna Fall" at yesterday's Nobel Prize ceremony, where she accepted the Literature Prize for the absent Dylan. Physically absent, perhaps, but a presence in that hall nonetheless, as he has been in our lives for more than half a century, Jane Pauley reports:
The words were true then … and they're true now: "The times, they are a-changing."
The twenty-something Bob Dylan who first sang them, well, he's now 75. But age hasn't mellowed America's poet.
Take winning the Nobel Prize in Literature. The Swedish academy couldn't even find Dylan to tell him the news. When they did finally reach the singer-songwriter, he was "very honored," but said he couldn't receive the prize in person due to "pre-existing commitments."
It wasn't totally unexpected. Dylan doesn't talk much; he just sings.
And while his story is well-known, where the artifacts of that story are stored is one of the best-kept secrets around.
The Bob Dylan Archive -- which contains thousands of his personal writings and items -- is housed at the University of Tulsa.
"The biggest surprise in the archive -- not just for me, but also for his biographers and people who have seriously studied his work -- was the amount of writing that Bob managed to hold onto," said curator Michael Chaiken.
Why Oklahoma? For starters, It's the home state of Woody Guthrie, Dylan's hero. And then there's the money. Dylan sold his collection to the school for an undisclosed amount, reportedly as much as $15 million.
And it is a treasure trove. Among the items: the initial draft of one of the most famous songs of all time: "Like a Rolling Stone."
"These songs didn't arrive full-formed," said Chaiken. "I mean, Bob was a worker. Whatever his native talents and his wit and his intelligence, he had an incredibly writerly discipline."
And there are his notes … the lyrics that would eventually become "Homesick Subterranean Blues."
Chaiken said, "To see the original manuscripts of songs that have now entered into our cultural consciousness, things like 'Subterranean Homesick Blues,' 'Like a Rolling Stone,' 'Maggie's Farm,' and to really get a sense that, at some point, Bob sat down at a typewriter to punch this stuff out, I mean, there's been a lot of talk after the Nobel was announced whether or not Dylan is literature. Well, if words are the pay dirt of literature, there's thousands of 'em in the archive."
There are the musings that would become "Maggie's Farm," and "Tangled Up In Blue."
Along with manuscripts, musical instruments and clothes, including the leather jacket Dylan wore the night he went electric -- and was booed by fans who felt betrayed.
There's his first publishing contract, from 1962, with a $1,000 advance ("not bad for the time"), and Dylan's wallet from the mid-'60s, with a business card from Otis Redding still in it.
But above all, it's about the writing. One small notebook contains virtually all the lyrics for his seminal album, "Blood on the Tracks."
The goal is to make the archive available to researchers, scholars, and the public. But will the man himself pay a visit?
"You would have to ask Bob Dylan," said Chaiken. "I don't know. He would probably be amused that there's a guy standing here talking about curating his old papers."
What we do know is what it means to the rest of us.

For more info:
Thanks for reading CBS NEWS.
Create your free account or log in
for more features.