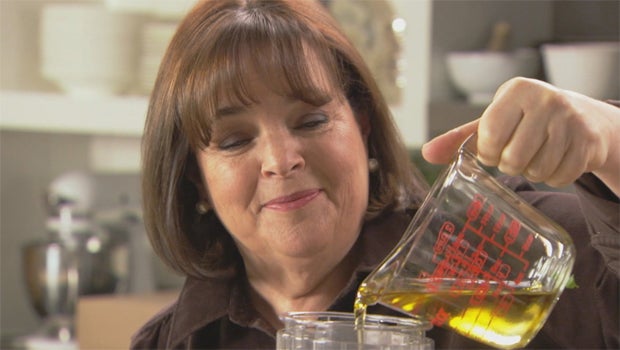 ​Ina Garten was born to cook
The Barefoot Contessa is a television chef with an on-camera style that goes down easy. And that provides quite a contrast to some other cooking shows, as Serena Altschul now shows us:
In a culinary age filled with diehard competitions, outlandish kitchen tools and crazy ingredients, one person remains unfazed and unaffected.
Easy and tasty recipes are what Ina Garten, better known as the Barefoot Contessa, is all about.
She tells Altschul that while others are drawn to new trends, she's not interested: "I'm really not. I'm interested in really good ingredients that you've cooked to enhance them and that you can serve to your family and friends in, like, a half an hour."
A wholesome attitude, that draws millions to her award-winning show on the Food Network. And Garten recently came out with her ninth cookbook, "Make It Ahead" (Clarkson Potter).
Her previous eight have all been bestsellers.
Garten has achieved a cult following. Even Liz Lemon, Tina Fey's character in "30 Rock," fantasized about meeting the Barefoot Contessa.
But being a food idol was not the life Garten had imagined. Born Ina Rosenberg in Brooklyn in 1948, she grew up knowing nothing about cooking.
"I think it's the reason why I'm a cook," she said, "because I was never allowed in the kitchen. That was my mother's purview. And she used to say, 'It's my job to cook, and it's your job to study.'"
Which she did, majoring in economics at Syracuse University. At age 20, she married Jeffrey Garten. They met when she was 15.
"Really sweet, kind, funny, smart, supportive, just everything you could ever dream of," Garten said. "I mean, here we are 50 years later. And I just feel that much more about it!" she laughed.
Jeffrey makes regular appearances on her show, and played a major role in Ina's career. [More on that later.]
In the 1970s, after getting her MBA, Garten became a nuclear energy budget analyst for the U.S. government. By day, she worked in the White House on nuclear policy. "It still makes me laugh!" she said.
"And by evening or weekends, you were diving into Julia Child?" asked Altschul.
"I bought 'Mastering the Art of French Cooking,' volumes one and two," Garten said. "And every evening, I would just work through those two books. And I really kind of taught myself how to cook. Or, I should say, Julia Child taught me how to cook."
One fateful day in 1978, while reading the classified section, something caught her eye: "A specialty foods store for sale in a place I'd never been before, in the Hamptons," she said. "And I thought, 'Mmmm, that's interesting.' And I went home that night and I said to Jeffrey, 'I have to do something different. Nuclear energy policy's not me.'"
"I felt really bad for Ina," said Jeffrey. "She was very unhappy. And I said, 'Well, let's look at it.' Never, ever dream anything would happen."
"You didn't tell me that!" Ina said.
Against better judgment, Garten took the plunge and bought the tiny shop on Long Island called the Barefoot Contessa, named after the 1954 movie.
"My parents were horrified!" Ina laughed. "But Jeffrey just said, 'If you love doing it, do it.'"
So she poured her heart and soul into the store, often working 12 hours a day to keep things afloat.
"I was exhausted, but exhilarated," she said. "And I would go home thinking, 'I have to go to sleep,' and I'd go, 'I don't know, there's a chocolate cake that I really need to retest.' And I'd be back at the store at 11 at night."
The hard work paid off.
Ina showed Altschul what goes into her mouthwatering cupcakes: "They're filled coconut," she said. "And we have a frosting that's made with cream cheese, butter, confectioner's sugar. And I actually add vanilla and almond extract."
And she doesn't shy away from the icing. "Isn't it an icing delivery system, the coconut cupcake?" she laughed.
Today, at 66, Garten has built a culinary temple in her barn devoted to her passion -- a whole library filled with cookbooks, a kitchen just for her show -- a short walk from her house in East Hampton.
"I can't believe I get up in the morning, I leave my house, I walk to the barn, and I get to cook with my friends."
For Garten, it's her recipe for happiness.
She said, "One of the great gifts that you can give people, is to cook for them."
Thanks for reading CBS NEWS.
Create your free account or log in
for more features.