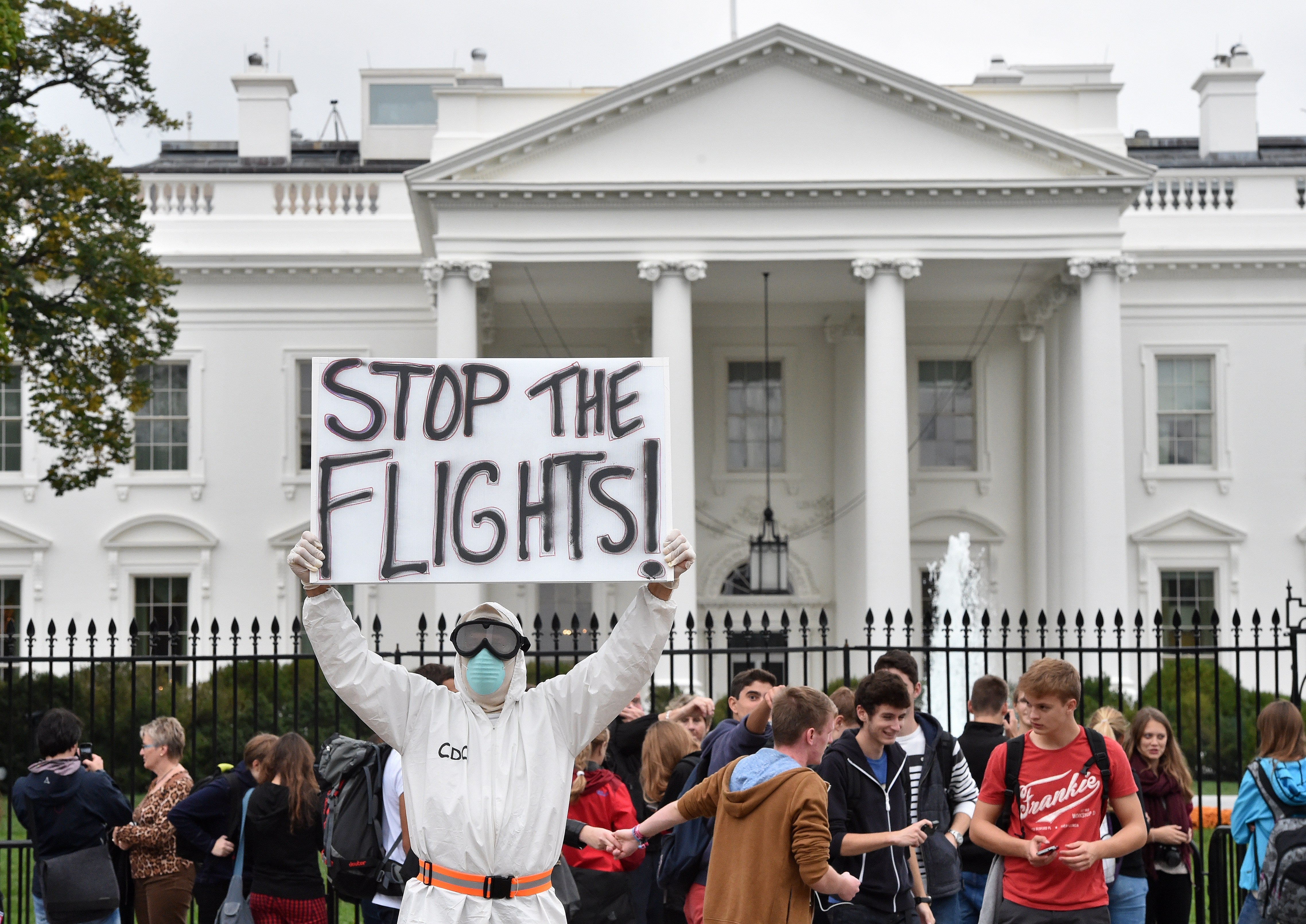 In U.S. Ebola response, increasing pressure for visa restrictions
With the threat of the Ebola virus still causing widespread concern for Americans, the Obama administration is coming under increasing pressure to implement at least some travel restrictions for people traveling to the U.S. from West Africa.
Health officials largely reject an all-out travel ban, partially out of concern that it might hinder doctors, nurses and other aid workers traveling to the region. One possible compromise might be a temporary ban on new visas for travel to the U.S. by nationals from Liberia, Sierra Leone and Guinea, the three countries hit hardest by the virus.
"You don't want to create a sense of panic or ostracizing of an entire continent by sort of creating a travel ban unnecessarily," said CBS News National Security Analyst Juan Zarate. "That said, I think there are ways of doing this tied to not allowing visas for those who are in these countries who want to come to the United States."
He said that using the visa process is a "fairly easy and mechanical way" for the U.S. government to restrict who comes into the country, though it's not without complications.
So far, U.S. officials have avoided restricting travel to and from the three hardest-hit African nations, instead relying on a combination of screening airline passengers departing the nations hit by Ebola and conducting an extra round of evaluations when those passengers arrive in the U.S. The Department of Homeland Security announced Tuesday that it would require all airline passengers originating in Liberia, Sierra Leone and Guinea to arrive at one of the five U.S. airports conducting heightened screening.
Although an estimated 150 people travel to the U.S. from West Africa each day, there are no direct, non-stop commercial flights from Liberia, Sierra Leone or Guinea to any airport in the United States.
Health officials have opposed travel bans, saying they would result in travelers evading screening and lying about their travel history.
"Right now we know who's coming in. If we try to eliminate travel...we won't be able to check them for fever when they leave, we won't be able to check them for fever when they arrive, we won't be able, as we do currently, to take a detailed history to see if they were exposed when they arrive," said Centers for Disease Control and Prevention Director Tom Frieden at a hearing on Capitol Hill last week. "When they arrive we wouldn't be able to impose quarantine, as we now can if they have high risk contact," he said.
Zarate suggested a visa restriction could be applied temporarily, perhaps for a three-month period, and that restriction could be reevaluated on a monthly basis.
"It wouldn't be a complete ban, because you're banning just those nationals who are in country and saying, 'look you can't even get on a plane from your country to come to the United States without a visa and if you're going to transit somewhere and try to evade you cant get onto the plane without that visa,'" he said.
That's the way many lawmakers see the situation, though they're split over whether Congress should implement a ban itself or call on President Obama to do so. Sen. Marco Rubio, R-Fla., plans to introduce a bill right after the Nov. 4 midterm elections that would put a visa ban into place immediately and continue until the Centers for Disease Control and Prevention (CDC) certifies that the outbreak has been contained. It could also be expanded to any countries that experience a significant outbreak of the virus.
A group of Republicans on the House Homeland Security Committee, on the other hand, have urged the secretaries of State and Homeland Security to consider temporarily suspending active visas, which the State Department still rejects.
"We can't control this epidemic through the visa process. If you end legitimate means of travel out of West Africa, it could result in people-smuggling and illicit ways of people traveling, which would just make it harder for us to track sick people, to prevent them from crossing borders. That would actually be much less effective," State Department spokeswoman Marie Harf said Monday.
There are still doubts about whether such a ban would really be more effective in closing the U.S. off from anyone who may have been exposed to the virus. Zarate conceded it's not a perfect fix to the crisis because people from other countries or even U.S. aid workers could still come home.
And the fact that there are no direct flights to the U.S. from West Africa means that citizens of the three affected countries might still fly to other airports in other countries and interact with people who are not subject to the ban.
'The most important thing to look at is the travel patterns," Andrew Farrelly, a founding partner of CT Strategies, told CBS News. Farrelly had a long career working in Customs and Border Patrol, including the arm of the agency that tracks people entering the U.S.
"Their first leg...they're coming into contact with a whole bunch of people who would not even be considered in that visa ban," he said. "I don't know why the visa ban would be any more or less particularly helpful in this situation."
Lawrence Gostin, the director of the O'Neill Institute for National and Global Health Law at Georgetown University, told CBS News a better method would require travelers from those regions to give truthful answers about their travel history under penalty of law. It could set conditions, like informing authorities of those travelers' whereabouts in the US and requiring them to avoid planes, ships and trains for 21 days.
As for concerns about stigmatizing an entire region with a visa ban, Zarate said that should not be a concern because other African countries have already moved to restrict travelers coming from the three affected countries.
"If the projections are right that we're going to have at least 10,000 new cases per week and there's no sort of end in sight to that exponential growth," he said, "I do think we have to think preventatively and a bit longer term...about what that means and how we control potential exposure in the United States. It's not a crazy notion, and I think we need to take it out of the political domain and think about what the mechanics look like and what the strategy may look like longer term."
Thanks for reading CBS NEWS.
Create your free account or log in
for more features.