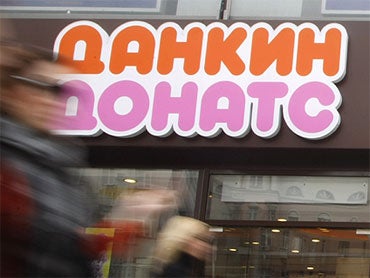 In Russia, Time to Make the Donuts Again
Dunkin' Donuts is back in Russia, after an 11-year absence, with plans to tap growing appetite for coffee and sweets by opening up to 20 outlets in Moscow this year, the company said Wednesday.
Dunkin' Donuts closed its two Russian shops in 1999 due to flagging sales.
The owner of the franchisee for Russia and Ukraine, Konstantin Petrov, told reporters that the number of outlets could rise to 50 within five years.
Tony Pavese, chief operating officer for international operations, said changes in the Russian market compared with 1999 have given the company hope.
"The market conditions in Russia have changed quite a bit - and the propensity for coffee and the amount of consumption of coffee that's happened over time."
Thousands of coffee shops have opened in Russia in the past decade, almost all of them domestic brands. Starbucks opened its first store in Russia in 2007 and now runs 26 coffee shops in and around Moscow.
Petrov said the company would focus on take-away services and hopes to beat its competitors with convenient packaging.
"As far as I know our competitors are not doing so well in this respect," he said.
Petrov disputed the contention that donuts are alien to Russia and quoted a poem by Vladimir Mayakovsky about a boy eating one: "Jam flowed down his lip/ Like raindrops down a drainpipe."
However, donuts are still rarely takeaway items in Russia. With this in mind, Dunkin' Donuts will target a young audience and plans to focus its advertising efforts on social networks, said Ivan Poreyev, director of franchisee Dunkin' Project.
The opening of Dunkin' Donuts was originally slated for Wednesday, but had to be postponed because some packaging hadn't arrived due to the recent international air travel disruptions.
The U.S.-based chain operates more than 15,000 Dunkin' Donuts and Baskin-Robbins ice cream shops in 44 countries. Baskin-Robbins already operates in 143 locations in Russia.
Dunkin' Donuts' return follows the January opening of the first Burger King outlet, 20 years after rival McDonald's first entered the market.
Thanks for reading CBS NEWS.
Create your free account or log in
for more features.