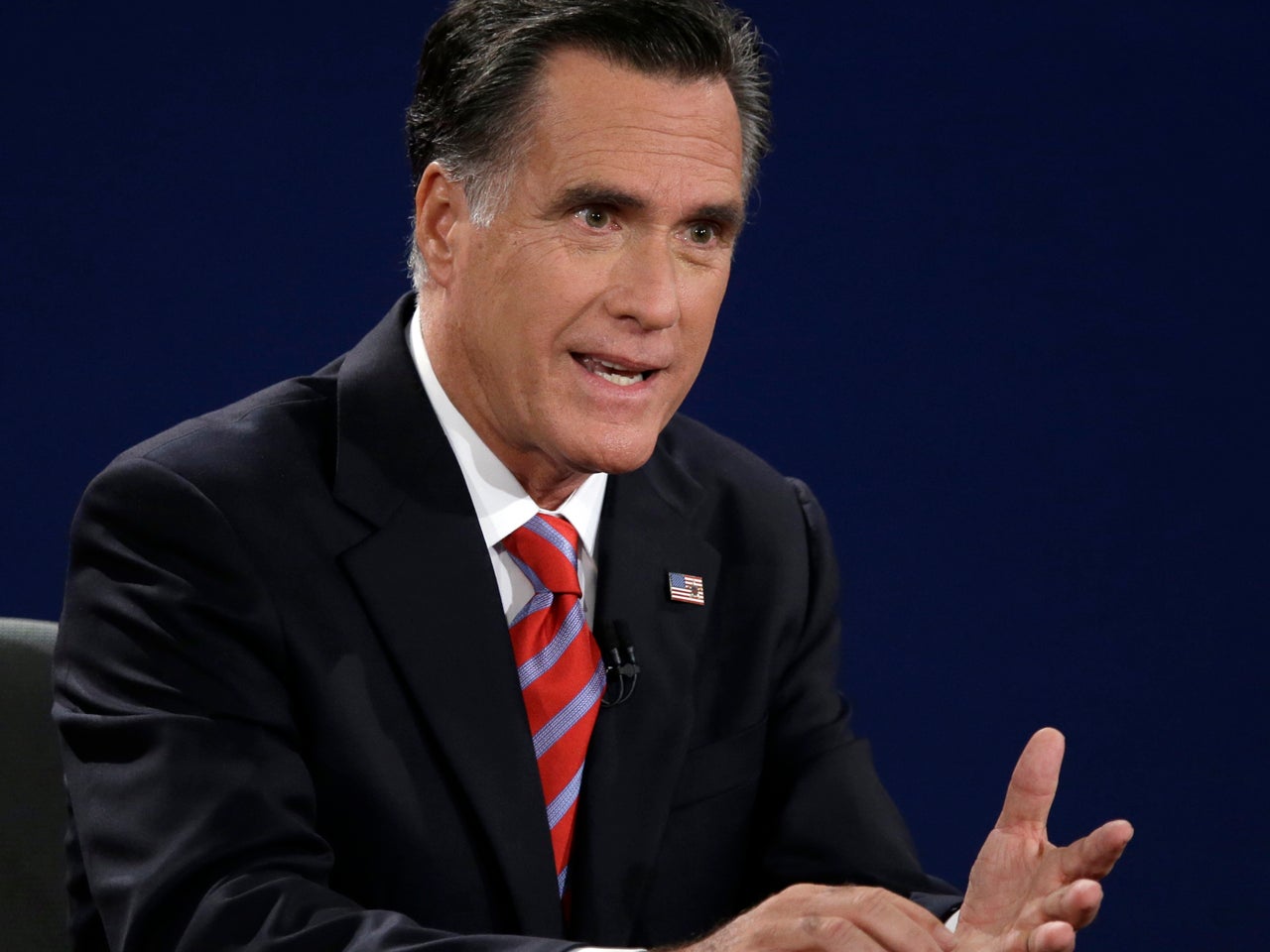 How would Romney "indict" Ahmadinejad?
Updated: 11:44 p.m. ET

In last night's third and final presidential debate, Mitt Romney pledged to "indict" Iranian President Mahmoud Ahmadinejad if elected president. In the aftermath of the debate, however, questions have emerged about exactly how and through what logic Romney would go about carrying out that goal.
In the debate, which focused on foreign policy, Romney only touched on this idea, responding to a question about Israel by underscoring the actions he would take to curb Iran's influence on the world stage. In addition to tightening Iranian sanctions and imposing restrictions on Iranian oil imports, he said he'd "make sure that Ahmadinejad is indicted under the Genocide Convention."
"His words amount to genocide incitation," Romney said. "I would indict him for it."
Romney did not elaborate, but the "words" to which he was referring were presumably a quote in which Ahmadinejad allegedly said he would "wipe Israel off the map." Romney has called for Ahmadinejad's indictment before, and has cited the Iranian president's having "spoken openly about wiping Israel off the map" on at least one prior occasion.

Following the debate, one Romney adviser told TPM the candidate that an unspecified "world court" could arrest Ahmadinejad. On Tuesday, Romney campaign spokesperson Andrea Saul told CBS News in an email that "A number of judicial venues would be available to hear a case under the Genocide Convention--from U.S. courts to foreign courts to international courts--and a number of entities could initiate the indictment."
According to international criminal law experts, the most plausible route for doing so would be through the International Criminal Court (ICC), which does, in the Rome Statute, allow for criminalizing the inciting of genocide. But such a process would likely prove difficult: Because Iran is not a member of the ICC, any case against Ahmadinejad must be referred to the court by the U.N. Security Council via a majority vote, without the veto of one of the five countries -- including Russia and China -- which exercise that power. Russia and China both exercised that power in July, when they for the third time vetoed a resolution against Syria, leading Susan Rice, the U.S. ambassador to the United Nations, to condemn their actions.

One expert said the United Nations could also form an ad hoc tribunal to prosecute Ahmadinejad for inciting genocide, though that would require the same approval process.
In the event that the Security Council did refer the case to the ICC, prosecutors would then have to prove that Ahmadinejad's "words" "directly and publicly incite[d] others to commit genocide."
According to the Washington Post's Glenn Kessler, who fact-checked the Ahmadinejad statement last year, there "is some dispute about what Ahmadinejad said" in the first place, which could make prosecution difficult. Kessler cites a 2007 New York Times report, which he suggests is the original report citing attributing this quote to Ahmadinejad, which notes that Ahmadinejad is quoting Iranian Ayatollah Khomeini in his statement. Kessler also argues that there are questions about whether or not the Iranian leader was actually misquoted via an inaccurate translation.
Moreover, because Iran is not party to the Rome Statute it is therefore not obligated to participate or give any evidence at a trial, which would almost certainly make it more difficult for the prosecution to prove their case beyond a reasonable doubt. (The United States is not party to the Rome Statute either.)
There is some evidence to suggest that a Romney administration would not support the ICC, given the fact that John Bolton, one of Romney's key foreign policy advisers, has expressed his disapproval of the court in the past.
In a March 2011 Wall Street Journal op-ed, Bolton argued that the ICC is "one of the world's most illegitimate multilateral institutions," and that "Mr. Obama's ready embrace of the International Criminal Court exemplifies his infatuation with handling threats to international peace and security as though they were simply local street crimes. It also reflects his overall approach to international affairs: a passive, legalistic America, deferring to international bodies, content to be one of 15 Security Council members rather than leading from the front."
The Romney campaign, however, did not respond to a question about whether Romney supports the ICC.

Thanks for reading CBS NEWS.
Create your free account or log in
for more features.