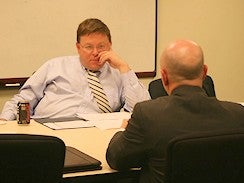 How to stand out on your next job interview
(MoneyWatch) Tips on how to shine in a job interview are in abundant supply, but what do you really need to know?

Amy Gallo at technology blog Lifehacker recently rounded up advice from expert interviewers. One important principle is to ensure that you are helping the interviewer as much as possible, she writes.
Interviewers often ignore their own best practices and instead lean on their own preconceived ideas. As a result, you can help steer the conversation in the right direction and encourage them to focus on your best attributes. Specifically:

Prepare. Make sure you are not just prepared to talk about yourself, but know as much as you can about the company, its culture, industry trends and so on.

Have a strategy. Almost as if you're building an "elevator pitch" about yourself, decide ahead of time what three things you most want to convey. Build a marketing message and have stories, or narratives, that reinforce them.

Drive home your potential. It's more important -- and probably more advantageous -- to emphasize your potential rather than wandering deep into the weeds of your resume. In fact, the latter might expose areas in which you fall short of the job requirements or illustrate areas in which you are weak.

Don't be yourself. John Lees, a career strategist, says that advice about being yourself is "demonstrably untrue." Instead, you must be able to improvise your performance in a way that presents your ideal self. Bring energy, enthusiasm and confidence, even if those attributes don't come to you naturally.

Be ready for tough questions. Prepare in advance for questions about aspects of your resume that don't put you in the best light, and have short, simple answers to address these areas. Don't go into a lot of detail. It's also advisable to prepare for follow-up questions that provide additional detail. The bottom line is to never put yourself in a position in which you haven't thought these questions through, requiring you to wing it.

Photo courtesy of Flickr user bpsusf
Thanks for reading CBS NEWS.
Create your free account or log in
for more features.