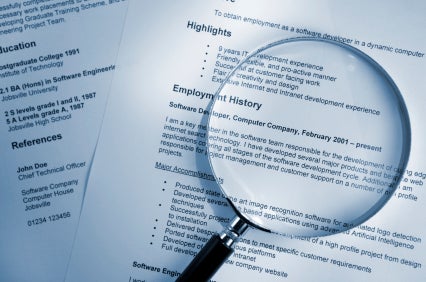 How to improve your resume: 6 tips
(MoneyWatch) Kathleen Jaeger of Norwalk, Conn., has been out of work for two years. She's applied for over 100 jobs, with no luck.
"It seems like I've always been a bridesmaid, never a bride," she said. "I can't put my finger on what's keeping me from getting to that final step and getting hired."
Career expert Ellen Gordon Reeves, author of "Can I Wear My Nosering to the Interview," thinks she knows part of the problem: Jaeger's three-page resume. Check out the video, above, to see how Reeves overhauled her resume, along with her LinkedIn profile and even her wardrobe, in order to energize Jaeger's job search.
Tips to start -- and end -- a job interview
Resume alert! 3 useless phrases to delete
How to make sure someone sees your online resume

Reeves offers six more resume pointers:
Resume real estate is valuable, don't waste it. Have a "skills" section on your resume? Lose it. Reeves said this type of information should either be incorporated into the resume itself -- and backed-up with specifics -- or go into a cover letter.

For instance, on her resume Jaeger listed "talent acquisition" as a skill. But lower down in the document she highlights that same skill with this bullet point: "Recruited and staffed over 300 vacancies within 3 months." That's a much more specific and compelling way for Jaeger to underscore her recruiting abilities than referring generally to her talent-acquisition skills, making the latter redundant.

Create a resume format that works for you. Don't feel tied to the traditional functional or chronological structure for resumes. "New times call for new forms," Reeves said. Your goal is to show off your skills to best advantage, period. For Jaeger, that might mean organizing her resume by "non-profit" and "corporate" employers.
Avoid the phrase "professional experience." However you choose to organize your resume, stay away from the section header "Professional Experience." Instead, choose a more specific header like "Human Resource Experience."
"Because it will likely be in a larger, bolder font on your resume, the section header always catches an employer's eye," Reeves explained. But "Professional Experience" doesn't tell the hiring manager what kind of job you want, or what kind of job you're looking for.

Tailor this header for each job you apply for, she added -- you want hiring managers to clearly see that you have the experience they want.
Don't use self-assessing language. According to Jaeger's "before" resume, she "contributed to successful recruitment and retention" as a director of HR. Sounds impressive, but Reeves doesn't like it.

"As an employer I'm thinking 'I'll be the judge of that, don't tell me what to think of your skills,'" she said. "I'll know by seeing what you've actually done and by calling your references. So don't waste any time on that sort of stuff."
Highlight proper names. While she hasn't had a full-time job since 2010, Jaeger has filled her time, and the gap on her resume, with consulting work. But while she listed projects she tackled for clients, she failed to identify the companies by name.
"People respond to proper names -- they jump out," Reeves said. "When I scan a resume, I should easily see where you worked."
Pay attention to details. Seemingly small items can count against you in a big way. Pay particular attention to getting these things right:
You know 'CougerMom' isn't a professional email address. But you should also stay away from numbers when possible. Employers will wonder if the numbers are, say, an anniversary or birth date, which is distracting. Can't get an address with just your name? Try "name.job" (for instance, Kathy_Jaeger.Human_Resources).
Still have an AOL email address? That dates you. Update to gmail or another email platform that doesn't scream "You've Got Mail."

Only include one phone number on your resume. Don't make an employer guess which of two numbers to call.
Remember, your home phone is now your office phone. An outgoing message featuring your kids may be cute, but it's not professional.
Thanks for reading CBS NEWS.
Create your free account or log in
for more features.