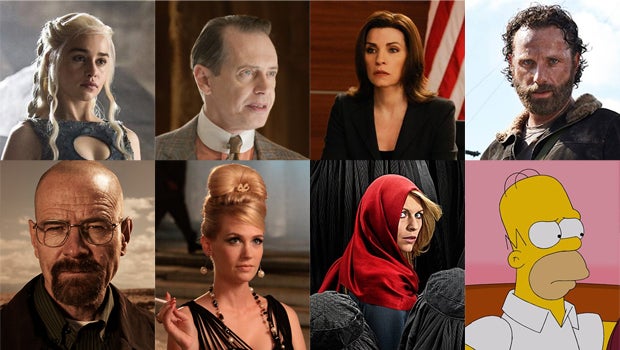 ​How Sunday night became quality TV's prime time
This is THE night . . . Sunday night, when TV presents some of its very best shows. An abundance of riches, some viewers might say; an OVER-abundance in the opinion of others who ask, how on Earth can one person watch it all? Our Cover Story is reported by Tracy Smith:
So it's Fall . . . the start of a new television season, which ought to put a TV critic like Alan Sepinwall in a pretty good mood . . . except for the workload he faces on one particular night of the week.
"Ah, Sunday is the worst. It is my nightmare," he laughed. "I mean, it's the best and the worst. Because on the one hand, you have the very best shows in all of television, many of them the very best shows in the history of television, all airing on Sunday. But, they're all airing on Sunday!"
Sepinwall specializes at hitfix.com in the art of the online recap -- those nearly-instant reviews that his readers expect nearly instantly.
"This Sunday in the Fall alone there's going to be the final season of 'Boardwalk Empire.' 'The Walking Dead' is coming back. Then 'Homeland' is gonna come back. There's gonna be more 'Good Wife.'"
The problem? These shows, all popular, all critically-acclaimed, will ALL air at the exact same time: Sunday at 9 p.m. ET.
And it doesn't stop when the year ends. In January, the servants and snobs of "Downton Abbey" will join the fray. And come Spring, there will be blood, no doubt, when "Game of Thrones" returns.
"I look at Sunday and I cry," he said. "Because I want to write about all these shows. And I can't. It's too much."
What to watch now and what to record for later: that's the debate in the 50 percent of American homes that have digital video recorders, or DVRs.
According to TiVo, eight of the 20 most time-shifted programs last season aired on Sunday, with AMC's "Mad Men" topping the list.
But if we can watch these shows whenever we want, why do programmers jam so many of them into Sunday night? In part, it's a numbers game. As we ease out of the weekend, it's where the eyeballs are.
Sunday is the most popular TV night of the week, and has been for most of the past 25 years. Last season, on average 122 million viewers -- a third of the country -- tuned in on Sunday.
"I think Sunday night means to the audience, 'This show matters. This is a show that's worthy of paying attention to,'" says Showtime president David Nevins, the architect of edgy Sunday successes like "Homeland" and "Masters of Sex."
And, he says, it's become an expectation for viewers. "It doesn't matter to us when people watch it. But the new stuff is out Sunday night. And I think if a show doesn't appear on Sunday night, people start to wonder, 'Is this less important than the other stuff?'"
Truth is, Sunday's long been a "good evening" for television. By the time "Alfred Hitchcock Presents" debuted on Sunday nights in 1955, Ed Sullivan's variety show was already seven years into a two-decade ride. Along the way, he was joined by shows of all shapes and species, says Ron Simon, curator at the Paley Center for Media.
"Almost every genre is reflected," he said. "You wanna go into great children's programming? You have 'Lassie' and 'Walt Disney's Wonderful World of Color.' Very significant shows. But the show that was the number one show on Sunday night was 'Bonanza.'"
Sunday even sprouted a certain top-rated news magazine of note, seen here on CBS. But the rest of the night fell into something of a routine. Before viewers could access movies on cable, videotape and then DVD, films were a major programming component.
"In the '70s and '80s, programmers began to think of Sunday night as big event television," said Simon. "And Sunday night was when they put on the best movies possible. In fact, one of the highest-rated movies of all time is 'Gone With the Wind' in 1976."
The Sunday Night movie stayed popular well into the '90s, and the top-rated "Touched by an Angel" gave Sunday nights a wholesome glow.
But the landscape changed dramatically in 1999, when HBO needed a time slot for a new, not-so-wholesome show.
"It's interesting that now it's clearly perceived as the night," said Michael Lombardo, president of programming at HBO. But when "The Sopranos" was being launched, "it started off as, you know, 'What's the safest night? Let's go to the quietest night on the dial.'"
"When you first looked at those numbers on Sunday night for 'The Sopranos,' what was your reaction?" asked Smith.
"We thought we were geniuses!" he laughed. "The reaction was shock."
HBO estimates a total of 10 million viewers watched the first season of "The Sopranos," a number that would nearly double as the series continued. With its other Sunday hits like "Sex and the City," HBO made the night a destination for cutting-edge TV . . . one that critic Alan Sepinwall says other networks noticed.
"And so suddenly, everyone else had to rush in and copy HBO," he said. "'Mad Men,' in its first season, aired Thursdays. And at the end of the season, the head of AMC said, 'All right, if we want people to respect us and pay attention to us, we have to go to Sunday, because that's where people have come to expect these kinds of shows.'"
And three years ago, CBS moved its critically-acclaimed show, "The Good Wife," from Tuesday to . . . you guessed it.
"We just felt that it was a better home and would give it more of a foundation in terms of an upscale audience," said CBS Entertainment Chairman Nina Tassler. "Critics loved it."
"So, move it to Sunday where's there's an audience for this quality television?" asked Smith.
"Exactly," said Tassler.
Of course, this time of year a large part of Sunday Night's audience watches football. But if they're looking for drama that's scripted, there's plenty to choose from. And Tassler says that's a good thing: "If Sunday Night is embraced as that kind of night for television, more people are going to be coming to the sets. So that's ultimately good for us."
Collectively, says HBO's Michael Lombardo, these Sunday programs make an argument for something old-school these days: watching a show together.
Smith asked, "How important is that communal experience of Sunday night viewing?"
"I think it's still critical," Lombardo replied. "I mean, it's one of the few touchstones that people have in a increasingly sort of fragmented world where everyone's on their own."
According to Nielsen, on average Sunday has by far the most tweets about television. Three of last season's top five series with the most Twitter traffic aired on Sunday, led by "Breaking Bad."
"If you want to be part of that conversation," says Showtime's David Nevins, "you better not wait until Thursday to watch it."
Time-shifting, you might have to settle for this: watching other people watching Sunday Night TV, as in these Youtube videos showing "Game of Thrones" fans reacting to the particularly violent "Red Wedding" scene.
But perhaps we can take heart in this: favorite characters may die, but, programmers say, great Sunday Night TV won't be snuffed out anytime soon.
"The atmosphere on Sunday Night, is it like it's a crowded party where there are lots of fascinating guests, and that's a good thing?" Smith asked.
"I think that's a great analogy. I think it would be a crowded party, but with several buffet tables," laughed Tassler. "Because you can literally pick and choose, and you could walk from buffet table to buffet table. Everybody eats, but everybody can choose something different."

For more info:
Thanks for reading CBS NEWS.
Create your free account or log in
for more features.