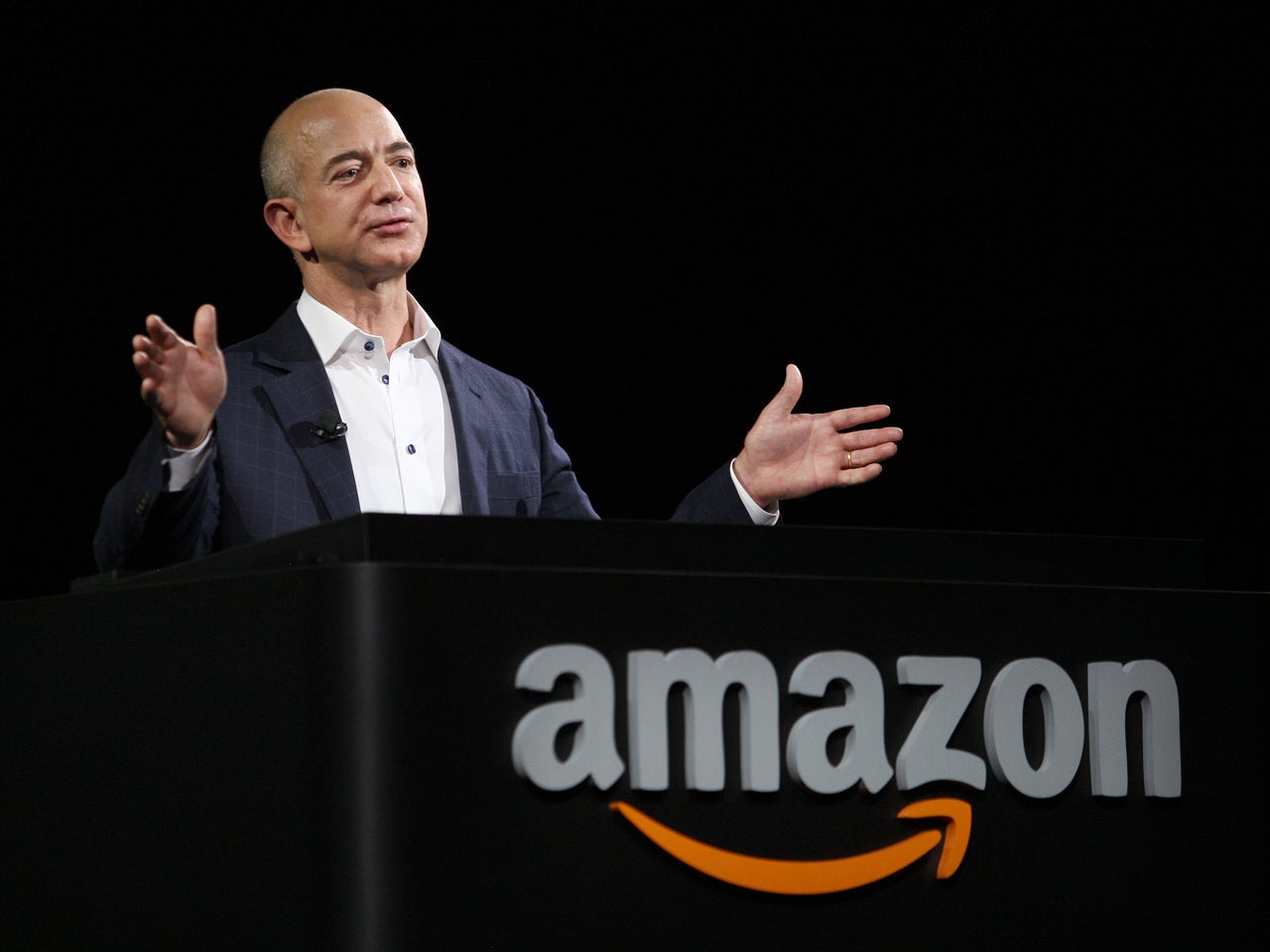 How much of Amazon's woes are Jeff Bezos' fault?
For most of his illustrious career, Amazon (AMZN) Chief Executive Jeff Bezos could do no wrong in Wall Street's eyes. Now, given the Seattle-based company's latest disastrous earnings report, some analysts are beginning to question his plans to keep investing billions in Amazon, which has generated inconsistent profits throughout its more than two-decade history.
In the quarter ended Sept. 30, Amazon lost $437 million, or 95 cents per share, versus a loss of $41 million, or 9 cents, a year earlier. Revenue rose 20 percent to $20.58 billion.
Both figures fell short of Wall Street's expectations that the e-commerce giant would lose 74 cents per share and post $260 million more in revenue. Giving up their often-forgiving stance toward Bezos and Amazon, investors dumped the shares on Friday. They tumbled more than 8 percent, closing at $287.06.
"This quarter, more than any recent quarter, has raised concerns about their long-term strategy," said Tuna Amobi, an analyst with S&P Capital IQ, who raised his rating from sell to a hold based on valuation. "Wall Street has never been more divided."
Bezos, 50, kept Wall Street at a distance for years. He doesn't participate in the company's earnings conference calls and has repeatedly said the stock price doesn't bother him one way or another.
"Jeff is a control freak," said Noel Tichy, a professor of management and organizations at the Ross School of Business at the University of Michigan, in an interview. "I don't see Jeff as a builder and investor in human capital."
Amazon's first chief financial officer, Joy Covey, oversaw its IPO and was very popular with investors, Tichy said. She left in 2000 and died last year in a bicycle accident. Current CFO Thomas Szkutak, who was well-known for providing vague answers to analysts' questions, has announced plans to leave Amazon next year. The 53-year-old will be replaced by Brian Olsavsky. A spokesperson for Amazon couldn't immediately be reached.
"It's a one man show," Tichy said, adding that Olsavsky's appointment shows Amazon has done a poor job of succession planning because has never run a large corporation. He added that the company's culture is a reflection of Bezos.
However, Harvard Business Review recently ranked Bezos as No. 1 in its rankings of the world's best-performing CEOs. According to its calculations, Bezos has generated a total shareholder return of more than 15,000 percent in his tenure as CEO, which began in 1996. That ranking was as of April 30, according to the HBR Senior Editor Dan McGinn.
"He has a significant lead over anybody else," he said.
Amazon hasn't given investors much reason to expect its financial performance to improve anytime soon. Its guidance for the current quarter ranges anywhere from an operating loss of $570 million to a profit of $430 million. It says sales can increase anywhere between 7 percent and 18 percent.
That indicates the pressure Amazon's balance sheet is under as the company spends billions expanding into new businesses, technologies and services. Its foray into smartphones has been a flop, and as a result it took a write-down of $170 million in the quarter.
"The issue is more about the outlook for the holiday quarter, and the expected slowdown in growth," wrote Colin Sebastian, an analyst at Robert W. Baird, in an email to CBS MoneyWatch. "We see this as a yellow flag, but unlikely specific just to Amazon. There are some weak spots in Europe and Japan that are probably affecting other online and bricks-and-mortar retailers as well." Baird rates the shares outperform.
Under Bezos' leadership, Amazon has consistently focused on long-term growth rather than short-term profits. Toward that end, the company has invested in such capital-intensive businesses as grocery delivery that have yet to yield big benefits to its bottom line.
"The problem is you can get away with investment mode when sales are beating expectations," said Stacey Widlitz of SW Retail Advisors, a consulting firm that advises institutional investors about the sector, in an email. "That is no longer the case. The free pass is over."
Thanks for reading CBS NEWS.
Create your free account or log in
for more features.