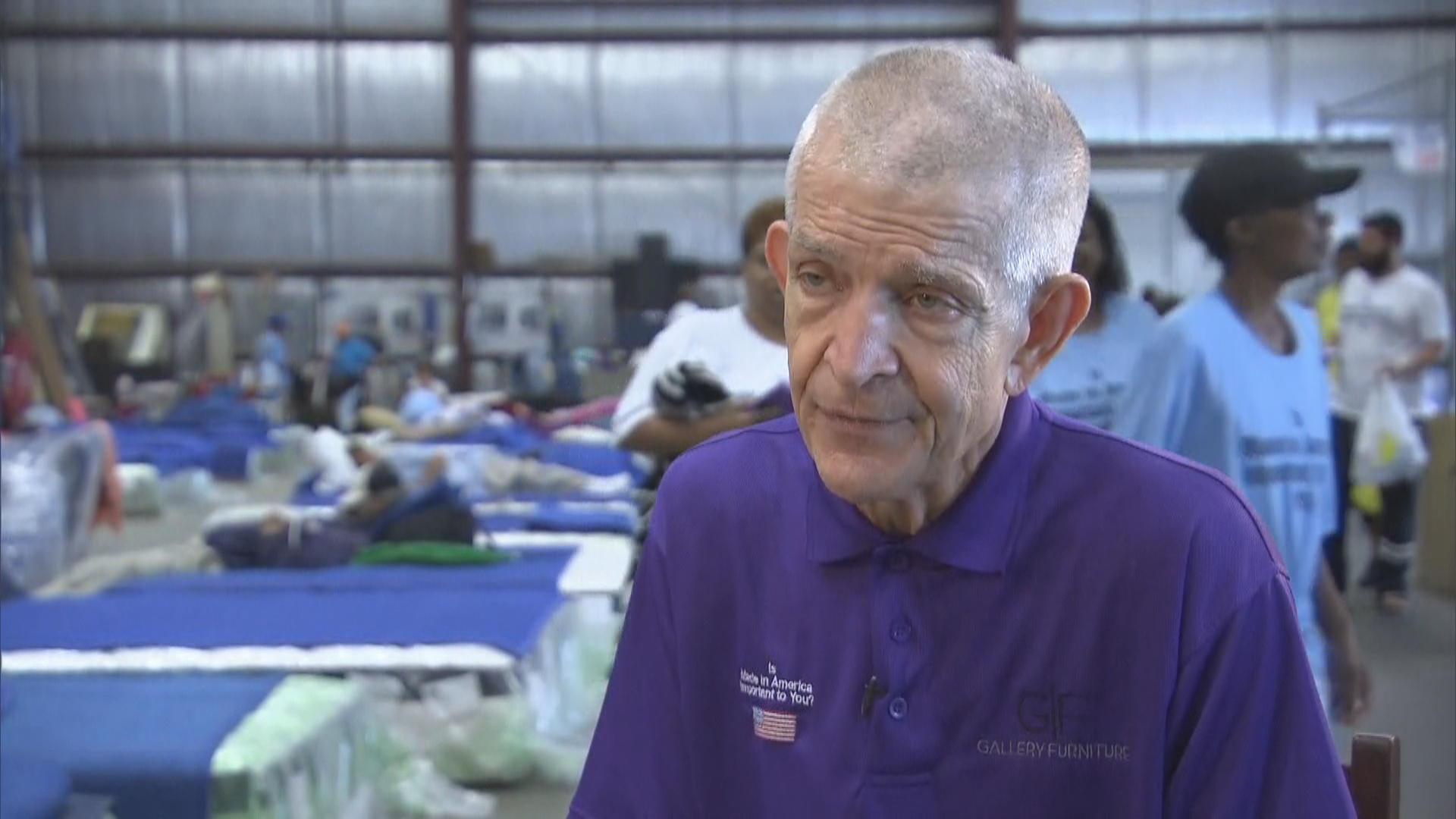 A More Perfect Union: Houston businessman opens his doors to Harvey evacuees
In our series, A More Perfect Union, we highlight examples of people coming together to show that what unites us is far greater than what divides us.
In Texas, countless people have demonstrated extraordinary acts of humanity to help flood victims. Already a local hero, Jim McIngvale – known as Mattress Mack – has become a national symbol of hope in the wake of Hurricane Harvey.
More from the series:
On Sunday night he welcomed hundreds of people looking for refuge into his Gallery Furniture Stores. He also sent out trucks into the flood looking for those in need of safe passage
"I'm part capitalist and part social worker and this is what I like to do," he said.

Mack may have made a name for himself selling furniture, but it's his legacy of giving that will leave a permanent impression.

"I'm worried about these people. I'm worried about the business, I'm worried about the community," he said.
Sunday, he said via social media that two of his Gallery Furniture Stores would be open, not for business, but to provide shelter and food for those in need.
Verlencia Grace and her son Jaylen are now among the hundreds of people who've taken up shelter in one of Mack's stores.
"It's good to be here away from the flood. Because when it started raining it could have got all the way right here," Jaylen said, pointing to his forehead.

"The water started to come in the house and it was coming in so fast we had a matter of time to get out of the house," Grace said.

Grace and her son got in one of the trucks Mack deployed to rescue people from the rising flood waters.
He's also providing breakfast, lunch and dinner to the evacuees.
"We thank Mr. Mack for opening up his doors to us, because we didn't know where our next meal was going to come from, or our clothes on our back," Grace said.

Mack estimates it costs $30,000 to $40,000 to keep his stores up and running through the crisis.
"We can afford that and what we can't afford is to cause these people to lose hope, we got to give hem hope," Mack said. "This is what my parents would have done."

Mack's record of community service would make his family proud. Each Christmas his business has provided homes full of furniture for families in need. He also donates his furniture to make over teachers lounges in area schools.
Even providing refuge isn't new to Mack. In 2005, he housed 200 of the Hurricane Katrina evacuees in his store. Several Katrina victims, like Jerry Burke, landed jobs.
"Katrina blew me in. Lost everything. Didn't know where I was going to go, what to do and I came here and talked to Mack and he sent me to HR and the rest was history. Furnished my apartment. Gave me everything that I needed to survive plus a job. Totally life changing for me and my family," Burke said.

Some of the Harvey evacuees like Roberta Lee have also begun to pay it forward by helping out in the store.

"Whatever he needed me to do I was there, so now I'm just like answering the phones, directing people, you know, that come in that need help," said evacuee Roberta Lee.

Even though the upcoming Labor Day weekend is an important one for his business, Mack isn't kicking anyone out.

"We're going to keep these folks here for as long as they need to be here. They may be here three days, they may be here seven, who knows. We're here to help and that's what we do, that's who we are," Mack said.

"For him to open his door and said if you're affected by the flood, come in. And I mean you had people wet, you had people dirty, who does that?" Lee said. "You have to see it to believe it, it's real. I mean he has a heart of gold."
"Just look around. The man is an angel," Burke said.

Thanks for reading CBS NEWS.
Create your free account or log in
for more features.