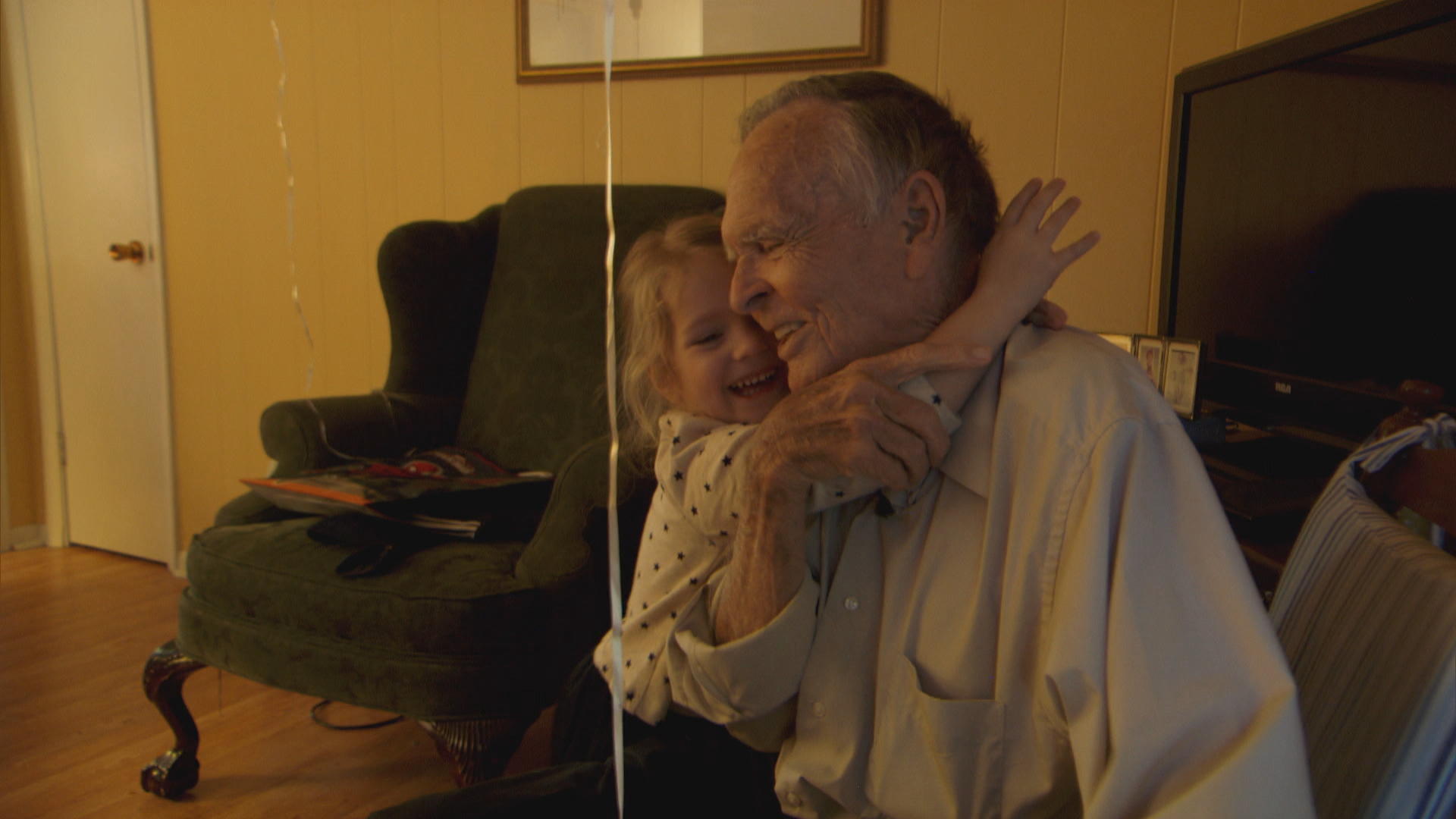 How a man's chance encounter with a little girl gave him new purpose in life
An unexpected but powerful friendship is the focus of this installment of "A More Perfect Union." The series looks at unique connections to highlight how Americans have more in common than headlines might suggest. CBS News correspondent Steve Hartman shows us how an 82-year-old widower was touched by an innocent question in the canned food aisle of a grocery store when he needed it most.
Not long ago, in a cemetery outside Augusta, Georgia, a loving couple was buried – the wife, buried below a white bouquet and the husband, buried above in a mound of grief.
"Took me totally by surprise," Dan Peterson said.
The 82-year-old said after Mary died, he fell into a deep depression, and he spent days just staring out at the squirrels.
"What were you living for?" Hartman asked.
"I was trying to figure that out, frankly," Peterson said.
"You had no purpose?" Hartman asked.
"No," Dan replied.
"Were you just waiting to die?" Hartman asked.
"Yeah," Dan said.
For six months, it was just that bad.
Then it all changed after a visit to a Publix grocery store. Dan was nearing the end of the canned vegetable aisle. He hates grocery shopping and, by all accounts, the expression on his face confirmed his aggravation.
But that's when this unapproachable man was approached by a four-year-old girl named Norah Wood.
In the security footage you can see Norah randomly reaching out to him out. Her mom, Tara, said it was quite embarrassing.
"She stood up and said, 'Hi old person, it's my birthday today,'" Tara said.
"Old person?" Hartman asked.
"Old person," Tara said.
"Hi old person," Dan recalled.
"She says this to this cranky old man?" Hartman asked.
"Yeah," Dan said.
The girl then had the audacity to demand a hug.
"I said, 'A hug?' I said, 'Absolutely!'" Dan said.
Norah got her hug and then asked her mom to take a picture of her with her new friend.
"She zeroed in on him like a missile. And she didn't want anything from him," Tara recalled. "She just wanted to make him feel loved and give him a hug. And his little lip quivered and he was teared up and it was just sweet."
"And I said, 'You don't know. This is the first time, for quite a while, that I've been this happy,'" Dan said.
That all happened a couple months ago, and his grin has only gotten wider since.
Today Norah visits at least once a week. And every time, it's the grocery store all over again.
"Totally unbelievable," Dan said.
Dan does have grandkids of his own, but they're grown and gone. And Norah does have grandparents, but her mom said this is a completely different kind of bond that almost defies explanation.
"She fell asleep holding a picture of them. And I'm like, what!" Tara said, laughing.
To Dan, it's equally miraculous but far less mysterious. He believes Norah is, quite literally, an angel.
"She opened me to a love that I didn't know existed," Dan said.
"Dan, let me ask you – When your wife died, you felt like you didn't have any purpose anymore. Do you feel like you have a purpose now?" Hartman asked.
"Of course – Norah, watching her grow up," Dan said. "I know I made room in my heart for a lot more."
Thanks for reading CBS NEWS.
Create your free account or log in
for more features.