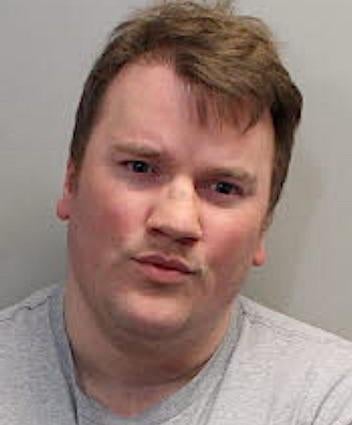 Yoga studio gunman had history of arrests, posted misogynistic rants online
The gunman who killed two women in a Florida yoga studio had been arrested at least two times for touching women in public, according to court records. He also posted a series of a YouTube videos in which he proclaimed himself a misogynist and aligned himself with Elliot Rodger, a killer who wanted revenge on women.
Scott Paul Beierle, 40, killed two women in a Tallahassee studio on Friday and wounded five others before turning the gun on himself, police said. Leon County court records show he had faced two misdemeanor battery charges for grabbing women.
Beierle was arrested in 2012 for allegedly grabbing the buttocks of two women on the Florida State University campus, court records show. One woman said in a police report that Beierle grabbed her while she was at a soda fountain and she "thought it may have been her boyfriend at first." The second woman said Beierle had also grabbed her on "three separate occasions over the last month." Beierle denied intentionally grabbing anyone and said he might have accidentally bumped into someone.
Beierle was arrested again in 2016 after allegedly grabbing and slapping the buttocks of a woman at an apartment complex's pool.
Prosecutors dropped the charges after both of his arrests.
Beierle was also arrested for trespassing in an FSU dining hall in 2014, leading to a campus-wide trespass warning against him, and he faced at least six traffic violations between 2011 and 2014, records show.
Beierle maintained a YouTube channel under the alias Scott Carnifex, and posted a series of lengthy bedroom rants throughout 2014. He devoted several videos to explaining his hatred of women.
In one video, called "The Rebirth of my Misogynism," Beierle calls out by name several women from his past who he says wronged him and led him to embracing misogyny. Describing one woman who supposedly stood him up, Beierle says he "could have ripped her head off."
In another video, Beierle says he wants to send a message to young men who are in "the disposition of Elliot Rodger, of not getting any, no love, no nothing."
"That was me, certainly, as an adolescent," he says.
Rodger, 22, killed six people and himself in 2014 in an attack he described as retribution for women rejecting him. The rampage turned Rodger into an idol for the online subculture of "incels" — men who say they are involuntarily celibate.
A 25-year-old man who allegedly killed 10 people in a Toronto van attack in April 2018 also identified himself as an "incel" and cited Rodger as an inspiration, calling him "the Supreme Gentleman."
In Beierle's other YouTube videos, he spoke out against police, interracial couples, racial diversity, illegal immigration and Obamacare.
Police have not determined a motive for Beierle's rampage, which claimed the lives of Maura Binkley, 21, and Dr. Nancy Van Vessem, 61. Binkley was a student at Florida State University and Van Vessem was a faculty member who coordinated internal medicine clerkship rotations at the Tallahassee campus.
Police said Saturday that Beierle had entered the yoga studio posing as a customer and abruptly started shooting people with a handgun. Patrons fought him and prevented him from harming others before he shot and killed himself, police said.
The Tallahassee Police Department did not immediately return messages from CBS News.
Beierle's LinkedIn page says he attended FSU for a masters degree in public administration and urban planning, and graduated from Binghamton University in New York in 2002. He had listed himself as a "job seeker" since 2013. The page also described him as a "military professional" and said he worked for the U.S. Army between 2008 and 2010 as a supply and logistics director.
Beierle's Facebook page has pictures of him in an Army uniform, with other uniformed men standing around him. In his "About" section, Beierle wrote: "As hard as you try, you can not escape your destiny. You can run from it, but you can not hide from it." The page also includes a quote from Patrick Bateman, the fictional serial killer from "American Psycho": "I just want to have a meaningful relationship with someone special."
Thanks for reading CBS NEWS.
Create your free account or log in
for more features.