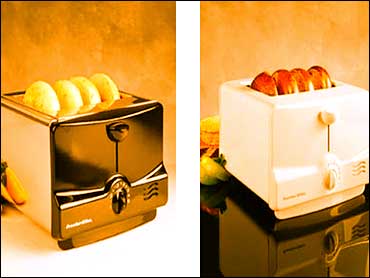 Any way you slice it, toasters are essential kitchen appliances. So Real Simple magazine tested 30 of the newest toasters and toaster ovens.
Real Simple's Kris Connell visited The Saturday Early Show to tell us which ones are worthy of a spot on your kitchen counter.
According to the International Housewares Association, 80 percent of American households have toasters and 56 percent have toaster ovens. Connell says toaster ovens tend to be more multifunctional than regular toasters. For example, three out of four toaster ovens can also broil, making it possible to cook a steak and make toast in the same appliance.
Real Simple tested 30 toasters and toaster ovens to see which might make life a little easier. The magazine chose three toasters that are designed with our busy, modern lives in mind. They were also looking for appliances that could handle more than just sliced bread, since people also toast bagels, English muffins and even frozen waffles.
Real Simple selected toasters and toaster ovens priced from $20 to $200. Choosing one depends on your counter space, budget and cooking needs .
Here are a few of Real Simple's recommended toasters:
Kenmore Two-Slice Toaster: Real Simple loved the price and the lift-lever feature. The lever lifts up smaller pieces of bread like English muffins, so you won't be tempted to go fishing for it with your fingers or worse, a fork, which could cause electric shock.
Pros: Exterior stays cool; clean, compact design; toasts evenly and accurately; easy to clean; extra-lift feature raises slots to make small foods easy to remove; has a "defrost" and "cancel" button.
Cons: Comes in white only; has a short cord.
Warranty: "Satisfaction guaranteed"
Time to toast a slice of bread: 1 minute, 45 seconds
Cost: $35
Farberware "Down Right" Toaster:
It's a little more money, but you get a great-looking toaster with some extra features, such as a crumb tray and slots that automatically raise and lower your toast to the right level. Toasters such as this one are becoming more like microwaves, says Connell. Press the "bagel" button and it will only toast on the inside, or press "frozen" and it will defrost and toast a waffle to perfection.
Pros: Automatically lowers and raises bread to the right height; comes with "bagel," "defrost" and "cancel" buttons; is small.
Cons: Chrome shows every smudge and fingerprint; exterior gets hot.
Warranty: One Year
Time to make toast: 1 minute, 48 seconds
Cost: $70
Kitchenaid Digital Four-Slice Toaster:
The Kitchenaid toaster offers some of the same programmable features as the Farberware, but it's a little slower than the others, says Connell. The toaster can accommodate 4 slices of bread, so if you're doing a lot of toasting, it can actually be faster. Unlike the Farberware, both the deluxe and basic, Kitchenaid toasters stay cool on the outside. Connell recommends these for families with small children.
Pros: Long, wide slots for oversize slices; the exterior stays cool.
Cons : Takes up as much space as a toaster oven and is not as versatile; one side toasts slightly darker than the other.
Warranty: One Year
Time to make toast: 2 minutes, 15 seconds.
Cost: $85
A toaster oven gives you great versatility, says Connell. You can toast, but you can also do a lot of other cooking, as well, such as grilling vegetables and reheating leftovers. And if you're craving cookies, but don't want to be tempted by a whole batch, you can bake just one or two from a package of refrigerator cookie dough. Connell says a toaster oven is terrific for cooking for one or two people, and when summer rolls around, you can use it instead of heating up the whole kitchen with your oven.
Here are a few of Real Simple's recommended toaster ovens:
You get a lot for your money and Real Simple loved the 60-minute timer with an automatic shutoff, says Connell. You can also mount the toaster under a shelf to save counterspace.
Pros: Takes up less space than most toaster ovens; can be installed under a cabinet; has a 60-minute timer with automatic shutoff.
Cons: Exterior gets hot; has a small interior capacity; slow to warm up; timer ticks loudly.
Warranty: One Year
Time to bake a potato: 1 hour, 45 minutes.
Cost: $45
This toaster is hi-tech because it uses infrared light to reduce cooking time. Infrared light is safe, in fact it's what a lot of restaurants use to get your food on the table fast, says Connell. It heats food from the outside in, which speeds up the cooking time.
Pros: Reduces cooking time with use of infrared light; compact; well-lit interior lets you see the food cook; heats instantly; has a low noise level.
Cons: Exterior gets hot; it has a 25-minute cooking limit.
Warranty: One Year
Time to bake a potato: 1 hour, 10 minutes.
Cost: $120
Deluxe, Cuisinart Toaster Oven Broiler:
If you're pressed for time, the Cuisinart is for you, according to Connell. It uses convection heat, which is the fastest around.
Pros: Toaster has a sleek chrome-and-black exterior; heat is circulated evenly throughout the oven's interior, cutting down cooking time; produces browning; heats up instantly; has low noise level; beeps when done until "Off" button is pressed.
Cons: Smudges and drips glare on the chrome; takes up a lot of counter space.
Warranty: Three Years.
Time to bake a potato: 45 minutes.
Cost: $200
Samsung Toast and Bake Microwave Oven:
Real Simple magazine's baked potato test was easy in this hybrid model from Samsung that combines microwave technology with a toaster oven. Connell says this technology is tempting, but it takes up a lot of space and if one element breaks, you're without a microwave and a toaster oven.
Pro: Saves counter space with 3 appliances in one.
Con: If one feature stops working you are out all 3 functions.
Warranty: 1 year parts and labor, 8 years Magnetron
Cost: $200

Thanks for reading CBS NEWS.
Create your free account or log in
for more features.