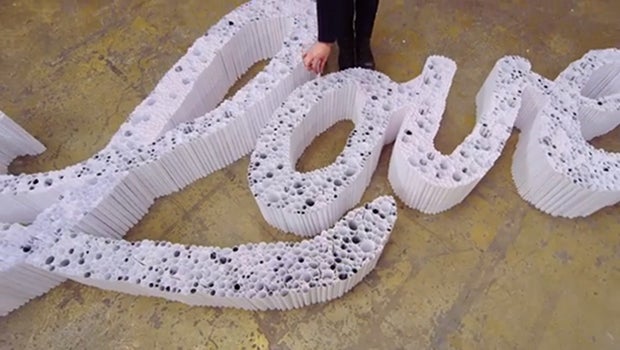 Honey Maid's surprising response to anti-gay backlash
As families become more diverse, advertisers are starting to reflect that emerging reality in television commercials. That's not always going over well with some viewers.
Take the hullaballoo over a campaign by Honey Maid, the graham cracker brand owned by Mondelez (MDLZ). Like the crumbly snack crackers themselves, the campaign offered a simple, healthy feel: smiling families holding hands and playing together. But some viewers took issue with the composition of the families, which included biracial and gay families.
After receiving a flood of hateful comments -- such as one viewer who called the campaign "filth" -- Honey Maid came up with a clever response to the backlash. The idea? Take the angry remarks and turn them into a piece of art, forming rolled-up comment printouts into a paper sculpture spelling the word "love."
But the smartest idea was what happened next: Placing the messages from supporters around the sculpture, showing that the positive response was far greater than those from haters.
Public reaction to Honey Maid's response has also been overwhelmingly positive, with some consumers writing on Facebook that they planned to switch to the brand or would start buying the crackers.
"What a remarkably positive way to respond to such negative expression," one consumer wrote. Another added, "I am shocked to know you guys received ten times the amount of positive comments as negative comments... this almost makes me happier than your incredible commercial in the first place. Faith in humanity = restored."
Increasingly, marketers are finding that diversity pays by delivering an almost predictable response: a vocal critical minority that gets drowned out by a wave of support from diversity-friendly viewers. At the risk of alienating a small group of consumers, brands are finding this formula can provide a sure-fire way to create engagement with their product.
Mondelez didn't immediately response to a request for comment.
Take General Mills' (GIS) Cheerios. It scored last year with a sweet commercial about a biracial family. After an ugly backlash, the cereal brand was lifted by support from viewers who embraced the ad and its message. The company later brought back the characters for its first-ever Super Bowl spot earlier this year.
In a way, the sharply divided responses to such ads aren't surprising, given that America is itself polarized over social issues. More than half of Americans now support same-sex marriage, up from one-third in 2003, according to a February poll from the Public Religion Research Institute. But 20 percent of respondents said they strongly oppose it.
While it may seem like bad business to alienate even a small slice of potential customers, companies like Mondelez may be betting that supporting diversity is a winning strategy.
One thing is for sure -- that approach tracks with demographic shifts in the U.S. The number of interracial and interethnic, opposite-sex couple households jumped 28 percent from 2000 to 2010, according to the Census Bureau. Meanwhile, over same period the number of same-sex couple households has jumped by more than 80 percent.
Thanks for reading CBS NEWS.
Create your free account or log in
for more features.