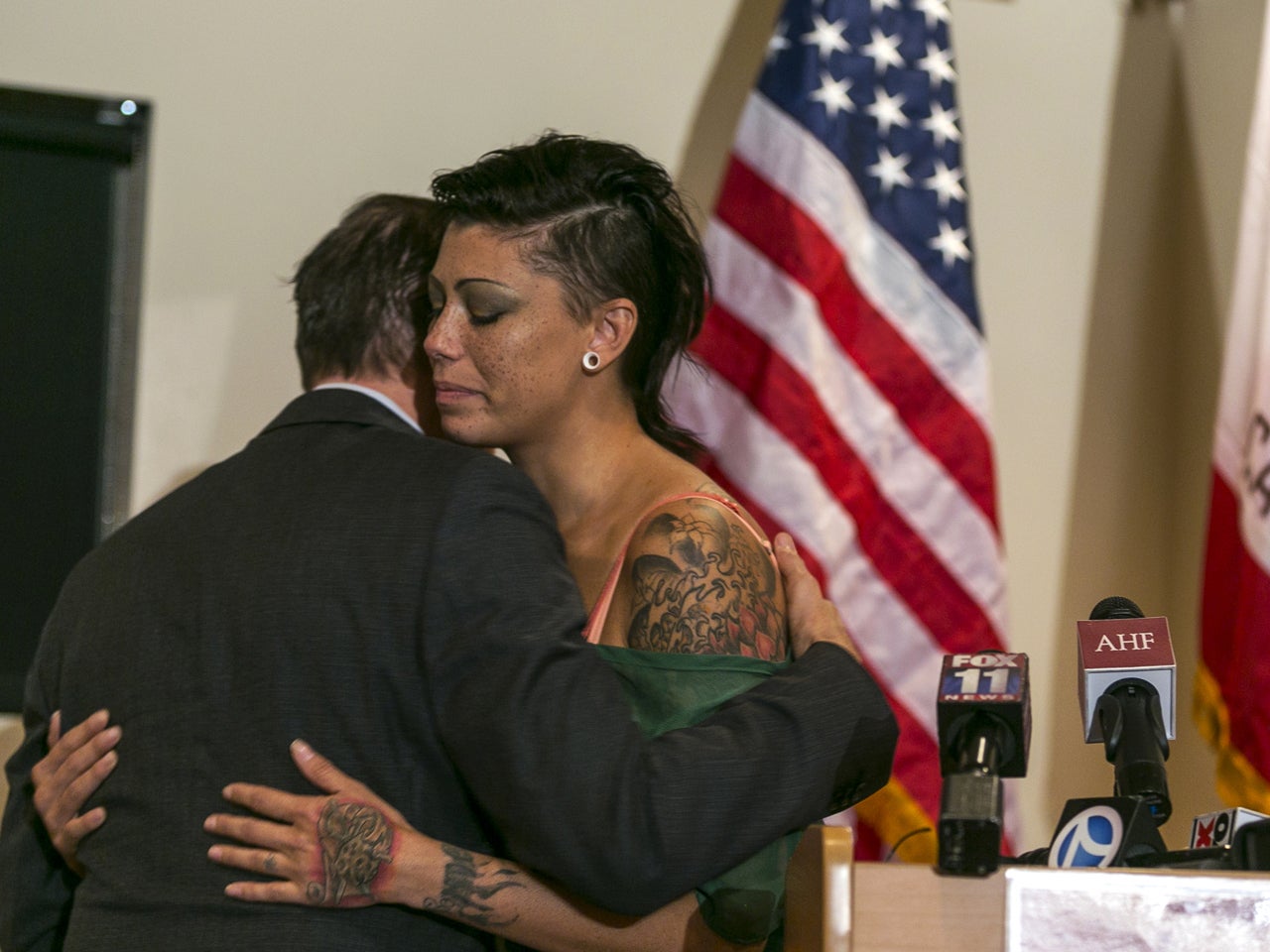 HIV-positive porn actors call for condoms on sets
Three porn performers who recently learned they were HIV-positive are asking the industry to require condoms.
Cameron Bay, Rod Daily and an unidentified third performer who spoke via the telephone held a press conference in Los Angeles on Thursday to discuss their cases. HIV positive adult film stars speak out
The event was put together by the the AIDS Healthcare Foundation, a group that works towards promoting HIV/AIDS awareness. The foundation has been a major supporter of the use of condoms in pornographic films, and helped push through legislation last November torequire condoms on Los Angeles County sets.
The measure isstill being debated in courts.
"I do know for a fact that condoms will work, have worked, do work," said Daily.
Bay was the first performer to test positive for HIV in this recent scare. Her results caused a moratorium on filming last month from Aug. 22 until Aug. 27. The Free Speech Coalition, an industry-supported group which oversees testing and sexually transmitted disease monitoring in the porn industry, initiated the halt in production.
Although the coalition had denied that any of the three performers contracted HIV while on set, Bay said at the press conference she suspected she got the virus while working on a July 31 film shoot with San Francisco-based Kink.com. During the taping, an actor she was working with had got a cut on his penis and started bleeding. She admitted they continued filming.
"Asking for a condom on set wasn't really what you did because you could just be replaced," she said.
Another actor who is not one of the confirmed cases, Patrick Stone, said at the press conference that he received a false-positive HIV test but was still asked to come in and shoot with Kink.com.
"They had me scheduled for a shoot tomorrow, and as far as they knew, I was HIV positive," he said.
Kink.com founder Peter Acworth denied to the Los Angeles Times that the company knew Stone had tested positive, adding Stone would still have to show proof that he received an all-clear test before he would be allowed to shoot.
Acworth said the actors are in control of the scene, and can use a condom if they want.
"All of our models are informed that they request a condom at any time, that they can stop a shoot at any time, and that they control the scene... We take consent and safety seriously," he said.
He reiterated to CBS Los Angeles that no one who performed on his company's set contracted HIV. Acworth said that Kink complies with mandatory testing regulations, which is the industry standard for straight porn shoots.
However, he admitted that Bay's allegations did concern the company.
"While HIV was not transmitted on set, there were incidents on that shoot including some of the same ones that Ms. Bay identified that have caused us to reevaluate what we permit on shoots," he said.
Daily, who has been romantically linked to Bay, tested positive for the virus soon after she did. A third positive performer soon came forward, causing the Free Speech Coalition to call for the second moratorium within a month on Sept. 5. The moratorium is scheduled to end today.
The AIDS Healthcare Foundation reported it also received news of a fourth case, but the Free Speech Coalition said neither its testing centers nor doctors affiliated with the establishments had heard of a fourth positive test.
As a result of the recent scare, the Free Speech Coalition said it will require more frequent testing of actors for sexually transmitted diseases. Instead of every 28 days, performers will be required to submit results every 14 days. They would not, however, change their stance on requiring condoms on set.
The debate behind whether porn performers should use condoms has been a heated one, especially in Los Angeles County. Los Angeles passed a city ordinance requiring the use of condoms on set in March 2012, and voters extended that requirement to the whole county in November. The industry has vehemently fought the measure.
Daily has done some work in gay porn, where testing is not mandatory. However, condom use is much more common on those projects.
"Ultimately, it's just a big industry, and their main concern is money," Daily said. "If they do care that much about the performers, they would use condoms."
Thanks for reading CBS NEWS.
Create your free account or log in
for more features.