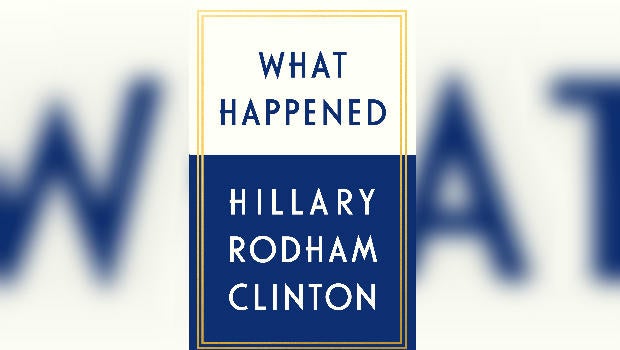 Hillary Clinton lets her "guard down" in new memoir after stunning election defeat
For the first time since her stunning 2016 presidential election defeat to Donald Trump, Hillary Clinton reveals personal details of the unprecedented campaign through her tell-all book "What Happened."
Publisher Simon & Schuster says the memoir, due out Sept. 12, details Clinton's experience of becoming the first woman nominated for president by a major party during an historic election "marked by rage, sexism, exhilarating highs and infuriating lows, stranger-than-fiction twists, Russian interference, and an opponent who broke all the rules."
In the introduction of the novel, Clinton writes: "In the past, for reasons I try to explain, I've often felt I had to be careful in public, like I was up on a wire without a net. Now I'm letting my guard down."
According to Simon & Schuster, Clinton also addresses the "challenges of being a strong woman in the public eye, the criticism over her voice, age, and appearance, and the double standard confronting women in politics."
In March, the former senator and secretary of state accepted an award for her work advocating for women.
"I've had my ups and my downs. In the last months, I've done my share of sleeping. A little soul searching and reflecting," Clinton said.
Clinton has remained largely out of sight, though social media posts have captured her hiking in the woods, going shopping, dining out and catching some Broadway shows.
According to Simon & Schuster, Clinton "describes what it was like to run against Donald Trump, the mistakes she made, how she has coped with a shocking and devastating loss, and how she found the strength to pick herself back up afterwards."
"What Happened" will be published by Simon & Schuster, a division of CBS Corporation, in September.
Thanks for reading CBS NEWS.
Create your free account or log in
for more features.