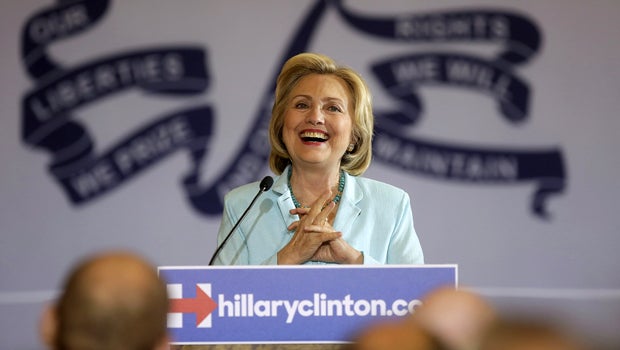 New details about classified information in Clinton's emails
CBS News has learned more about what was in those four Hillary Clinton emails that intelligence officials now say should have been marked as "classified."
While campaigning in Clear Lake, Iowa, Friday, Clinton made a forceful defense of her handling of the 2012 Benghazi, Libya, attacks and her use of a private email server while she was secretary of state.
Clinton said the Republicans will say the email controversy is about Benghazi, but she said, "It's not. It's about politics."
"I won't get down in the mud with them," Clinton said. "I won't play politics with national security or dishonor the memory of those who we lost. I won't pretend that this is anything other than what it is: the same old partisan games we've seen so many times before."
As an interagency debate rages about just how sensitive Clinton's emails were, CBS News has learned that one of the emails in question is already in the public domain in unredacted form, CBS News' Nancy Cordes reports.
The inspector general for the Intelligence Community revealed last month that a review of a "limited sample" of 40 Clinton emails yielded four that "contained classified information."
But by then the State Department had already released one of them in full as part of a court-mandated release of 296 Clinton emails, all pertaining to Libya and the 2012 Benghazi attacks.
Some of those emails were partially redacted, but this one was not, indicating that the State Department did not consider the material it contained to be particularly sensitive.
In fact, sources tell CBS News that none of the four emails mentioned the names or locations of intelligence assets.
What did they mention? According to The Associated Press, one involved a discussion about a news article detailing a U.S. drone operation. It is technically considered a "secret program" but is actually "well-known and often reported on."
That email, intelligence officials say, should have been marked "top secret" and, like the other three, "should never have been transmitted via an unclassified personal system" like the one Clinton possessed.
Thanks for reading CBS NEWS.
Create your free account or log in
for more features.