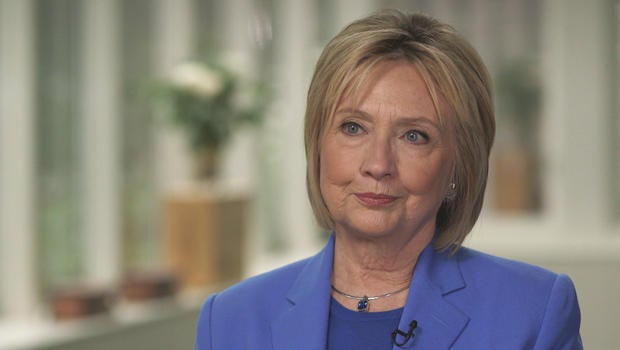 Hillary Clinton: Bill should "absolutely not" have resigned over Lewinsky scandal
Hillary Clinton says that her husband was right not to resign from the presidency in the wake of the Monica Lewinsky scandal, she told CBS' "Sunday Morning." As first lady, she stood by his side as President Bill Clinton was impeached after lying about his affair with Lewinsky, a White House intern.
The former secretary of state said she disagrees with those who now say he should have stepped down.
"In retrospect, do you think Bill should've resigned in the wake of the Monica Lewinsky scandal?" correspondent Tony Dokoupil asked.
"Absolutely not," Clinton said.
"It wasn't an abuse of power?"
"No. No."
In the past year, with the rise of the #MeToo movement, a host of key political, business and entertainment figures have resigned or withdrawn from their positions in the wake of allegations of sexual harassment or assault. There has been criticism — from New York Sen. Kirsten Gillibrand, for one — that President Clinton, too, should have resigned after he was impeached by the Republican-led House in December 1998. (The Senate, also controlled by the GOP, tried and failed to remove him from office several weeks later.)
In May, Mr. Clinton told "Sunday Morning" that he was happy he fought to remain in the White House, and said that #MeToo critics today are "living in a different context."
In a report that aired on "Sunday Morning" about the rise of women candidates, partially in response to the #MeToo movement, Dokoupil asked Hillary Clinton, "There are people who look at the incidents of the 90s and they say, 'A president of the United States cannot have a consensual relationship with an intern; the power imbalance is too great.'"
"… who was an adult," Hillary said. "But let me ask you this: Where's the investigation of the current incumbent [president], against whom numerous allegations have been made, and which he dismisses, denies, and ridicules?
"So, there was an investigation [of President Clinton], and it, as I believe, came out in the right place."
Thanks for reading CBS NEWS.
Create your free account or log in
for more features.