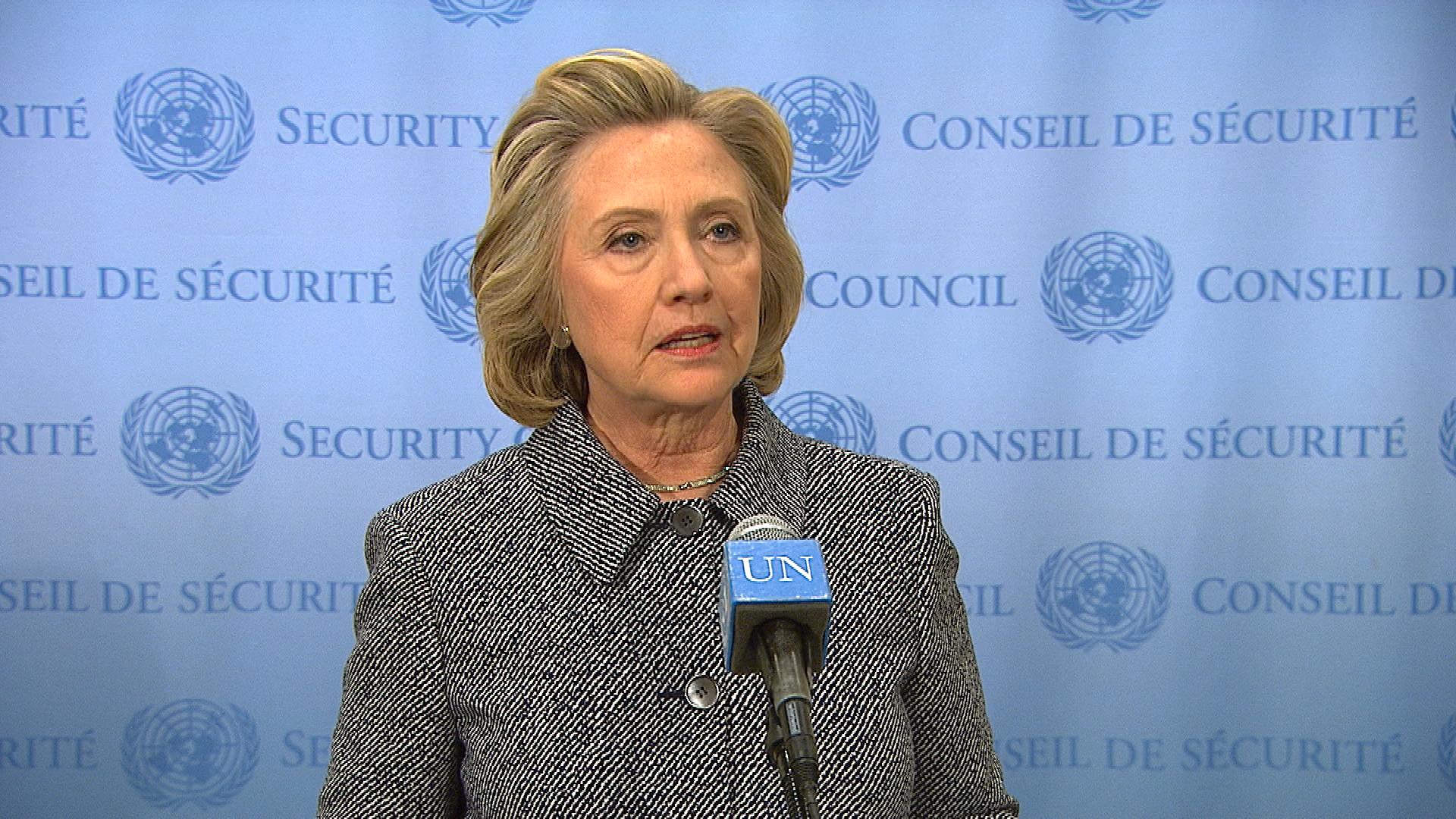 Hillary Clinton says personal email use a matter of "convenience"
Former Secretary of State Hillary Clinton said Tuesday that her decision to use a personal email address for all of her government correspondence while at the State Department was a matter of convenience and allowed by the State Department.
"I opted for convenience to use my personal email account which was allowed by the State Department because I thought it would be easier to carry just one device for my work and for my personal emails instead of two," Clinton said. "Looking back it would have been better if I had simply used a second email account and carried a second phone but at the time, this didn't seem like an issue."
Clinton spoke to reporters after addressing a women's empowerment event at the United Nations. She did not explicitly answer questions about whether the system was cleared by the State Department, and she insisted she had done nothing illegal.
"The laws and regulations in effect when I was secretary of state allowed me to use my email for work. That is undisputed," she said.
Responding to critics who say she was making decisions about which emails were and were not preserved, Clinton said that the "vast majority" of her work email went to State Department employees and were therefore captured immediately for archival purposes. But she also said that when the State Department asked for copies of work-related emails after she left office, she responded right away and handed over nearly 55,000 pages of emails.
She said her team went through a thorough process to ensure all work email was sent to the State Department, and that those records did not include personal emails ranging from notes planning her daughter Chelsea Clinton's wedding to her mother's funeral arrangements, to her yoga routines.
"No one wants their personal emails made public, and I think most people understand that and respect that privacy," Clinton said.
Pressure had been building on Clinton to address the controversy over her email, which she reportedly ran off a "homebrewed" server. Critics have raised questions about the security of the account, and a committee investigating the 2012 attacks on a U.S. diplomatic facility in Benghazi, Libya has issued a subpoena for "all communications" Clinton had that were related to the attacks.
But Clinton also suggested she would resist any attempts by Congress to subpoena the server, which she insisted was secure.
"The server will remain private and I think that the State Department will be able over time to release all of the records that were provided," Clinton said. She said the email system was initially set up for former President Clinton's office and that it had "numerous safeguards" and had suffered no security breaches. She also said she never sent classified information by email.
That is not the view of Rep. Trey Gowdy, R-South Carolina, who is leading the committee investigating the Benghazi attacks.
"Without access to Secretary Clinton's personal server, there is no way for the State Department to know it has acquired all documents that should be made public, and given State's delay in disclosing the fact Secretary Clinton exclusively used personal email to conduct State business, there is no way to accept State's or Secretary Clinton's certification she has turned over all documents that rightfully belong to the American people. That is why I see no choice but for Secretary Clinton to turn her server over to a neutral, detached third-party arbiter who can determine which documents should be public and which should remain private," he said in a statement following Clinton's press conference.
Gowdy also said the press conference raised more questions, so his committee would call Clinton to appear twice, once to "clear up her role and resolve issues surrounding her exclusive use of personal email" and a second time to answer specific questions about Benghazi.
Until Tuesday, Clinton had remained largely silent about issue. She made no mention of the controversy at an event Monday in New York City that highlighted her work for global women's and girls' rights, her third public appearance since the New York Times first reported about her use of a private email address.
Her only comment so far has been a single tweet last Wednesday that read, "I want the public to see my email. I asked State to release them. They said they will review them for release as soon as possible."
In a scathing editorial published Monday, the Washington Post said the incident did not reflect well on how Clinton might respond to legitimate questions as president.
"Dispatching friendly politicians and former aides to television news shows to dismiss the issue as just politics does not help her cause. If she is elected president, can Americans expect a similar response when she faces difficult questions -- one 26-word tweet and a cloud of obfuscation from her friends?" the Post wrote. "If she wants to demonstrate the strength of character and judgment required to be president, Ms. Clinton should hold a news conference and answer all the unanswered questions about her e-mails."
Even Democrats had begun to suggest that Clinton's silence was becoming a liability. Sen. Dianne Feinstein said on "Meet the Press" Sunday that Clinton "needs to step up and come out and state exactly what the situation is ... I think, at this point, from this point on, the silence is going to hurt her."
The Washington Post reports that tradition dictates that the first question at a U.N. news conference is traditionally given to the president of the correspondents' association. As current president Giampaolo Pioli, who writes for Itanian newspaper Quotidiano Nazionale, is currently in the Central African Republic. He told the Post that another officer would get the first question -- and protocol holds that would be Kahraman Haliscelik, the correspondents' association first vice president and the New York correspondent for TRT Turkish Radio & TV. Haliscelik did, in fact, ask the first question.
CBS News Political Director John Dickerson and Senior Political Editor Steve Chaggaris contributed to this report.
Thanks for reading CBS NEWS.
Create your free account or log in
for more features.