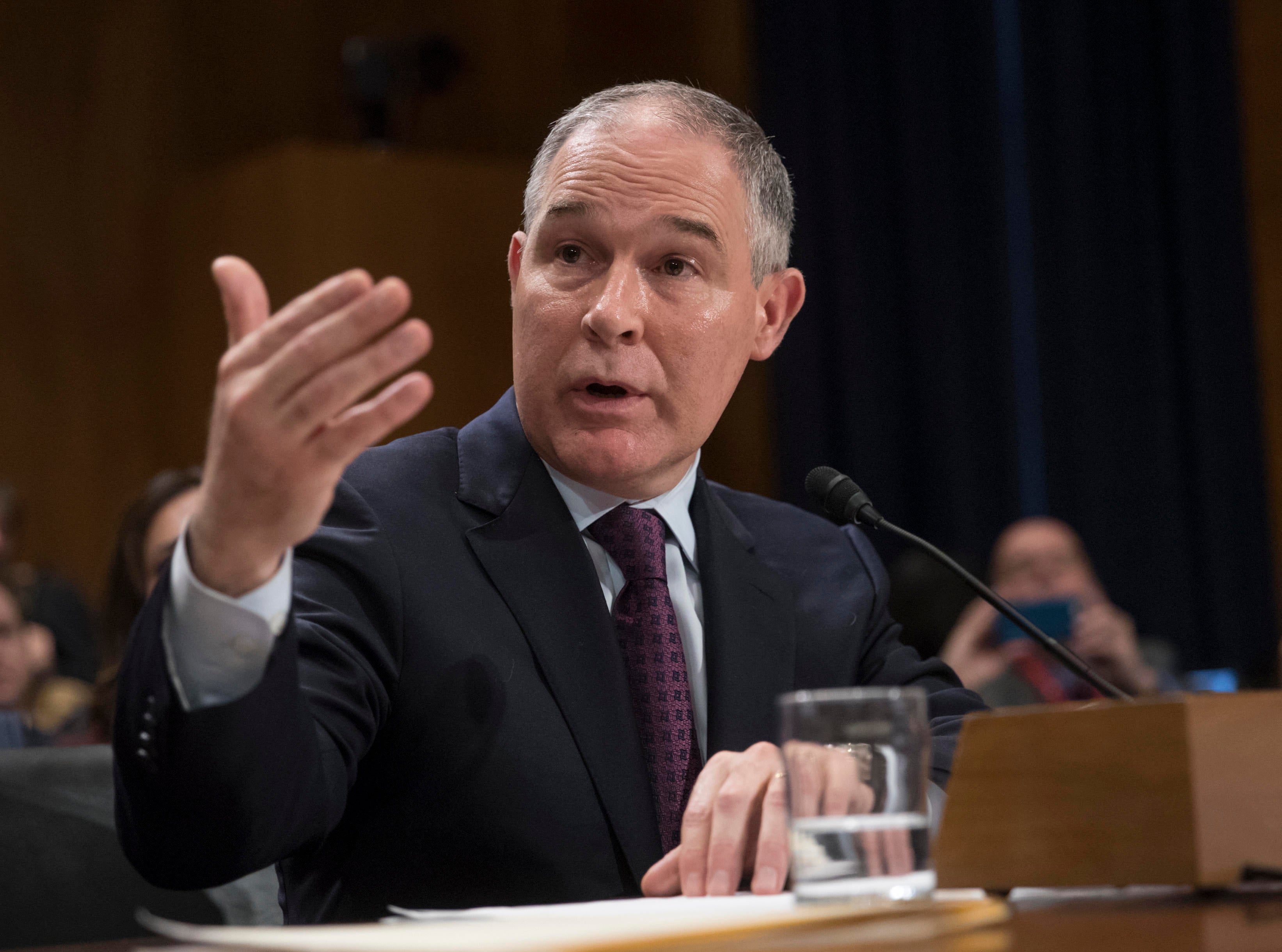 Here are some of the threats made against EPA Administrator Scott Pruitt
CBS News has obtained an August 2017 report prepared by the Environmental Protection Agency's office of inspector general that contains a list of 13 threats made against EPA Administrator Scott Pruitt and his family.
The threats range in severity, credibility and specificity.
One tweet flagged by investigators said, "Pruitt, I'm gonna find you and put a bullet between your eyes. Don't think I'm joking. I'm planning this." Investigators believe the threat was made by someone living in India.
Another person wished the administrator "a very painful and horrible death through poisoning. Please explain the scientific method to this freaking neanderthal."
The inspector general also looked into a complaint that "unknown protesters attempted to disrupt the EPA Administrator's speech during a closed event." Another person emailed the EPA threatening to dump old paint outside Pruitt's door.
The threats took various forms -- some arriving via social media and email, others by postcard.
Pruitt's daughter received a menacing message on Facebook, the document reveals.
In certain cases, cases were referred to the Justice Department, but just one was deemed serious enough to prosecute. The report covers the period from Oct. 2016 to Aug. 2017.
EPA Spokesman Jahan Wilcox responded that Pruitt had faced "unprecedented" threats.
In an email to the EPA's "Threat Coordination Group," Patrick Sullivan, the assistant inspector general for investigations at the EPA outlined an incident that occurred on March 6, 2018, in which a trespasser gained entry to the EPA headquarters and identified himself as a student attending a "Microsoft event."
"The personal asked about Scott Pruitt and wanted to know where Pruitt's office was and if Pruitt ever walked in the hallway outside the room," wrote Sullivan.
The intruder was soon escorted out of the EPA but called the desk phone of an employee and left voicemails following the intrusion claiming "he can gain entry into EPA space anytime he wants."
The security vulnerability was soon thereafter investigated.
Wilcox told CBS News, "We do not comment on matters pertaining to EPA's IG." A spokesperson for the EPA inspector general had no comment.
In early March, Pruitt told CBS News, "The quantity and the type of threats I've faced are unprecedented."
The inspector general report also details threats made against EPA employees and facilities and two threats against Gina McCarthy, the EPA administrator under President Obama.
McCarthy's office received a series of hostile phone calls from a person who is currently being prosecuted for making "Felony Threats." The caller said, "I will kill ya'll (sic) and f*** up Gina McCarthy," according to the report.
Democratic Sens. Tom Carper, of Delaware, and Sheldon Whitehouse, of Rhode Island, released a letter on Tuesday to Wyoming Sen. John Barrasso, chairman of the Senate committee that oversees the EPA, that said the assertions of "ongoing threats associated with the administrator's air travel" were inconsistent with an internal memo they obtained from a whistleblower at the EPA.
The memo, dated Feb. 14, 2018, according to the letter sent by Carper and Whitehouse, claimed that "EPA Intelligence has not identified any specific direct threat to the EPA administrator."
In a statement provided to the New York Times, Barrasso said that he Democrats had selectively released parts of the internal memo.
On Wednesday, Democratic senators held a press conference demanding answers from Pruitt about why he had ordered costly security measures and full time protection -- even on personal trips.
Sen. Tom Udall, D-New Mexico, said Pruitt had committed some of the worst "ethical transgressions of the entire Trump administration."
"The list of abuses just keeps getting longer," Udall told reporters at the press conference. "Lavish first class flights around the world, swanky hotel stays, taxpayers footing the bill for personal trips to Oklahoma, a $43,000 soundproof phone booth in his office, taking 30 EPA enforcement officers away from investigating polluters to serve as his round the clock personal security detail, speeding down the streets of Washington with sirens and lights blaring to get to fancy restaurants, huge unauthorized salary raises for his friends, allowing a close aide not to come to work for three months while still getting paid, and finally detailing EPA staff to find him a place to live. These are just a few of the things he is doing."
As Udall sees it, "Scott Pruitt has misused taxpayer dollars while enhancing his own personal perks."
The AP first reported that Pruitt's 20-member full time security detail "approached $3 million when pay is added in travel expenses." But EPA spokesman Jahan Wilcox defended the EPA administrator and said he has faced "unprecedented" threats.
The EPA administrator has been embroiled in scandal during his term, facing persistent rumors about the future of his job in the Trump administration. But he has also been called the president's most effective Cabinet secretary by Republican allies around Washington – including the president himself.
Last Thursday, the president praised Pruitt aboard Air Force One en route to Washington, calling him "a good man."
"I think he's done a fantastic job at EPA," Trump told reporters. "I think he's done an incredible job. He's been very courageous. Hasn't been easy, but I think he's done an absolutely fantastic job. I think he'll be fine."
The president added that the White House was looking into reports about Pruitt's ethical entanglements: he has not only come under fire for habitually traveling first class or by military jet at considerable taxpayer expense but he is now also is under investigation by House Oversight Committee Chairman Trey Gowdy for a housing arrangement in Washington, D.C., in 2017. ABC News first reported that Pruitt had lived in a Capitol Hill apartment owned by the wife of a fossil fuels lobbyist and rented the space for $50 a night – only paying for nights that he slept there.
Here are some of the documents obtained by CBS News:
Thanks for reading CBS NEWS.
Create your free account or log in
for more features.