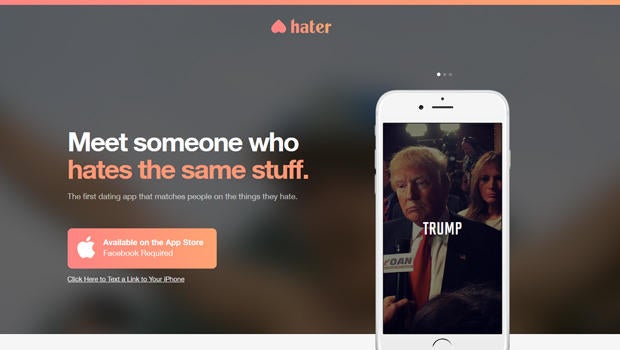 The dating app for haters
Here is one of three unlikely success stories from Susan Spencer:
Brendan Alper is no psychologist. But he seems to know what makes people tick:
"People hate things everywhere," he said. "Maybe not the same things, but everyone likes to complain."
That truth led the former Goldman Sachs finance associate to quit his job and launch a dating app like no other: Hater, the dating app that matches you based on what you hate.
Hater works like this: you swipe on more than 3,000 topics, loving or hating as many as you want. Alper says mutual dislikes are a better sign of compatibility than mutual likes, and two studies seem to back him up.
Spencer asked, "So what have you discovered that people hate the most?"
"The presidential election of 2016," Alper replied.
But it's not just politics, it's EVERYTHING: "Bad wifi is up there," Alper said. "Paying extra to get guacamole on your burrito. Man buns are pretty unpopular."
"When people celebrate their birthdays for an entire week."
"Unless it's me," Spencer laughed.
Alper knew he was onto something soon after he launched the app last February. After a month, Hater had 350,000 users all around the world. "It was quick!"
But the competition is steep: Online dating is a $2 billion industry dominated by just a few major players.
And today, one in ten Americans spends an average of an hour a day on a dating app. "It's becoming more and more about the dopamine rush of getting a match," Alper said.
Perhaps seeking a dopamine rush, Spencer gave Hater a try.
People who start an Instagram for their dog? "Hate, hate that," she said.
People who collect Mardi Gras beads? "That's pretty high on the hate scale."
You soon discover there's a lot to hate, like, comic book movies? "Oh, hate," Spencer said.
"Only eight percent of people agree," Alper noted.
"I'd never get a date!" she laughed.
But then again, if Alper's right, hate may be the first step to lasting love.
So has Hater had any successful matches so far? Yes, said Alper: "We have this one couple, they both hated the Super Bowl, but they loved queso dip. So during the Super Bowl they got together and they made queso dip and they didn't watch the Super Bowl."
True love!

Also from Susan Spencer:
For more info:
Thanks for reading CBS NEWS.
Create your free account or log in
for more features.